Thu, 13 Dec 2012, 10:09 AM



"American Real" Brand Message Resonates With Audience



Courtesy of Stuart Rowlands



CORONA, Calif. --
Luncheon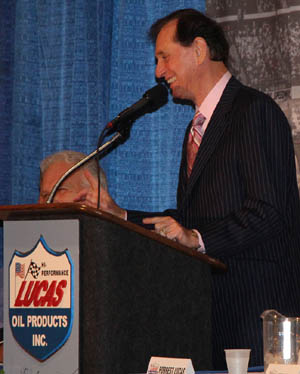 Forrest Lucas
Following up on its most successful sales and product development year in its 23 year history, Lucas Oil Products, Inc., founder Forrest Lucas laid out the company's 2013 motorsports expansion plans to an overflow Indianapolis audience that comprised equal parts of media and industry VIPs.
The occasion was a special "Lunch with Lucas" press conference held on Friday, December 7th at the just-concluded International Motorsports Industry Show. The presentation offered a wide-ranging overview of the business philosophy behind Lucas Oil's motorsports investments that are now unified under the "American Real" brand message.
"We use our strong involvement in motor racing to research, develop, test and then market our products," Forrest Lucas reported to the assembly. "In 2013 we will continue to increase our motorsports commitment, sponsoring more than 700 race teams, drivers and events."
Lucas Oil Executive Vice President Bob Patison went on to indicate that television will play an even bigger role in the year ahead through the expansion of the company's wholly-owned Lucas Oil Studios which are already producing more than 300 hours of world class motorsports and events for CBS, CBS Sports, MAVTV, Speed, NBC, and NBC Sports.
He then revealed that Lucas-owned MAVTV American Real network will greatly expand its motorsports programming and a brand-new venture, named the Lucas Oil Network, will be seen exclusively on the Internet, due for launch in the second quarter of 2013.
During the luncheon presentation, each of the directors for Lucas Oil's racing series' briefly outlined plans for continued growth of their individual racing disciplines and announced new schedules, venues, and sponsors for the Lucas Oil Off Road Racing Series, the Lucas Oil Late Model Dirt Series, the Lucas Oil Pro Pulling League, the Lucas Oil Drag Boat Racing Series, the Lucas Oil Modified Series, and the newly acquired Lucas Oil Midwest Latemodel Racing Association.
The wide-based presentation also offered important insight into Lucas being able to "bookend" the 2013 American racing season with a newly renamed ARCA Lucas Oil 200 NASCAR race in January at Daytona with October's IndyCar season finale MAVTV American Real 500 at Auto Club Speedway near Los Angeles. The MAVTV race also marks the final event in a new and exciting "Fuzzy's Vodka Triple Crown" series (a championship within a championship) that includes the May Indy 500 and the 400-mile race at Pocono in July.
Lucas Oil is a producer of some 350 unique oil and lubrication products sold in 26 countries around the globe and Forrest Lucas credits the company's ever-expanding involvement in motorsports as a major factor in his company's success. Lucas Oil uses its involvement in motor racing to generate sales through all major retail automotive chains, truck stops and independent speed shops across the country.




Drag News: 10 Most Recent Entries [ top ]

Jun 02- Timoszyk and Umlauf Execute at Eddyville Chaos
Jun 01- Franklin, Salemi, Pluchino, Davis, Lannigan and Micke Win Season-Opening PDRA East Coast Nationals
Jun 01- Halsey, Weatherford, Carr and Davis Highlight First-Round Winners
Jun 01- Friday Qualifying Rained Out at PDRA East Coast Nationals
May 31- Austin Aces Xtreme Raceway Park Season Opener
May 29- ADRL Providing Lone Star State's First Fan-Attended Sporting Event
May 28- Live Funny Car Chaos this Weekend on Bangshift
May 27- PDRA to Kick Off 2020 Season at East Coast Nationals
May 21- PDRA Releases Seven-Race Revised 2020 Schedule
May 20- New Location-Nitto Tire NMRA/NMCA Super Bowl of Street-Legal Drag Racing Moves to St. Louis