Thu, 13 Dec 2012, 09:43 AM



Countdown to a Championship- Chris and Peter VanBaalen- 2012 TNT Super Series Third Place



Courtesy of Lewis Robinson


Photo credit: Dwayne Young - www.cmsports.com





WELLANDPORT, ONTARIO --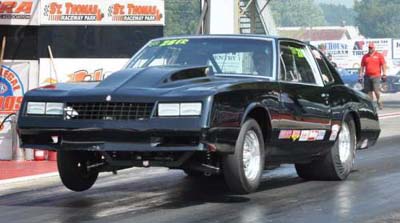 Chris VanBaalen
Peter VanBaalen has been around drag strips in southern Ontario for over 20 years. When his son Chris was old enough to drive, he was quickly behind the wheel at the track.
Now years later, Chris is piloting what was his father's Monte Carlo in TNTSS competition.
Entering 2012, the father and son team had one goal in mind and that was to get a win in the toughest sportsman drag racing series on the planet, the Joe's Transmission TNT Super Series.
Turns out, they did more than that. They got the event win at Dunn Tire Raceway Park and a runner up at Cayuga Dragway, both in June. They also accumulated 701 points over 13 races earning them a third place finish in TNTSS championship points chase.
With Chris doing most of the driving duties, he was quick to thank his family. "I want to thank my parents for all their support," said Chris. "Especially my dad (Peter) for giving me a killer consistent car to drive, even though I've been known to make the wrong call at the stripe sometimes."
The team always seems to be near the top of the qualifying sheet and those bonus points made a difference for them in the final standings.
"I also want to thank Matt and Sherry Devries for all their help. Matt helps out with my oil and tire program. They have a one stop automotive service shop from mild to wild located in Bismark, Ontario," added Chris.
"It was great to win a TNT race and to win it at Lancaster topped it off. I want to make a special mention to Russ and Arlene Parker. They will be missed next year."
Chris was sure to mention all the TNTSS sponsors - Joe's Transmission especially - for making the killer payouts and prizes they run for every race. "I don't understand why people within 200 miles don't run this series. It the hardest racing out there!" he added.
The 1986 Monte Carlo has a 502 GM crate motor for power, runs on pump gas and is capable of eighth mile ET's in the 6.30 range at 108 mph.
For everything you need to know about the most popular sportsman drag racing series in the country, visit www.tntsuperseries.com .




Drag News: 10 Most Recent Entries [ top ]

May 27- PDRA to Kick Off 2020 Season at East Coast Nationals
May 21- PDRA Releases Seven-Race Revised 2020 Schedule
May 20- New Location-Nitto Tire NMRA/NMCA Super Bowl of Street-Legal Drag Racing Moves to St. Louis
May 20- Illinois Motorsports Coalition Formed to Lobby State Government
May 20- Illinois Motorsports Coalition
May 18- Beech Bend Raceway Park National Open Postponed
May 18- NHRA Announces NHRA Hot Rod Heritage Series at Sacramento Raceway is Postponed
May 11- POSTPONED-NMRA/NMCA Power Festival
May 11- PDRA Returning to Racing May 29-30 at GALOT Motorsports Park
May 07- Special Nitro Event Set to Unite the Country