Wed, 12 Dec 2012, 19:09 PM



Gallen Proves He is Still the Best in the Business



Courtesy of IHRA Communications



'Poverty Stricken' Team Picks Up Second AMSOIL Prostalgia Nitro Funny Car Title



NORWALK, Ohio --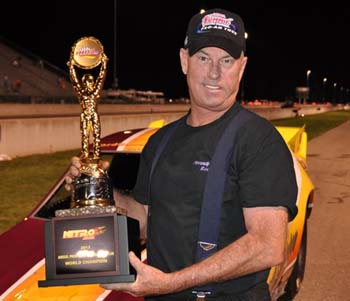 Gallen is already looking ahead to
2013 and yet another Nitro Jam title run.
Peter Gallen certainly did not have the kind of year anyone expected.
Coming off a season where he ran away with the AMSOIL Prostalgia Nitro Funny Car title, set records and won nearly every round of competition he entered, Gallen's 2012 campaign was much rockier and featured a drama that simply did not exist when the team was light years ahead of the field in 2011.
After all most of the other teams had learned to play for second when the familiar purple and gold "Poverty Stricken" machine pulled into the lanes. But this year was different.
Sure he anticipated a few bumps along the way, what with a brand new 1977 Monza machine replacing the championship winning Vega from the year before, but this was different. Some of the change could be blamed on new cars blues, some could certainly be attributed to an increase in competition, but whatever it was, it wasn't getting Gallen in victory lane.
"With the new car, new body, new front end yeah, we struggled to get balance on the car and we struggled with consistency," the two-time Nitro Jam champion explained. "We simply had some new car blues. It was silly things like oil lines breaking and other oddball problems. And then for the last few months I have been suffering with some disc problems in my neck and at best I have been running on five cylinders, but my guys hung in there and really gave this team their all and they have to be commended for that."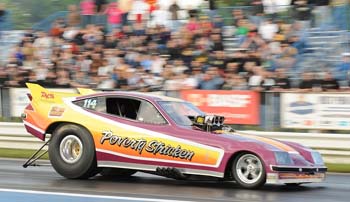 Gallen wasn't as dominant in 2012,
but still picked up his second straight PNFC title.
And it is through that adversity that Gallen's team proved that true champions emerge.
Despite all of the problems with the new car the team still emerged victorious at the CarSafe Northern Nitro Jam in Michigan by holding off Mike Savage and the "Candies & Hughes" team to pick up their second championship in a row. While not as flashy as the year before, Gallen's 2012 title run proved that this team is capable of anything even when faced with extreme adversity.
"This year has been a real struggle, but my crew proved that even with adversity they are still the best out there," Gallen said. "To pick up the slack is my car chief John Benigini. Four years ago he had never even smelled nitro and now he is the best car chief out there and I would not race without him, period. Jake Slater, 14 months ago he was riding his bike by my shop and when I returned from Bowling Green I asked for some help and he never left. He has even convinced his brother Clark to become part of this madness. Add in Steve Timosyski and those four guys are critical to this operation and they have put in countless hours to make this car the best out there.
"Then you have Bob Rosetty who spent the winter building us a state-of-the-art Monza body by hand and produced a real piece of art that has held up to all of the abuse we could throw at it. While he campaigns two Funny Cars of his own, he still manages to be there through thick and thin. Again, I couldn't do any of this without my incredible crew."
But it wasn't an easy road by any stretch of the imagination.
Random parts failures and other car problems plagued the team with fast laps, but no wins early in the season. To make matters worse, a few rare oil downs frustrated the "Poverty Stricken" team and left them wondering what was needed to turn the corner.
In fact Gallen, who won at least once at every event in 2011, sat winless after the first three races as a handful of drivers jockeyed for position including Mike Savage and the "Candies & Hughes" team and Tim Boychuk and the "Troy Lee Designs" crew.
But at the Pittsburgh Nitro Jam in May Gallen finally broke through with his first win of the season against IHRA legend Dale Pulde driving the famous "War Eagle" Trans Am. But following a western swing Gallen simply could not attend, the points tightened up and for the first time in over a year someone else sat atop the AMSOIL Prostalgia Nitro Funny Car standings.
"The first half of the year was frustrating to say the least, but we were able to get some of the kinks worked out while running against some heavy hitters," Gallen said. "We were still very fast, but we couldn't close the deal."
When Gallen returned to competition in July at the MOPAR Nitro Jam Nationals in Grand Bend, Gallen needed to have a big weekend to get back on top and that is exactly what he produced. Gallen went to both finals, splitting with Greg Jacobsmeyer to give his team a narrow 13 point lead entering the final race of the year.
"It was much different going into the last race because last year we had it all sewn up so we could swing for the fences," Gallen said. "This year we only had a 13 point lead so we had to be a little smarter in our game plan."
To make matters worse Gallen had a devastating engine fire just a few days prior to the season finale that left the team struggling to get the car ready. But with it all on the line Gallen laid down the quickest and fastest lap during round one to advance to the final and seal his second championship in a row.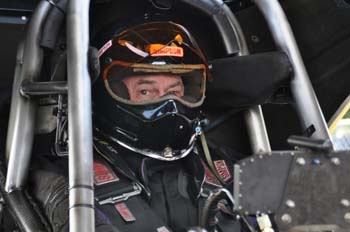 Gallen won twice in 2012 and
held off Mike Savage to take
the Nitro Jam championship.
Gallen finished the year with two wins in the AMSOIL Prostalgia Nitro Funny Car class, but it was championship runner-up Savage that had the most victories with three. Boychuk and Jacobsmeyer also had a pair of wins in 2012 while John Hale, Mitch King and James Day found the winners circle during the first half of the year.
"The only real consistency we experienced this season was the Nitro Jam fans. They are the best. Even with rain delays the fans are always so involved. With the economy we are so thankful these great fans spend their hard earned money to come out and support us," Gallen said. "And of course my biggest hero in the pits is my wife Ashbey. She has put her own dreams on hold to allow me to chase mine and I love her for that. We have five children ranging from 31 to three, Kelly, Kristen, Peter, Tyler and Ayden. They might get shortchanged while dad is racing all over the country, but they have no complaints as they know how much I love it.
"This sport, I don't know what it is, it gets in you. Myself, the crew guys, it just drives you to be competitive and want to be the best. You put that helmet on and you turn into an animal and that is why I love racing."
While Gallen still has plans to attend a few more races in 2012, his primary focus will be on perfecting the "Poverty Stricken" Monza and getting it back to dominating fashion as the team continues to gain notoriety around the country as one of the best nostalgia Funny Car teams in the entire sport.
"This championship would not have been possible without the love and support of my family, crew, friends and sponsors," Gallen said. "TJ Rebert of Ford 8&9, Pete Politashaus of Zacs Hamburgers, Funny Farm Fabrication, Mickey Thompson Tires, Redline Oil, Boninfante Clutches, Autolite Spark Plugs and everyone that makes this car go fast."




IHRA: 10 Most Recent Entries [ top ]

May 20- IHRA Member Track Update
Mar 16- IHRA Sportsman Spectacular Events at Farmington and Holly Springs Postponed
Dec 03- Historic Mo-Kan Dragway Reaches Multi-Year Agreement with IHRA
Oct 24- Summit SuperSeries Champions Crowned at IHRA Summit SuperSeries World Finals
Oct 24- Summit Racing Equipment Renews Commitment to IHRA Summit SuperSeries in 2020
Oct 08- Beacon Dragway Chosen as IHRA Division 2 Track of the Year
Oct 08- London Dragway Emerges With Win at IHRA Division 2 Summit Team Finals
Oct 08- Xtreme Raceway Park Named IHRA Division 4 Track of the Year
Oct 07- Pine Valley Raceway Captures IHRA Division 4 Summit Team Finals Win
Oct 03- Beaver Springs Dragway Named IHRA Division 3 (North Stars) Track of the Year