Tue, 11 Dec 2012, 14:52 PM



Two Best Riders On Two Wheels



By Bob Frey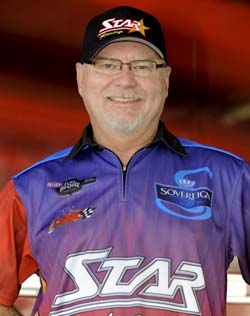 George Bryce
Photo copyright 2012 NHRA
I am so confused (no comments, please). Are the guys and gals who race on motorcycles riders or drivers? I had this conversation with
George Bryce
many years ago and he said they are drivers. "You ride a bull you drive a motorcycle," I believe is how he put it. And yet, if you are sitting around with a bunch of motorcycle owners on a beautiful, sunny day, they don't say "do you want to go for a drive," they say, "do you want to go for a ride." At least when I used to own my 80 cc Yamaha that's what they said. Of course that was fifty yeas ago so I may be mistaken. Anyway, I have always, ok make that usually, referred to them as riders and I guess I always will, that is until every one of the top ten point's earners (notice I didn't say riders or drivers) this year call and tell me otherwise. I wonder if it's too late to change my number.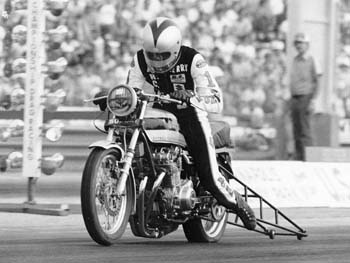 Terry Vance from 1979 Indy.
Photo copyright 2012 NHRA
Motorcycles have been part of the NHRA national events for a long time. As early as 1970 legendary riders like Larry Welch, Boris Murray, T.C. Christensen and others were familiar figures at the drag strip, and as much as I don't like to brag, I announced races where each one of them were in the winner's circle. I also announced Larry Welch's famous pass down the Atco quarter-mile on a rocket bike but that's another story altogether, and so is the fact that I announced the late E.J. Potter's one and only run on his jet-powered three wheeler. Hey, maybe I will write that book after all..In the very early years, the years before Larry, Boris and the rest, bikes were often the quickest things at the drag strip. Fast forward now to 2012 and, like all the other vehicles at the drag strip, the motorcycles are going quicker and faster than anyone or any manufacturer ever imagined. Did you know that when Terry Vance won Pro Stock Motorcycle at Indy in 1979 he went 9.19 at 144.69 mph and he won on a holeshot? And everyone in attendance thought those numbers were spectacular, and they were for 1979. By the way, the winner in Top Fuel Motorcycle at Indy that year, "Frog" Thacker, won with a time of 7.84 at 175 miles per hour and he, too, won on a holeshot. Today the motorcycles are knocking on the 200 mile per hour door, and these are bikes that run on gasoline. Amazing, isn't it?
In 2012 there were a few bikes and teams that were competitive, a few that could have won some races, set low elapsed time or top speed and challenged for the championship, but as we all know that didn't happen and 2012 turned into the year of the Harley-Davidson, or more correctly the year of Eddie Krawiec. Ok, to be fair, Andrew Hines wasn't exactly chopped liver if you know what I mean, but as good as his season was it paled in comparison to Eddie's, and that's stunning because by most standards Andrew had a great year. Did you know that Andrew won six races this year and there are only five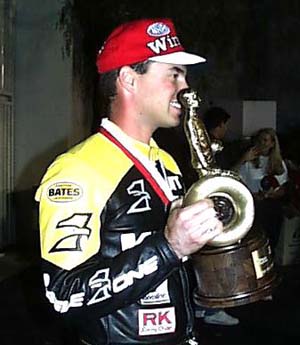 Matt Hines celebrates his 10th win
at Pomona in 1998.
Photo copyright 2012 Auto Imagery, Inc.
other bike riders who ever won more races in a single season? They are
Dave Schultz
,
John Myers
,
Matt Hines
,
Angelle Sampey
and of course, Eddie, and when you're together with that group you are in some very good company. Andrew's year would normally be good enough to win the championship, but in 2012 "normal" just wasn't enough because Eddie had an extraordinary season. Now that I think about it it's fitting that Eddie had the kind of year that he did because he won his first championship in 2008 without winning a single race, and in 2012 he won more than just about anybody in the history of the class. I say "just about" because there was that year that Matt Hines had in 1998 when
Michael Mulderink at Joliet in 1998.
Photo copyright 2012 Auto Imagery, Inc.
he won ten races. There were two riders who finished in the top ten along with Matt in '98 who still raced full time in 2012, do you know who they are? One is
Steve Johnson
, who finished ninth that year and the other was
Antron Brown
, who finished seventh. I didn't say they both raced motorcycles this year, did I? And because I have a lot of time on my hands now that I'm retired, I thought I'd throw in the names of a couple other riders who earned points that year, like
Michael Mulderink
,
Fumiki Tanaka
and
Jorge Mendoza
..When Matt had his banner year there were only two other riders who won races, Angelle and
John Smith
, and in 2012 there were three winners, Eddie, Andrew and
Michael Ray
. But
did you know
that in 1994 two riders, Dave Schultz and John Myers were the only ones to win a race? There were eleven races
that year and Dave won nine of them and John won two, so who had the best individual year, Dave in '94, Matt in 1998 or Eddie this year?
Eddie won the championship this year in dominating fashion, and even though there were other riders who gave him a challenge every now and then, it was certainly more "then" than "now." Once in a while the "Hectors" would step up and make a couple of good runs, but nobody had the consistency that Eddie did. Plus he was riding a very quick and fast bike and he probably had his best year ever as a rider, and that's a tough combination to beat, and as it turned out in 2012, it was an impossible combination to beat. The riding part can't be overlooked especially when you consider the fact that it was Andrew, not Eddie, who finished the year with the quickest run of all time. Ok, so his 6.728 was only slightly better than Eddie's 6.730 but it was quicker. Both of those runs, and three more of the top ten runs of all time, came at the lightning quick Maple Grove event and I guess we will never know how the championship would have ended up if they had finished the motorcycle portion of the event in Pennsylvania instead of postponing it until Las Vegas..When I mentioned that Eddie rode well this year I am not necessarily referring to how many times he was first off the line or how many races he won on holeshots. Remember, when you have a bike as quick as his you aren't going to win a lot of races on holeshots. I am talking about his consistency on the line, getting the bike off with a respectable reaction time, and did you know that in 2012
Eddie Krawiec with Championship trophy.
Photo copyright 2012 Auto Imagery, Inc.
he did that better than he has in any year of his career? Eddie's average reaction time for the 2012 season was a very respectable .040 and that was his best average for any year of his career. With just the one front tire the bikes have a tendency to foul out more often than their four-wheel counterparts, so just getting a green light can often be a challenge. Eddie only had one red light start in 2012 and that's very good in this class or any class for that matter.
Did you know
that in 2009 he went through the entire season without a single red light? And this year he lost three rounds on holeshots and that is his best for any year since he joined the class. Like I said, he had a very good bike and he handled it very well. Sometimes, as I have observed over the years, when you have the best car or bike in the class you have a tendency to lay back and that can cost you, but in 2012 Eddie didn't do that and that's one of the reasons why he is now a three-time World Champion..Another reason why Eddie got to make a speech at the awards ceremony is the fact that he handled all of the other top ten riders with ease.
Did you know
that he was an impressive 35 - 7 against the other riders in the top ten this year and he pitched a shutout against five of those drivers? He had a combined record of 17 - 0 against
Hector Arana
Jr.
,
Matt Smith
,
Scotty Pollacheck
,
Michael Ray
and
Shawn Gann
and it's that kind of performance that makes a championship season.
Did you know
that he also had a winning record against every racer he faced in 2012? Everyone and not many racers can say that in any class, can they?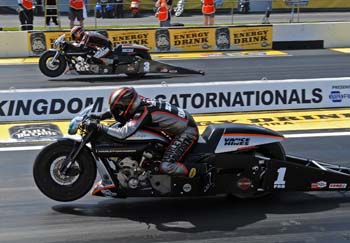 Krawiec defeated Hines at the
first event in 2012 at Gainesville.
Photo copyright 2012 Auto Imagery, Inc.
From a performance standpoint it certainly looked like the Harley-Davidson riders were the class of the field this year and they may have been, but there were times when it looked like they were "beatable." Eddie was the number one qualifier at just five races this year, and even though he won all of them it shows that maybe he didn't have the best bike at every race. He certainly dominated a couple of the races, qualifying number one, setting low elapsed time and top speed, but he wasn't John Force in 1996 or Greg Anderson in 2004, years in which those two absolutely dominated the entire season, he simply did his job and did it better than anyone else..One thing that may seem to indicate the power that Eddie did have was the number of times that he set top speed. Did you know that he did that a dozen times in 2012 and that was the most for him in any of his championship seasons? Still, saying that he had the best bike is over simplifying things, at least the way I see it. Hector Arana had a very good bike this year but just wasn't able to close the deal, and Hector Arana Jr. also had a good bike and yet he was shut out in 2012. It takes an entire team and a special mindset to win championships and that's what Eddie had this year, and looking ahead, will have in 2013.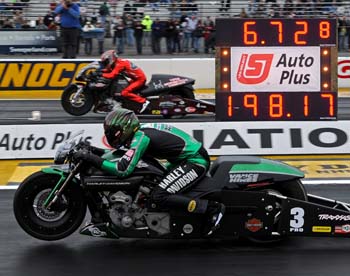 Andrew Hines set the
National record in Reading.
Photo copyright 2012 Auto Imagery, Inc.
Andrew Hines had a season that could have resulted in a championship, that is, if he didn't have Eddie for a teammate. Andrew won a very respectable forty-six rounds in 2012 and that's only four less than Eddie, but as I mentioned, Eddie had a winning record against all of the top ten riders and that included Andrew. Did you know that Eddie was 5 - 3 against his teammate in 2012? It's not a huge advantage but in the end those couple of rounds could have been the difference between having Eddie or Andrew as the champ..Andrew did reach a milestone in 2012 when he won his 300th round of racing. Angelle Sampey has the most round wins with 364 and Dave Schultz is next with 354, so Andrew is in very good company on that "300 round-win list" isn't he?




NHRA: 10 Most Recent Entries [ top ]

Nov 16- Torrence Wins Camping World Title
Nov 11- NHRA Announces Complete 2021 Class Schedule
Nov 10- Don Prudhomme Shares Life Story On and Off the Track
Nov 10- Justin Ashley Wins 2020 NHRA Rookie of the Year
Nov 10- Matt Hagan Crowned 2020 NHRA Funny Car World Champion
Nov 09- LAS VEGAS - Enders Claims Her Fourth Pro Stock World Championship
Nov 05- LAS VEGAS SN - Super Stock Final, Round 7 Eliminations
Nov 05- LAS VEGAS SN - Stock Eliminator Final, Round 7 Eliminations
Nov 05- LAS VEGAS SN - Super Street Final, Round 7 Eliminations
Nov 05- LAS VEGAS SN - Super Comp Final, Round 7 Eliminations