Fri, 07 Dec 2012, 08:06 AM



If There's a Summit ET Series Hall of Fame He Should Be In It



By Bob Frey


Photo copyright 2012 Auto Imagery, Inc.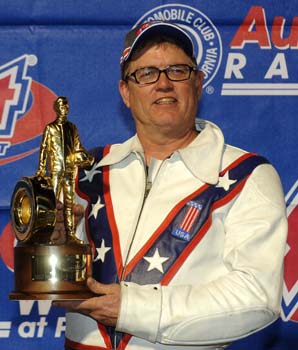 Tom Klemme
There is an old expression that goes "there are only two things that are certain in life, death and taxes." And while some people think we may be getting taxed to death these days that's a story for another day. In drag racing there are a couple of things that, while maybe not quite as certain as death and taxes, are almost always going to happen. The drivers from Team Schumacher will compete for the championship in both fuel classes, the Team Force cars will always make a run at the Funny Car title, someone from the Team Force camp will win the Rookie of the Year and Pro Stock will always be the most competitive class in the Full Throttle series. Ok, so those may not be absolutes but they are about as close as you will get in our sport. Oh yeah, there is one more thing that you can count on, in fact, one thing that you can take to the bank and that is the fact that Tom Klemme will be a factor in the Summit ET Series, and when he comes to Pomona he will leave with the trophy. I base that on the fact that the Davenport, Iowa driver has made three trips to Pomona and he has three trophies on his shelf. You do the math.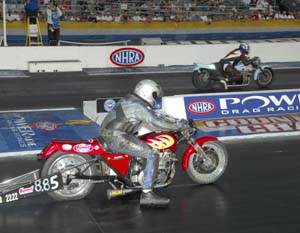 Klemme defeated Chad Isley
in 2008 final.
In 2008 Tom made his first trip to California and he made it a successful one with a win over his close friend Chad Isley in the final round. Three years later his return trip was also a success when he beat David Primrose in the final round and became one of the few two-time winners in the series. This year he went one better, making his third trip to the "Finals" and winning for the third time, and in the process he joined fellow motorcycle rider Micheal Nash as a back-to-back winner, and this may have been his best performance ever since the motorcycle class was absolutely loaded in Pomona. "It was just as exciting and fun as the last two," Tom said. "When I go across the finish line there is no fist-pumping and stuff like that. It's just a relief to know that you got the job done that you came to do." And nobody gets the job done better than Tom Klemme.
The return trip to Pomona was anything but a guarantee for the veteran rider. "I had to go six rounds at the divisional final and everyone there was very talented. It's a great feeling to get to return to Pomona, especially when you know that you beat some of the best to do it." And things didn't get any easier for Tom once he got to California. "I'm pretty aware of all the other riders in the class and I knew that it was probably the best field that I've faced in my three years. That's what made the win even more exciting." That and the fact that he did it wearing an Evel Knievel look alike set of leathers. "I saw them on the internet earlier this year and thought it would be a fun thing to do.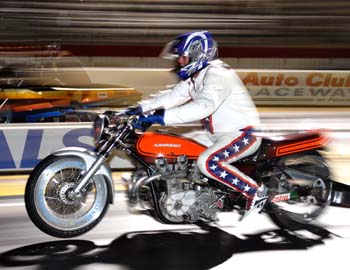 Tom Klemme
I figured if anyone can pull off the 'Evel look' it would be me," he said with a smile. "And it was cool that several folks came up over the weekend and commented on them." I have to admit that I was one of them!
Once he got to the track Tom went through his normal ritual and that consists of not going anywhere. "Yeah, call it superstitious or whatever you want, but if I'm at the track for more than a day I just never want to leave. I guess I feel like I might miss something." If that's the case, and if Tom does make it to Pomona for a fourth time, I would suggest the other riders offer to take him for a tour of Southern California because that may be the only way they can stop him. "I try to pay attention to what the other guys are doing, you know, keep an eye on how they stage, how consistent they are on the tree, what they run and things like that." Doesn't sound like a superstition to me, just good planning.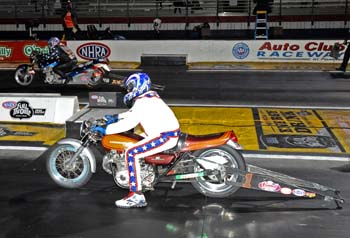 Klemme defeated Bob Nugent in the final.
The weekend didn't get off to a very good start for the defending champ. "I blew a spark plug out on the first time trail run and I didn't even go sixty feet. It wasn't a great way to start the week." But as good a rider as he is Tom is also a very good mechanic, and that may come from his years of racing or the years that he has run his own shop in Iowa. "I do a lot of racing engines for other guys and I build some street bikes, too." The shop, Klemme Performance Motorsports, has also been known to work on some of the bikes of the racers he competes against. "Yeah, I actually freshened up the motor for Curtis Spracklin, who represented Division 4 this year. He and I race against each other a lot and we're good friends." Anyway, after that sluggish start Tom went to work, finished his time runs and prepared for race day. "I knew after the dinner on Thursday night that I had Roy (Hagadorn) in round one. It always seems like the guys you don't want to race you end up racing." Tom and Roy have raced with and against each other for years. "He's absolutely one of the best in the sport and I knew that he would be tough and that wasn't the way either one of us wanted to start eliminations. We've raced each other for years and I have the utmost respect for him." As it turned out Roy spanked Tom on the tree and it looked like it was all over for the defending champ. "I have to say that I thought I was in trouble right off the line. I got caught looking into the sun and didn't have a very good reaction time." But he did have a good bike and that's what pulled him through. One down and two to go.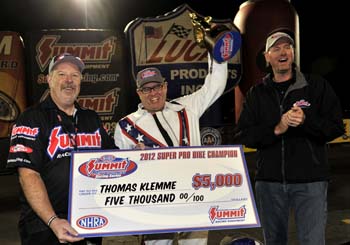 Don Lower, Tom Klemme and Jim Greenleaf
Round two saw another tough opponent, the Division 1 champion, Ken George. "I watched him during the time trials and I noticed that he had a delay box on that I don't think he ran during the season in Division1. It's tough to put one of them on and try to get comfortable with it in a short period of time." Tom, who always uses a "box," was second off the line again. "He hammered me on the tree but his bike stumbled a bit and he wasn't able to run the number. Fortunately I ran right on my dial and was able to get the win. For the entire day I didn't let go of the button as well as the other guys did but I do think I had the best bike and that pulled me through." Two down and one to go.
The final round saw Tom square off with another rider that he is very familiar with, Bob Nugent. "He and I have raced at several 'Dash for Cash' events and he is very good. Hey, he won Division 3 and you have to be good to do that so I knew I was in for a fight." This time Tom was first off the line and when he ran closer to his dial than Bob did it was all over but the shouting, or in Tom's case, it wall all over except for the big sigh of relief. "The third time was just as exciting as the others. I may not show it on the track but inside I'm really excited. My wife, Cathy, was with me and so was my son, Michael and that always makes it even more special." He was also joined by his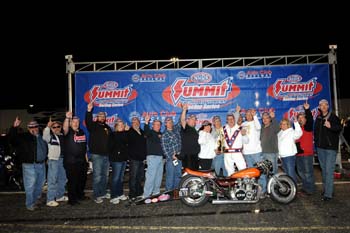 Klemme celebrates win with family and friends.
long-time friends, "Dumpster" Dan, Bill Homuth and Mike Van Dieren. "They've been with me at all three events and I really appreciate their support." In addition to his regular cast of followers Tom also said that Scott and Laura Gardner from his home track in Eddyville, Iowa, were also there to support him along with "about ten or fifteen other friends."
The Summit Racing ET Series has been held in Pomona for twelve years and the racers who get to compete in it absolutely love the event and Tom is no exception. "I can't say enough about what Summit does for the local racers," he said. "They really make us feel special." And now, what does he do for an encore. "Well, right now I'm at my winter job driving a truck, I don't want to get greedy but I'd love to get to go to Pomona again." With his track record, don't bet against it.




NHRA: 10 Most Recent Entries [ top ]

May 21- Second JEGS SPORTSnationals Added, to be held in mid-August in New England
May 20- DENSO Sponsors NHRA Champs' Shelter-in-Place Dachshund Race
May 14- To Our Racing Community-From Racers for Christ
May 13- The Name Game Part I
May 12- Morgan Lucas, Son of Forrest and Charlotte Lucas, Appointed President of Lucas Oil Products, Inc.
May 05- Cancellation of the 14th Annual Summit Racing Equipment NHRA Nationals
May 04- NHRA Announces Revised Plan to Restart 2020 Mello Yello Drag Racing Series
Apr 29- DSR Drivers Join Global Superstars in Fight for COVID-19 Relief
Apr 02- NHRA National Dragster will Temporarily Shift to a Free-to-All Digital Magazine
Apr 02- NHRA Announces Revised E3 Spark Plugs Pro Mod Drag Racing Series Schedule