Thu, 06 Dec 2012, 17:34 PM



Don Schumacher Racing, IUPUI Motorsports Engineering Program Renew Partnership



Courtesy of Jeff Wolf, DSR



To Enhance Performance, Safety in Drag Racing



INDIANAPOLIS --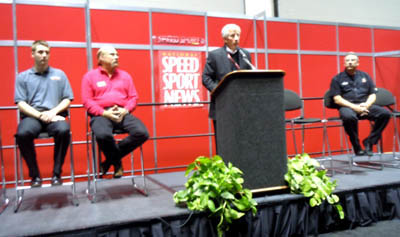 Grant Henkins, Pete Hylton, Mike Lewis and Mike Green
The most successful team in professional drag racing and the most innovative university involved in motorsports engineering announced Thursday an expanded partnership.
Mike Lewis, Don Schumacher Racing senior vice president, and Pete Hylton, director of motorsports for the Motorsports Engineering program at Indiana University-Purdue University at Indianapolis, detailed plans of the partnership at a 2:30 p.m. (EST) press conference during the fourth annual International Motorsports Industry Show being held at the Indiana Convention Center.
IUPUI, located in Downtown Indianapolis, and DSR, which is based in nearby Brownsburg, began collaborating four years ago and major strides were made after one year in the development a new Top Fuel Dragster chassis that debuted in 2010 with what at the time was the quickest run ever at 3.752 seconds by former DSR driver Cory McClenathan.
For various personnel reasons, the program was on hiatus last season but it resumed running at full speed this fall and plans to expand in 2013.
In addition to offering the country's only four-year motorsports engineering Bachelors degree, IUPUI will introduce a Masters degree program with a motorsports concentration in January.
A few months ago, Hylton met with Lewis and Mike Green, crew chief for DSR's U.S. Army Top Fuel dragster driven by seven-time NHRA world champion Tony Schumacher, to reenergize the internship program.
"There is such a great synergy between our program and DSR that it was only a matter of time before we would reactivate it," Hylton said, "and we see several areas where we can achieve mutual benefit for the team, the university, the students and the sport."
Schumacher, who will be inducted next year into the prestigious International Motorsports Hall of Fame, has been an innovator in drag racing since he was a pioneer Funny Car driver and owner in the mid-1960s. His emphasis always has been on safety as well as performance.
"The future of our great sport of NHRA drag racing is not just in finding talented drivers but in cultivating mechanics, crew chiefs, machinists and engineers," he said.
"Our wonderful relationship with IUPUI and its dedicated and intelligent faculty and students contributed to our DSR teams winning two NHRA world championships this season. And with the reciprocal relationship between IUPUI and DSR we hope to win more while keeping our drivers safe."
Lewis added, "DSR's relationship with IUPUI partners our engineers and crew chiefs with IUPUI instructors and students on specific research projects related to the safety and performance of our Top Fuel Dragsters and Funny Cars. Students learn from their real world experience in the DSR race shop and we've enjoyed tangible benefits from this joint effort."
Green said, IUPUI students' involvement with DSR has expanded to other projects including the study of Funny Car chassis dynamics and failure analysis of engine components.
"Working with IUPUI has been a valuable education process for myself and DSR's other crew chiefs and fabricators," Green said. "Through the university, we experience the latest state-of-art technology as far as software and computer simulations.
"This relationship really is a win-win for both of us; its the best of both worlds. We benefit by receiving input from very intelligent engineers who work with students to do the design work or analyze our ideas, and they get hands-on work with real results.
About IUPUI
Indiana University-Purdue University at Indianapolis is Indiana's premier urban, public research university by offering degrees in 21 schools that makes it Indiana's most comprehensive university. The IUPUI campus has a health and life sciences focus, with a medical school and a nursing school among the largest in the nation. The campus awards degrees from both Purdue University and Indiana University. The campus in Downtown Indianapolis has an enrollment of 30,000.
The four-year Bachelor of Science Degree in Motorsports Engineering was approved in May 2008 and had its first graduating class last May. A Masters degree with a motorsports concentration was initiated this winter and its first students will begin classes in January. This program's aim is to prepare graduates for careers in the motorsports industry, as well as with automotive-related companies by focusing on teaching the fundamentals of engineering along with completing hands-on projects that involve the designing, analyzing, and building of actual systems
About Don Schumacher Racing
Don Schumacher Racing, headquartered in Brownsburg, Ind., consists of seven professional NHRA teams: in Top Fuel, the 2012 NHRA Top Fuel world champion Matco Tools dragster driven by Antron Brown, the U.S. Army dragster driven by seven-time world champion Tony Schumacher and a third entry; and in Funny Car, 2012 NHRA Funny Car champion Jack Beckman in the Valvoline NextGen Dodge Charger R/T, 2011 world champion Matt Hagan in the Mopar Dodge, the NAPA AUTO PARTS Dodge of Ron Capps and the Service Central Dodge of Johnny Gray.
DSR has won 196 NHRA national event titles and 11 world championships.
Follow Don Schumacher Racing at ShoeRacing.com, on Twitter at @shoeracing and Facebook.com/shoeracing.




NHRA: 10 Most Recent Entries [ top ]

May 21- Second JEGS SPORTSnationals Added, to be held in mid-August in New England
May 20- DENSO Sponsors NHRA Champs' Shelter-in-Place Dachshund Race
May 14- To Our Racing Community-From Racers for Christ
May 13- The Name Game Part I
May 12- Morgan Lucas, Son of Forrest and Charlotte Lucas, Appointed President of Lucas Oil Products, Inc.
May 05- Cancellation of the 14th Annual Summit Racing Equipment NHRA Nationals
May 04- NHRA Announces Revised Plan to Restart 2020 Mello Yello Drag Racing Series
Apr 29- DSR Drivers Join Global Superstars in Fight for COVID-19 Relief
Apr 02- NHRA National Dragster will Temporarily Shift to a Free-to-All Digital Magazine
Apr 02- NHRA Announces Revised E3 Spark Plugs Pro Mod Drag Racing Series Schedule