Wed, 05 Dec 2012, 10:10 AM



Summit Racing European Troop Visit Andrew Hines Blog



Courtesy of Summit Racing Equipment



This year, Summit Racing Equipment and Armed Forces Entertainment-sponsored "Operation Appreciation" has visited troops in Bosnia and Kosovo. Our last stop was a meet-and-greet on Friday night at Camp Butmir, outside Sarajevo, Bosnia. Harley-Davidson Pro Stock motorcycle rider Andrew Hines took some time after the session to reflect on the week-long adventure he shared with fellow Harley teammate Eddie Krawiec and tour veterans Greg Anderson, Jason Line, and Dan Runte.
First we were in Stuttgart, Germany, where there are thousands of troops. In Germany soldiers can have family with them, so they have some emotional support when they're out in their field. Coming into Camp Bondsteel and seeing the young National Guard and the full-service members away from family and friends, you feel for them. Getting the chance to hang out with them at night and talk to them about what they are going through, it's a totally different deal. They're putting their lives on the line and leaving loved ones to go do what America has asked them to do.
I'm just glad we're able to bring a smile to the troops' faces and to let them know that we're excited to be there and that we support them. We had a great response from everybody. I expected an eye-opening experience, and that's what I've received. The work that these people put in day-in and day-out to accomplish their mission is amazing. That even extends to how things were prepared for us. They've done everything to a 'T'.
I'm going home with a newfound respect for everything our military does. I've been fairly quiet this trip, just kind of soaking it all in. It's more than I ever thought. These guys go through a tremendous amount of emotional pain and they have a ton of pride in what they do, which is great to see.
My dad was an Army helicopter mechanic in Vietnam. When we went out to the flight line at Camp Bondsteel to crawl around a Blackhawk helicopter and see the guys working on them, that was an inspiring moment. I got to see what my dad did to serve his country. I had a ton of respect for him before, but I have a newfound appreciation for his service now.
I'm very honored to be part of this trip. We had a great crew here with Team Summit Racing; this is something I will never, ever forget.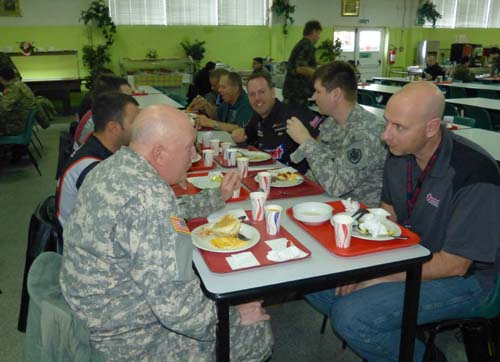 Grabbing a meal in the Camp Butmir multi-national dining facility are
Sgt. Vance Haymaker and Eddie Krawiec (left side of table) and Jim Greenleaf,
Cpt. Paul Brown, Jason Line, and Wayne Reed (right side of table).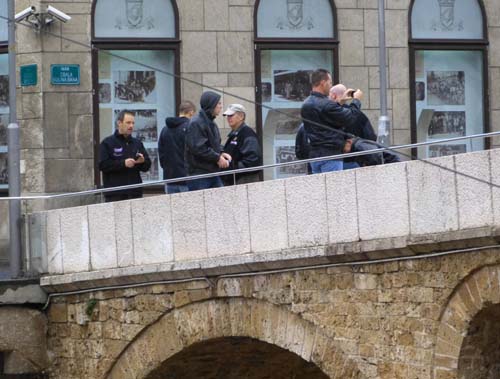 The Summit Racing team at the approximate spot in Sarajevo where
Archduke Ferdinand was assassinated in 1914, triggering World War I.
From left are Greg Anderson, Sgt. Carl Scherman, Andrew Hines,
Wayne Reed, Jason Line, and Jim Greenleaf.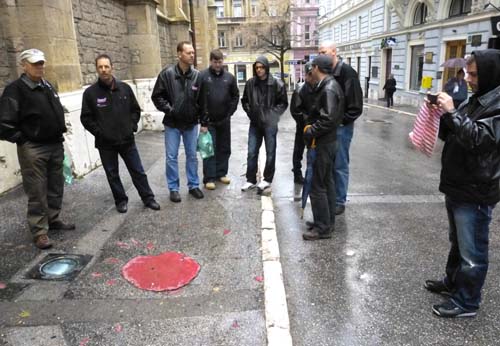 Wayne Reed, Greg Anderson, Jason Line,
Cpt. Paul Brown (Armed Forces Entertainment), Andrew Hines, Dan Runte,
and Jim Greenleaf listen to Damir Gulamovic, cultural liaison for Camp Butmir,
describe the Sarajevo Roses. These are red patches of pavement that mark spots
throughout the city where citizens were killed during the 1,335 days the city
was under siege by the Serbs. Estimates put the daily bomb total at
approximately 329, with a one-day high of 3,772.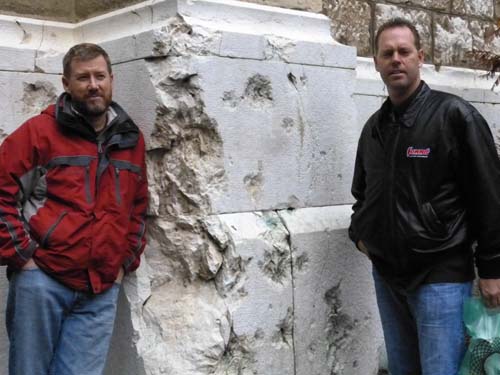 Jason Line and a Bosnian citizen survey some of the bomb damage
done to the Cathedral of Jesus' Heart in Sarajevo.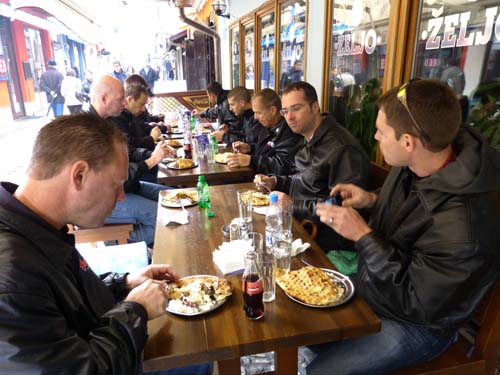 Enjoying a taste of cevapi (pronounced cheh-VAH-pee)-a Bosnian fast food
of sausages served with onion and sour cream within bread.
On the left side of the table (bottom to top} are Jason Line, Jim Greenleaf,
Greg Anderson. On the right side (bottom to top) are Andrew Hines,
Damir Gulamovic, Wayne Reed, Sgt. Carl Scherman, and Eddie Krawiec.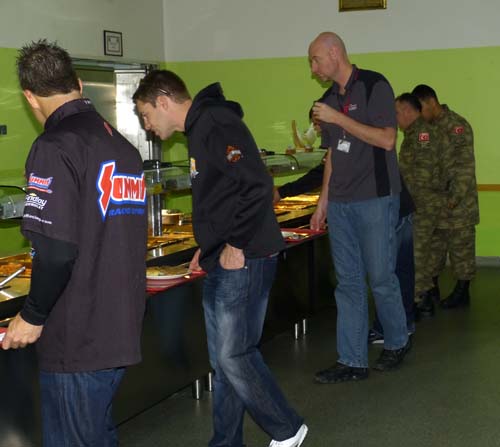 In line for chow with some NATO troops at the Camp Butmir
dining facility (DFAC) are Greg Anderson, Andrew Hines, and Jim Greenleaf.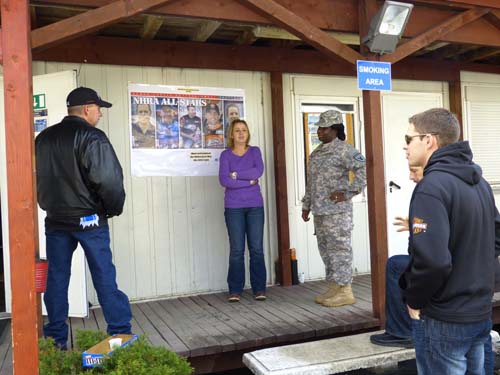 Dan Runte (left) talks to the manager of the American PX (post exchange)
while Sgt. Mary Frayer, Greg Anderson and Andrew Hines observe.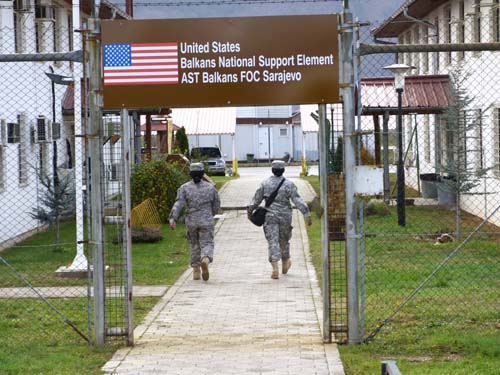 This compound within Camp Butmir houses American operations
including a U.S. Post Office, the cultural liaison office,
and an MWR (morale, welfare, recreation) room.
The MWR has amenities including satellite television, an Internet-connected
computer projected onto a screen, and a pool table.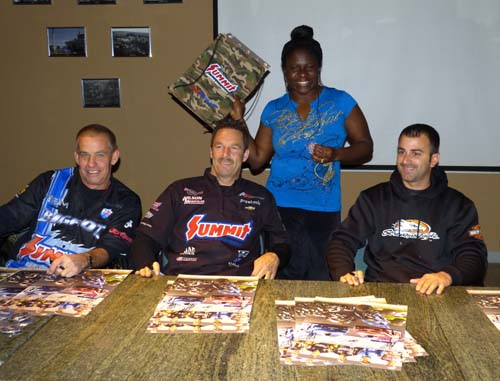 Sgt. Mary Frayer shows off her Summit Racing backpack
after receiving an autograph from (left to right) Dan Runte,
Greg Anderson, and Eddie Krawiec.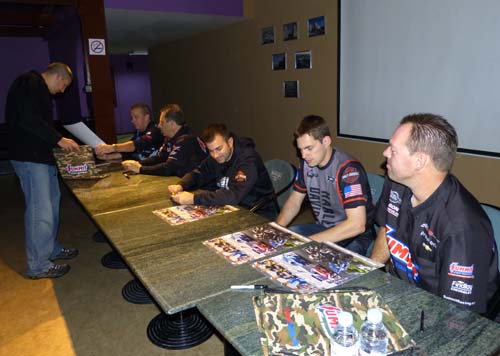 Sgt. Carl Scherman talk with the Summit Racing group (from bottom)
Jason Line, Andrew Hines, Eddie Krawiec, Greg Anderson, and
Dan Runte during the autograph/meet-and-greet session at Camp Butmir.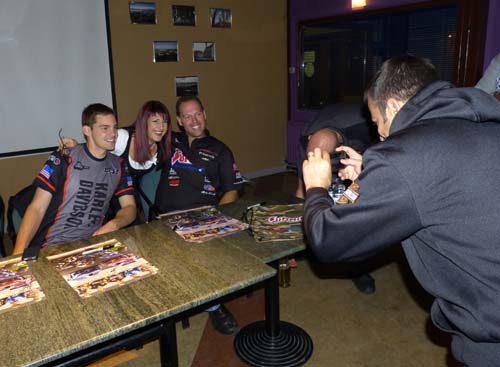 Eddie Krawiec acts as photographer for a NATO member,
snapping her picture with Andrew Hines and Greg Anderson
at Camp Butmir.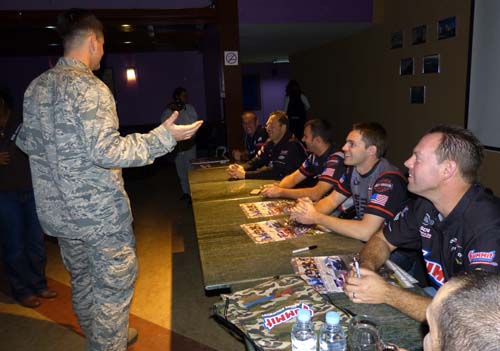 Lt. Col. Thomas Dobbs, chief legal officer for NATO HQ/Sarajevo,
chats with (from right) Jason Line, Andrew Hines,
Eddie Krawiec, Greg Anderson, and Dan Runte
during the autograph/meet-and-greet at Camp Butmir.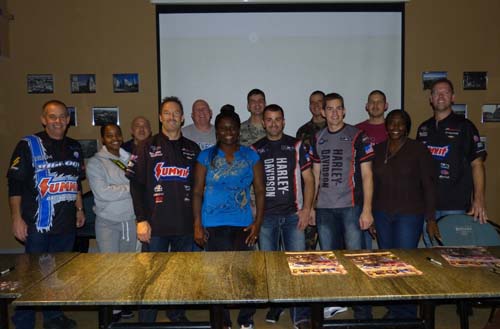 Soldiers and the Summit Racing group took a moment
for a souvenir photo at Camp Butmir. From left are
Dan Runte, Greg Anderson, Eddie Krawiec, Andrew Hines, and Jason Line.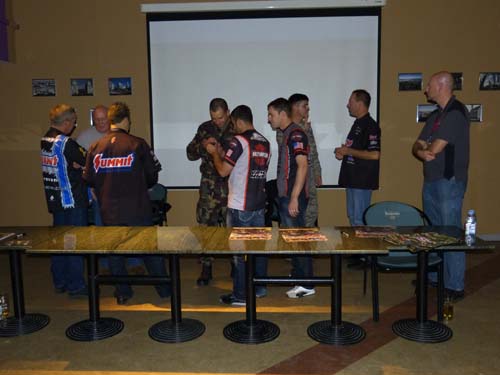 Dan Runte, Greg Anderson, Eddie Krawiec, Andrew Hines,
Jason Line and Jim Greenleaf mingle with the
troops during the Camp Butmir meet-and-greet.




NHRA: 10 Most Recent Entries [ top ]

May 21- Second JEGS SPORTSnationals Added, to be held in mid-August in New England
May 20- DENSO Sponsors NHRA Champs' Shelter-in-Place Dachshund Race
May 14- To Our Racing Community-From Racers for Christ
May 13- The Name Game Part I
May 12- Morgan Lucas, Son of Forrest and Charlotte Lucas, Appointed President of Lucas Oil Products, Inc.
May 05- Cancellation of the 14th Annual Summit Racing Equipment NHRA Nationals
May 04- NHRA Announces Revised Plan to Restart 2020 Mello Yello Drag Racing Series
Apr 29- DSR Drivers Join Global Superstars in Fight for COVID-19 Relief
Apr 02- NHRA National Dragster will Temporarily Shift to a Free-to-All Digital Magazine
Apr 02- NHRA Announces Revised E3 Spark Plugs Pro Mod Drag Racing Series Schedule