Tue, 04 Dec 2012, 23:30 PM



Finally



By Bob Frey


Photo copyright 2012 Auto Imagery, Inc.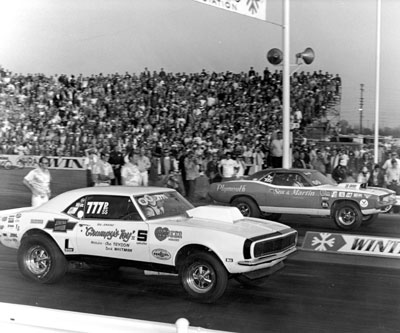 Bill Jenkins defeated Ronnie Sox
in the 1970 Pro Stock final.
Photo by NHRA
While very few of the folks who go to the races these days can say that they have seen the complete history of the sport there are those like me who can say that they have seen the complete history of Pro Stock. With the Winternationals in 1970 being the line of demarcation, everyone who has followed the sport since then knows what Pro Stock has meant to drag racing. Initially started in response to the fans clamoring for a heads-up class featuring their favorite
Detroit
muscle cars, Pro Stock hit the ground running and never looked back. Sure the fuel cars get a lot of attention at the NHRA national events, but it's hard to imagine a race without the "door slammers," and some of the sport's top stars and biggest names have raced in Pro Stock. Case in point, of the NHRA's top ten drivers Bob Glidden, Bill Jenkins and Warren Johnson all came from the Pro Stock class. Two of them, Bob and Warren, still rank among the sport's all-time winningest drivers while the "grumpy" one, Bill Jenkins, made such a lasting impact on the sport that all you have to do is say "Grumpy" and everyone knows who you're talking about. By the way,
did you know
that all three of those drivers are enshrined in the
International Motorsports Hall of Fame
? How cool is that?....Even though 1970 marked the beginning of the class as we know it,
did you know
that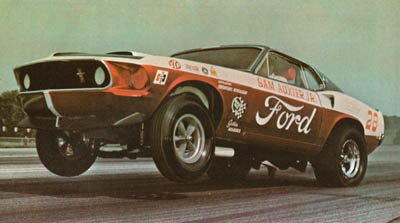 Sam Auxier
there were several organizations, including NASCAR, who ran cars similar to Pro Stock prior to 1970? Called "Ultra Stocks" by NASCAR, the class featured heads-up racing between cars that were separated by weight breaks. Among the drivers who competed in that class were
Sam Auxier
(who was part of the 1970 Winternationals' field),
Wayne Gapp
and
Al Joniec
to name a few.
In 2012 race fans expected more of the same in Pro Stock, that is, more domination by the Summit Racing drivers, Greg Anderson and Jason Line, and why not! After all, those two had combined for six season championships and they were among the top drivers in the class for as long as anyone can remember. They had won their six championships over the course of the last ten years and that's why they were considered among the favorites at the start of 2012. As strong as the drivers for owner Ken Black were sure to be in 2012 they knew they had to bring their "A-game" to every race because they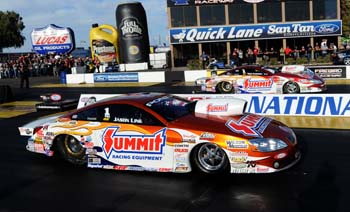 Line defeated. Anderson
were certain to get a challenge from a very talented group of drivers including former champs
Mike Edwards
,
Jeg Coughlin
and host of others. And while those drivers and a few others, like
Erica Enders
and
Vincent Nobile
, certainly had an impact on the year, in the end it was the Mopar of
Allen Johnson
who was at the top of the Pro Stock pack in 2012, and for Allen and his father,
Roy
, this was the culmination of almost two decades of competing in the class.
Did you know
that Allen's first Pro Stock race came in
Phoenix
in 1996? With a group of racers that included
Warren Johnson
, Mike Edwards, Bob Glidden and
Troy Coughlin
, Allen and his Dodge failed to make the field. In fact, out of the thirty-one drivers who were there Allen only ran quicker than three of them. Undaunted the team headed for
Gainesville
and the results were basically the same, another race and another DNQ. That was a pattern that would repeat itself over and over during the year, and at the end of 1996 the record stood at eighteen races entered, seventeen DNQ's, one number sixteen spot and a twenty-sixth place finish in the standings. Ironically that one qualifying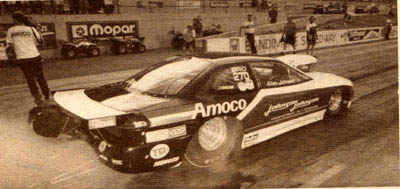 Allen Johnson at the '96 Mile-High Nationals.
Photo by NHRA
effort came at a place that would later become Allen's favorite stomping ground,
Bandimere Speedway
in
Denver
.
Did you know
that of those who finished ahead of Allen in the points in his rookie season only four, Warren and
Kurt Johnson
, Mike Edwards and
Larry Morgan
are still racing full-time in Pro Stock? And just for the record WJ won the championship that year and Mike Edwards tied for "Rookie of the Year" honors with
Matt Hines
. It's hard to believe that from those humble beginnings Allen and Roy stayed with it, got better every year and are now the champions of the Pro Stock world. What a journey it has been for them.
While '96 may have been a real learning process, and a painful one at times, the Mopar team moved forward and now they are hitting on all eight of those Hemi's cylinders. With an amazing 105 DNQ's in their past, their very distant past, Allen and Roy are now among the most consistent cars out there at every event. Did you know that they are one of only two teams who have qualified for every race in the past three years? Greg Anderson's Summit Racing team is the other and Allen has the second longest qualifying streak in the class right now at sixty-nine races, with only Greg Anderson's amazing streak of 232 ahead of him..When they finished qualifying in Pomona Allen and Roy achieved a milestone for the team, three consecutive years and never a single DNQ. Believe me, in the Pro Stock class, or any class for that matter, that is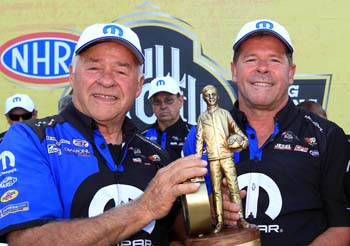 Roy and Allen Johnson
quite an accomplishment. Weather, a broken engine, a missed shift and rearranged schedules are just some of the things that can play havoc with a team's qualifying efforts, so to make every show for over three years is a big thing..To show you how determined they were and how they made the decision to race and compete in the Pro Stock class no matter how tough it was for them in the beginning,
did you know
that Allen is the only driver in the history of the NHRA to win a
Full Throttle
series championship and have more than 100 DNQ's on his record? The only one! Of course most of those DNQ's came very early in his career when the team was struggling, but still, that had to be frustrating to anyone as competitive as Allen is, and to stick with it through the tough times is just another reason why the championship has to be extra special to the Johnson family, and rightfully so..I mentioned a week or so ago about how strong Allen has been over the past few years and there is one number that really stands out over that period of time. At the end of the 2008 season AJ's record stood at 158 - 185 and it is now 308 - 263. That means that he has won exactly 150 rounds in the last four years and that's good in any class of racing and it's the fourth best record in the Pro Stock class over that period of time. Who do you think has won the most Pro Stock rounds in the last four years? Well if you said Greg Anderson you would be incorrect. Jason Line? Wrong again. Mike Edwards has won 167 rounds from 2009 through 2012 and that's the most in the class. Surprisingly both Greg and Jason have won the exact same number of rounds, 163, in those years and then Allen is next. Whatever Allen and Roy found it sure has paid off, hasn't it?...In 2012 Allen won a total of fifty-five rounds and that's a great year in anyone's book.
Did you know
that Greg won a staggering seventy-six rounds in his dominating 2004 season and that's still a record in the class? Jason's best year was a fifty round win season in 2009 the same year Mike Edwards had his best year with fifty-three round wins.
Did you know
that Allen's round win total was the most in any of the Full Throttle classes this year?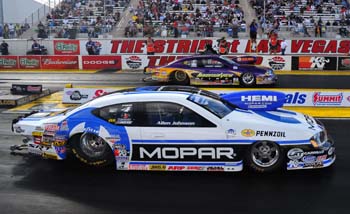 Johnson defeated Vincent Nobile
While Allen was crowned the champion there were a lot of other great moments in the class in 2012 and the competition certainly kept the Dodge driver on his toes. Jason's dominating performance at the Maple Grove race comes to mind, and even though he didn't win the event he sure did make his mark on history. His 6.482 pass and his 214.35 mph blast ended up as the quickest and fastest runs of the year in the class. In fact, Jason now is the holder of the five quickest runs in Pro Stock history along with the two fastest and he finished in the top ten for the ninth consecutive year..Vincent Nobile finished third in the standings and that makes two very good years for the sophomore driver. The Mountain View Dodge, which runs with power from the Roy Johnson emporium of really fast Hemi cars, edged Erica Enders by five points and he looks like he'll be tough to beat for many years to come...As good as Vincent was the one guy he couldn't beat, at least in the "Countdown," was Allen. Did you know that those two met each other in all six of the "Countdown" races and that AJ won all six of them? And did you know that in the entire history of the NHRA's top four classes that is the most times that one driver has beaten another driver at consecutive events? Amazing, isn't it?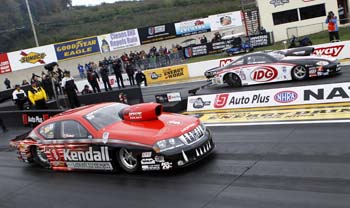 V. Gaines defeated Dave Connolly
For Dodge to capture the championship is a big thing and I'm sure that everyone at Mopar certainly appreciated Allen's efforts all year long. In addition to his seven wins, a record for his career, he also qualified number one ten times and that, too, is a personal best. Plus he recorded low elapsed time at nine events and he had the fastest car at ten races and they, too, are all career best numbers. Along with the one time that Vincent was number one that gave Dodge a total of eleven top spots in 2012. Did you know that equals the most number one spots for Dodge in a single year? Back in the heyday of the "Dodge Boys," Darrell Alderman and Scott Geoffrion, they qualified number one at eleven races in 1994, and until now that was the record for Dodge. Like I said, everyone at Mopar has to be really pleased with what they saw from their team cars this year, and that includes Vincent, V. Gaines (who won Maple Grove), Jeg Coughlin (who went to the final round at the Winternationals), Chris McGaha and others...Based on what we saw this year I expect to see more of Deric Kramer in 2013 and, from what I hear, Matt Hartford will be making about a dozen appearances too so that's more good news for the Hemi fans.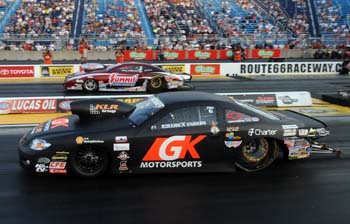 Enders defeated Anderson
By any measure Erica Enders had a great year. Let's face it, when you are second in the class in wins and when you win as many races as Greg Anderson, it was a good year. Erica's GK Motorsports team ran well all year and they made a serious run at the championship, and with everything in place for 2013 they should hit the ground running in Pomona next February...Erica was one of only five drivers to record a number one spot this year and the only driver other than Allen to win a race from the top spot. Did you know that Greg Anderson was one of those who did not qualify number one in 2012? Since 2001 Greg has had at least one top spot in ten of the twelve years, but none this year and none in 2010. Even with that, and a new Camaro, Greg still managed to win four races and finish fifth in the points, a good year by most standards but probably not by Greg's. Did you know that Greg had finished no lower than third in the points in each of the last ten years?....I get to vote in the National DRAGSTER poll for the "Best of 2012" season and when it came to "Best Performance by a Pro Stock Car" I had to go with Vincent Nobile's weekend in Norwalk. That's where he won the K&N Horsepower Challenge and the event and walked off with a whole pile of cash. He should be just as good or better next year and you can expect him to make a serious run for the championship. Of course with the addition of Jeg Coughlin to the teams running out of the Roy and Allen Johnson shop, Dodge fans should have even more to cheer about than they did in 2012 and that's saying a lot.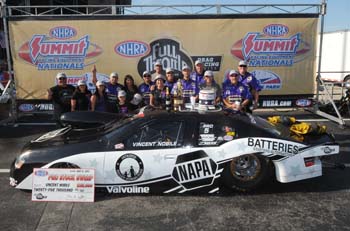 Nobile and crew celebrate double up in Norwalk.
I am as big a Pro Stock fan as anyone and 2012 provided a lot of great moments, and about the only thing I could think of that would make it better would be to have a competitive Ford in the field. Larry Morgan made some noise this year but never really challenged the top drivers. Still he did make it past the first round at almost half of the races this year and that's progress, and it would be great to see him and the other Fords, JR Carr, Mark Wolfe and the Jim Cunningham entry step up next year. With the new look Camaros, the strong Mopar contingent and some Fords in the running 2013 could be the best year ever in Pro Stock. Hey, a guy can dream, can't he?




NHRA: 10 Most Recent Entries [ top ]

May 21- Second JEGS SPORTSnationals Added, to be held in mid-August in New England
May 20- DENSO Sponsors NHRA Champs' Shelter-in-Place Dachshund Race
May 14- To Our Racing Community-From Racers for Christ
May 13- The Name Game Part I
May 12- Morgan Lucas, Son of Forrest and Charlotte Lucas, Appointed President of Lucas Oil Products, Inc.
May 05- Cancellation of the 14th Annual Summit Racing Equipment NHRA Nationals
May 04- NHRA Announces Revised Plan to Restart 2020 Mello Yello Drag Racing Series
Apr 29- DSR Drivers Join Global Superstars in Fight for COVID-19 Relief
Apr 02- NHRA National Dragster will Temporarily Shift to a Free-to-All Digital Magazine
Apr 02- NHRA Announces Revised E3 Spark Plugs Pro Mod Drag Racing Series Schedule