Sun, 02 Dec 2012, 20:26 PM



Track Champions Crowned at Firebird Year-End Banquet



Courtesy of Firebird Raceway


Photo by: Alex Charlton





BOISE, Idaho --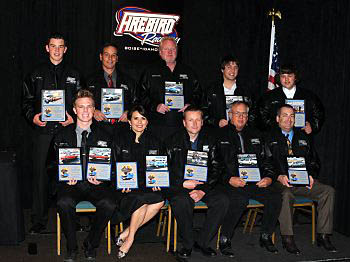 2012 Firebird track champions include
(top, l to r): Rayce Kidd, Mark Kidd, Joseph Karnes,
Jacob Wood and Alex Steen;
(bottom, l to r): Duston Wurtz, Tessa Lancaster,
Jeremy Wanders, Glen Phillips and David Meimann.
The 45th edition of the Firebird Awards Banquet officially brought the 2012 NHRA Drag Racing Season to a close on Saturday night, November 17th. Staged in the Ballroom of The Riverside Hotel in Boise, the Banquet featured an evening packed with awards, which included upwards of $15,000 in cash and prizes.
Voted on by his peers, Mark Kidd, Twin Falls, was awarded Bracket Racer of the Year. Kidd also won the Pro Track Championship. Sweeping honors for "Lady Driver of the Year" was Tessa Lancaster, Ontario, Ore., who also earned the Street Truck year-end title.
Another highlight of the evening was the 26th announcement for the Racemaster award. Emmett Police Chief Steve Nebeker was acknowledged for this very special Firebird Hall of Fame type award. Nebeker first started racing as a junior in Firebird's High School Series back in 1979 and supported the raceway in a variety of ways including the "Beat the Heat" program during the six-race prep series.

2012 Boise Muffler Gold Cup Championship Series
Super Pro:  Rayce Kidd, Twin Falls
Pro:  Mark Kidd, Twin Falls
Sportsman:  Joseph Karnes, Eagle
Sled/Bike:  Jacob Wood, Meridian
Junior Dragster:  Alex Steen, Idaho Falls
High School Teams:  Middleton High (AAA) and Renaissance High (AA)
High School-Individual:  Duston Wurtz, Meridian High
Alumni:  David Meimann, Middleton
Sport Compact:  Javier Castro, Nampa
Street Bike:  Jeremy Wanders, Meridian
Outlaw Street:  Duston Wurtz, Meridian
Street Truck:  Tessa Lancaster, Ontario, Ore.
Nostalgia:  Jeffrey Langan, Boise
Super Shifter:  Glen Phillips, Nampa
Club Champions:  PSI Racing (Silver Cup), Kuna Knuckle Draggers (Bronze Cup), and Valley
Vettes (Copper Cup)

2012 Year-End Special Awards
Perfect Attendance Winner - Rion Coates, Eagle
Perfect Light Club Treasure Chest - Brad Todd, Boise
Rising Star-Katy Sterling, Middleto
Top Rookie-Rayce Kidd, Twin Falls
Best Appearing Race Car-Doug Wikfors, Eagle
Outstanding Perseverance-Gordon Boven, Boise
Good Guy 2012-Gary Himes, Boise
Outstanding Crew-Shawver Family Racing, Meridian
Most Improved Driver-Darrell Carr, Fruitland
Employee of the Year-Ron & Weston Nichols, Nampa
Lady Driver of the Year-Tessa Lancaster, Ontario, Ore.
Bracket Racer of the Year-Mark Kidd, Twin Falls
Racemaster-Steve Nebeker, Emmett





Drag News: 10 Most Recent Entries [ top ]

May 27- PDRA to Kick Off 2020 Season at East Coast Nationals
May 21- PDRA Releases Seven-Race Revised 2020 Schedule
May 20- New Location-Nitto Tire NMRA/NMCA Super Bowl of Street-Legal Drag Racing Moves to St. Louis
May 20- Illinois Motorsports Coalition Formed to Lobby State Government
May 20- Illinois Motorsports Coalition
May 18- Beech Bend Raceway Park National Open Postponed
May 18- NHRA Announces NHRA Hot Rod Heritage Series at Sacramento Raceway is Postponed
May 11- POSTPONED-NMRA/NMCA Power Festival
May 11- PDRA Returning to Racing May 29-30 at GALOT Motorsports Park
May 07- Special Nitro Event Set to Unite the Country