Sun, 02 Dec 2012, 16:38 PM



Summit Racing European Troop Visit Eddie Krawiec Blog



Courtesy of Summit Racing Equipment



The first two days of the weeklong Summit Racing Equipment-sponsored troop visit to Europe were spent in Stuttgart, Germany. Shortly after arriving Sunday, November 25, Summit Racing Pro Stock drivers Greg Anderson and Jason Line, along with Summit Racing/BIGFOOT Monster Truck driver Dan Runte, were joined by Harley-Davidson Pro Stock Motorcycle riders Eddie Krawiec and Andrew Hines.
The second day, the group returned to Panzer Kaserne for breakfast in the dining facility of the 1st Battalion-10th Special Forces Group (Airborne), and it turned into an impromptu autograph session for both the soldiers and the staff. The rest of the day included visits to a military combatives training session (think a combination of wrestling and UFC), the firing range, the parachute-rigging facility, the battalion headquarters (including a peak in the command center), and an unexpected and fascinating visit to the Navy Seal facility, which included a guided tour of the non-sensitive areas. Each stop included a meet-and-greet with the troops and personnel.
Eddie Krawiec, 2012 NHRA Full Throttle Pro Stock Motorcycle champion, is participating in his first Summit Racing troop tour and reflected on the initial two days in Germany:
The excitement level is just unbelievable. We've had people walk up to us, shake our hand, and say, "Wow, thank you.I appreciate you coming all the way over here, you know, traveling 5,000 miles and coming to see us." That gives me a warm feeling. They are very grateful for us coming, but I'm more grateful to meet them and see and learn about what they are doing. They're saying thank you and showing their appreciation for what we're doing. We appreciate what they do for us more!
Coming over here, I was expecting more of that military atmosphere-the strict stuff you always see on TV. What I've seen is a little more laid back, without a lot of saluting, but they all respect one another. The most interesting thing I saw today, speaking to all the colonels and higher-ranked officers, is they were just like us. Yes, they have a more important job than we do, but at the end of the day, they're all just individuals. They're regular people, but it's interesting to see how they support each other. It's more of a group or combined effort.
One of the highlights has been shooting some firearms at the firing range. Anytime you walk into a shooting range and you can fire an M4, a Glock, or anything, that's a pretty cool opportunity!
They also tried to con me into jumping out of an airplane, but I see no reason for it. I figured as long as I was on the ground, though, I'd try and put a parachute on and was successful. I'm rather impressed by the guys that jump. The gear is like a huge jigsaw puzzle. The key piece is obviously the parachute, plus a 70-pound rigging system and another 150-200 pounds of gear and accessories. Once you have everything on, it's like 250 pounds worth of equipment, and you've got to jump out of a plane with it all. And when you land on the ground, you have to be quick and get moving. That takes a real man!
The biggest highlight of the trip so far, though, was visiting the Navy Seals barracks. We all know how important the Navy Seals are to our freedom. When the going gets tough, these guys are there. They come in and really help things out. We had the opportunity to go where the Seals train and see how they do things. It was very impressive!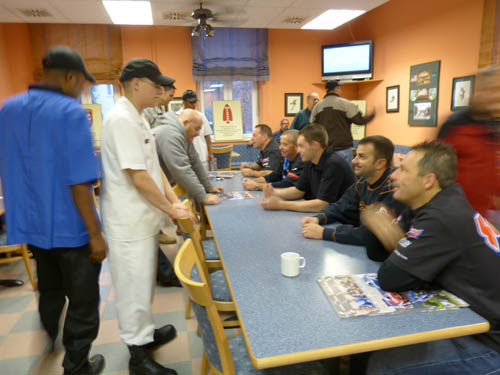 Breakfast in the 1st Battalion-10th Special Forces Group (Airborne)
dining facility included an autograph session for the soldiers.
Talking to one of the cooks were (from right to left):
Greg Anderson, Eddie Krawiec, Andrew Hines, Dan Runte and Jason Line.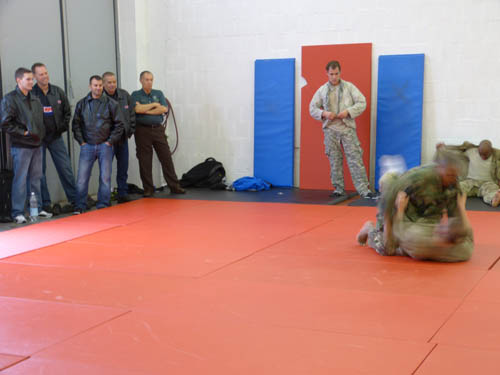 Watching a military combatives (a cross between "true" wrestling and UFC)
training session are (from left): Andrew Hines, Jason Line, Eddie Krawiec,
Dan Runte and Wayne Reed, from the Special Forces Association
and an organizer of the program.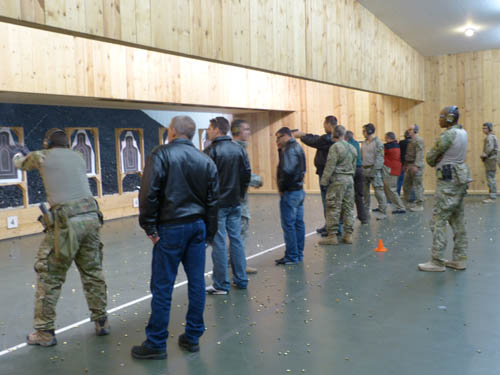 A team of the 1st Battalion-10th Special Forces Group (Airborne) invited
the Summit Racing group to the shooting range
and then instructed them on the use of
the Glock 19 9mm pistol and the M4 rifle.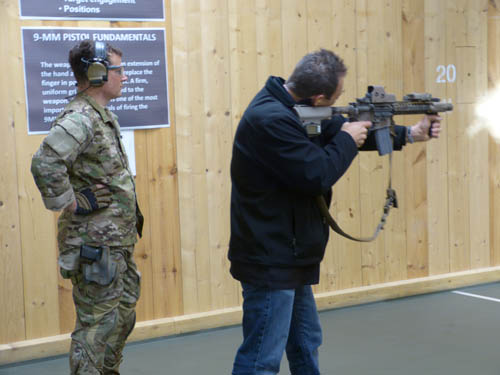 Under the watchful eye of a Special Forces instructor,
Greg Anderson experiences an M4 rifle.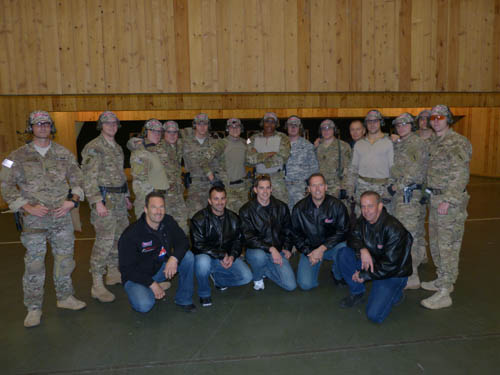 The Special Forces team seemed to have as much fun at the shooting range as
the Summit Racing/Harley-Davidson group and paused for this photo
(from left) Greg Anderson, Eddie Krawiec, Andrew Hines, Jason Line and Dan Runte.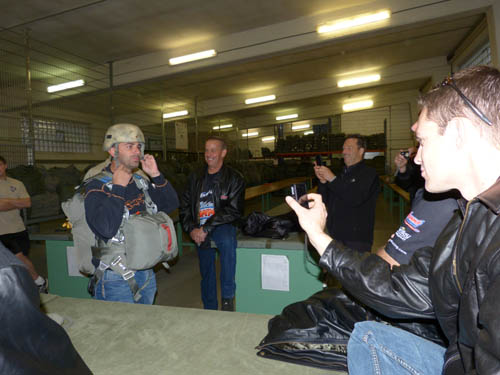 Eddie Krawiec found out what it was like to be prepped for a parachute jump
when the Summit Racing team visited the parachute-rigging facility -
and thus provided a laugh for (from left): Dan Runte, Greg Anderson and Andrew Hines.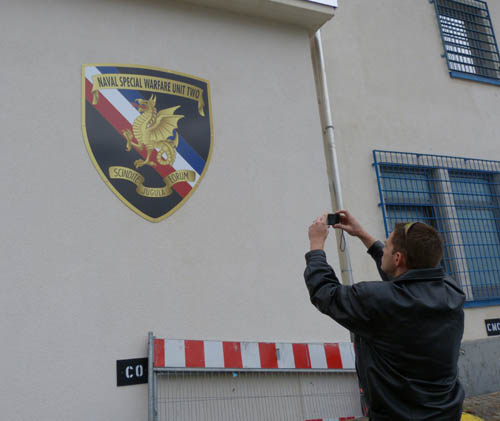 Andrew Hines outside the Navy Seals facility on the Panzer Kaserne just before
the Summit Racing group had an unexpected and fascinating guided tour of it.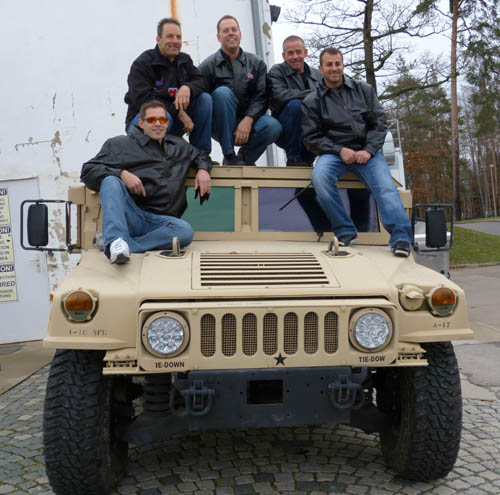 The Humvee was just too tempting, so (front and then from left)
Andrew Hines, Greg Anderson, Jason Line, Dan Runte and Eddie Krawiec
scrambled onto the military's workhorse to mug for the camera.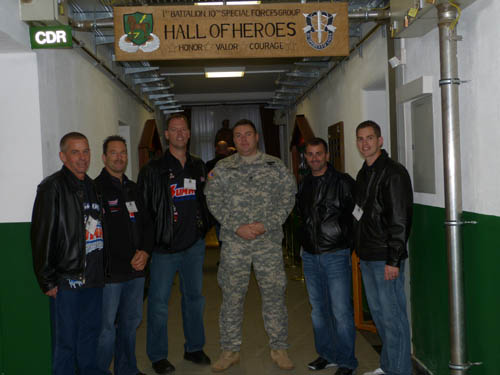 Sgt. 1st Class Russell W. Nehmer (center) brought the Summit team to the various
Special Forces team activities and Navy Seal facility, including this stop in the
1st Battalion-10th Special Forces Group (Airborne) headquarters "Hall of Heroes."




NHRA: 10 Most Recent Entries [ top ]

May 21- Second JEGS SPORTSnationals Added, to be held in mid-August in New England
May 20- DENSO Sponsors NHRA Champs' Shelter-in-Place Dachshund Race
May 14- To Our Racing Community-From Racers for Christ
May 13- The Name Game Part I
May 12- Morgan Lucas, Son of Forrest and Charlotte Lucas, Appointed President of Lucas Oil Products, Inc.
May 05- Cancellation of the 14th Annual Summit Racing Equipment NHRA Nationals
May 04- NHRA Announces Revised Plan to Restart 2020 Mello Yello Drag Racing Series
Apr 29- DSR Drivers Join Global Superstars in Fight for COVID-19 Relief
Apr 02- NHRA National Dragster will Temporarily Shift to a Free-to-All Digital Magazine
Apr 02- NHRA Announces Revised E3 Spark Plugs Pro Mod Drag Racing Series Schedule