Fri, 30 Nov 2012, 11:00 AM



American Drag Racing League Announces 2013 Tour Schedule



Courtesy of American Drag Racing League



LAKE ST. LOUIS, Mo. --
Officials from the American Drag Racing League unveiled their 2013 tour schedule today during a press conference at the Performance Racing Industry show in Orlando, Fla. The most notable change is a switch to events being held on Saturdays and Sundays versus the ADRL's traditional Friday - Saturday format. "After careful consideration and discussions with our racers and track partners, everyone agreed that holding our events on Saturday and Sunday was our best option going forward," said ADRL President Kenny Nowling.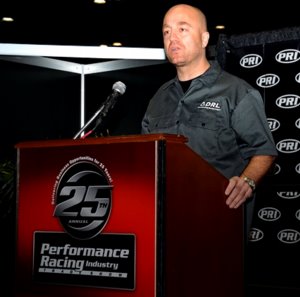 Kenny Nowling
The season will launch on March 9 - 10 at with Dragpalooza IX at historic Rockingham Dragway in Rockingham, N.C. The tour will then head to South Georgia Motorsports Park in Cecil, Ga. on April 13 - 14 for the Georgia Drags VII. The U.S. Drags VI will take place on June 8 - 9 at Virginia Motorsports Park located just outside of Richmond, Va. followed by the Summer Drags IX at US 131 Motorsports in Martin, Mich. on June 29 - 30. The ADRL will round out the summer at Memphis International Raceway with the running of the Memphis Drags IV on August 3 - 4. The tour will then head back to Rockingham Dragway for its most prestigious event, Dragstock X, on September 7 - 8. For the ninth straight year the season will wrap up in Texas with the ADRL World Finals IX at beautiful Royal Purple Raceway in Baytown, Texas on October 19 - 20.
Two additional dates are being considered, however agreements were not finalized in time for this announcement. Expect a press release in the coming weeks announcing the remaining dates on the 2013 ADRL calendar.

2013 ADRL Tour Schedule
March 9 - 10    Dragpalooza IX     Rockingham Dragway              Rockingham, N.C.
April 13 - 14   Georgia Drags VII  South Georgia Motorsports Park  Cecil, Ga.
June 8 - 9      U.S. Drags VI      Virginia Motorsports Park       Petersburg, Va.
June 29 - 30    Summer Drags IX    US 131 Motorsports Park         Martin, Mich.
August 3 - 4    Memphis Drags IV   Memphis International Raceway   Millington, Tenn.
Sept. 7 - 8     Dragstock X        Rockingham Dragway              Rockingham, N.C.
Oct. 19 - 20    World Finals IX    Royal Purple Raceway            Baytown, Texas

About the American Drag Racing League
Based in Lake St. Louis, Mo, the American Drag Racing League (ADRL) is the nation's premier sanctioning body for the sport of eighth-mile drag racing. The exciting categories featured in the ADRL are Junior Dragster, Pro Junior Dragster, Top Dragster, Top Sportsman, Pro Extreme Motorcycle, Extreme Pro Stock, Pro Mod, Pro Nitrous and Pro Extreme, the quickest full bodied class in all of drag racing. The ADRL is the only major professional drag racing organization in existence that offers thousands of FREE TICKETS to every action packed event! To learn more visit their official website, ADRL.us or "like" them on facebook at facebook.com/ADRLFanPage.