Fri, 30 Nov 2012, 08:32 AM



I Wonder if Bob Glidden Started this Way?



By Bob Frey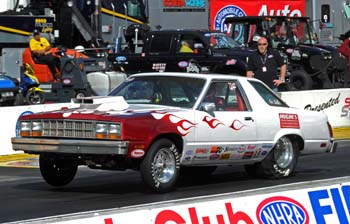 Seth Polvadore in his Ford Fairmont.
It's been a long while since we had a really competitive Ford in the Pro Stock ranks. For years Bob Glidden roamed the world destroying everything and everyone who got in his path. And while it's true that Bob didn't drive a Ford at every national event in which he competed he certainly was behind the wheel of a Ford for most of his eighty-five wins. For years the "Blue Oval" faithful knew if they went to the races and Bob was there they had a real good chance of seeing his Ford in the winner's circle. This year there were a few more Fords in the Pro Stock class, and while they often qualified and went a few rounds, none of them made it to the winner's circle. Well, Ford fans, take heart because there was one driver who not only won a race in 2012 he also won a national championship and he did it in a Ford. In fact, he did it in a Ford Fairmont and he won in Pomona just like Bob Glidden did so many times so many years ago.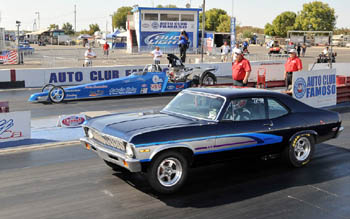 Seth Polvadore defeated Charles Sturdevant
in the D-7 Pro ET final.
Photo copyright 2012 Bob Johnson Photography
Seth Polvadore is the 2012 Summit ET Series Pro Eliminator champion. He won the title by being the Division 7 representative and then going to Pomona and beating the Division 3 champ, Evan Shoopman in round one, Division 4 standout Jeff Hefler in round two and the Northeast division representative, Vinny DiMino in the final round. Anyone who has seen Seth race in the past knows that he and his father are both died-in-the-wool Ford guys, but he won his way to Pomona driving a Chevrolet. "Yeah, I have to admit that I won the division championship in a Chevy," he said. "And I got a lot of strange looks along the way, too." It seems that he came to the division finals with his trusty Ford Ranchero, a vehicle that he has raced for several years. "I got to the second round on Saturday and developed some real mechanical problems and couldn't go on," he said. "So I checked with my team captain and he checked with (Division Director) Mike Rice and they said that since Sunday was a completely new race it would be ok if I raced the Chevy." Special thanks go to Seth's friend, Ken Passerby, who loaned him the "bowtie" car for the Sunday race. Seven rounds later it was all over and Seth was on his way to Pomona.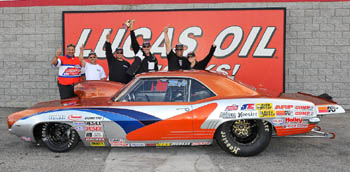 Bernie's SST win at the 2011 D-7 in Las Vegas.
Photo copyright 2012 Bob Johnson Photography
Seth's journey to the Summit E/T Finals began like so many of today's young stars, in a Jr. Dragster. "I started racing them when I was eleven and I did it for a few years. We won a couple of local races but didn't travel much with the car because my dad said it was just a training ground for the big car." His dad, Bernie, has been racing since the late 1980's and he has done all of his racing in a Ford. "He's the reason I race Fords," Seth added. "I was born into it and really don't know any other way to race." Bernie went to several divisional final rounds and Seth made one, the 2007 event in Tucson where he finished runner-up, and other than some local titles that was his best finish until the big win in Pomona. "I think I did reasonably well at our local track but I never made the final round at an NHRA national event. To say that the Summit win was the biggest of my career would be an understatement."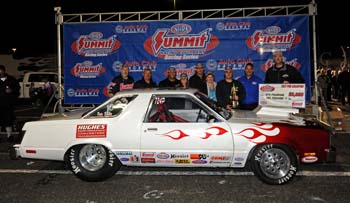 Seth Polvadore celebrates win.
Like all of the competitors who make it to Pomona Seth said that the experience was simply awesome. "I talked to a few guys from our area who had been there before and they told me that it would be a once in a lifetime event, and after doing it I can agree. The folks at Summit really make you feel welcome, from the banquet on Thursday to the winner's circle on Sunday night it was everything I expected and more." And this time he won it in typical Polvadore family style, in a Ford. "I brought my dad's car to race and it worked out well." From Seth's point of view that car, a 1979 Ford Fairmont with a 418 cubic inch small block Ford engine, seemed to fit better into the scheme of things than his normal ride. "My car usually runs around 11.70 or 11.80 and I thought a lot of the other guys would be fast, and as any racer will tell you it's always better to be the chaser since you have the whole race in front of you." As it turned out, even with the extra power of the Fairmont, Seth was a "mid-pack" guy. "There were some guys running a lot faster than I was and I thought that might be a problem." Well, since he left California with the trophy it apparently wasn't too much of a problem.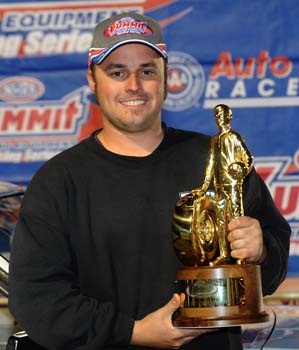 Seth Polvadore
At the age of twenty six and a five year employee of Rick Watters Racing Engines, Seth has been around cars all of his life. In addition to the Fairmont and Ranchero he and his father have also raced that classic race car, the ever popular Ford Pinto. "We just love the Fords. I was raised with them and besides, everyone has a Chevrolet." Having said that there is still a chance that Seth could switch ranks sometime in the future. "Yeah, we may build a dragster and that would probably have a Chevy. They're very reliable and the parts are easy to get, but for now, I'm still a Ford guy." And when asked about any heroes that he might have had growing up he quickly said, "Bob Glidden, of course." And he had a brush with the great one several years ago when Bob was in Arizona. "I got him to sign my die-cast car and that was pretty cool."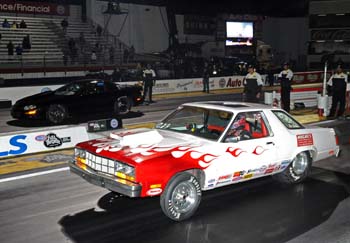 Polvadore defeated Vinny Dimino in the final.
The Pintos the family runs include a 1976 model with a 347 cubic inch engine that Bernie races, and another '78 model that both Polvadores have raced, but it was the Fairmont that Seth drove to the championship. "I was a little bit in awe of just being in Pomona," he said. "I had been there before but never to race, and when you think about all of the history that has taken place at the track you have to be amazed that you're actually racing there." He may have been a little star-struck in round one when he got away with an uncharacteristically slow reaction time. "I just missed the tree but fortunately for me the other guy ran out." Then in the second round he met up with Jeff Hefler, and even though most of the racers at the Summit E/T Finals are from local tracks and don't run many NHRA national events, Seth knew plenty about Jeff. "I knew he had won a lot of races and that I'd have to be on my game if I wanted to beat him. I saw him working me at the other end of the track so I let him go and he broke out." With that Seth moved into the final round against DiMino. There, Seth had his best reaction time of the day and it paid off. "I got about a one second head start in the final round. I knew I had a good light when I let go of the button, and knew I had to get rid of what I was holding at the other end." All of that is bracket-racer speak for he made his opponent break out and Seth was the national champion.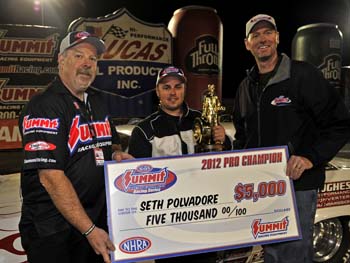 Don Lower, Seth Polvadore and Jim Greenleaf
Unlike a lot of racers who are done for the year Seth said that he's ready to go racing again. "Out here (in Arizona) our points program at Firebird starts next week so I'll be out and racing again. I know everyone said that the Summit Finals are a once in a lifetime event but I'd sure like to do it again." And you can be sure that if and when he does it will be in a Ford. Somewhere out in Indiana Bob Glidden has a big smile on his face.
"The whole thing was just wonderful and I have a lot of people to thank including everyone at Rick Watters Racing Engines, Hughes Performance, Total Seal Piston Rings, Hoosier Tires, Ron Davis Racing Radiators, Ken and Mike Passerby, Rick Lash, all the members of Team Firebird, Scott and Stacey Rollins, my mom and my dad, because without them I would have never been able to do any of this."




NHRA: 10 Most Recent Entries [ top ]

Apr 24- CHARLOTTE 1 - Steve Torrence Enjoying Four-Wide Success Heading to NGK Spark Plugs NHRA Four-Wide Nationals
Apr 24- CHARLOTTE 1 - Fact Sheet
Apr 24- Kalitta Motorsports Welcomes NASCAR Stars to the SealMaster Track Walk in Charlotte
Apr 24- zMAX Dragway Celebrates 10th Anniversary
Apr 24- CHARLOTTE 1 - NGK Spark Plugs NHRA Four-Wide Nationals Brings 40,000 Horsepower Thrill Show to zMAX Dragway
Apr 23- HOUSTON - Lucas Oil Drag Racing Series Wrap Up The NHRA Lucas Oil Drag Racing Series Wrap Up
Apr 23- CHARLOTTE 1 - J.R. Todd Aiming for Two Four-Wide Racing Wins in 2018
Apr 23- Mid America Dragway Joins NHRA Member Track Network
Apr 23- HOUSTON - Special Awards
Apr 23- HOUSTON - Sunday Video