Thu, 29 Nov 2012, 06:50 AM



Goforth Joins Elite Company with Second Straight ADRL Extreme Pro Stock World



Courtesy of ADRL Communications


Photo copyright 2012 Roger Richards, ADRL





O'FALLON, Mo. --
Championship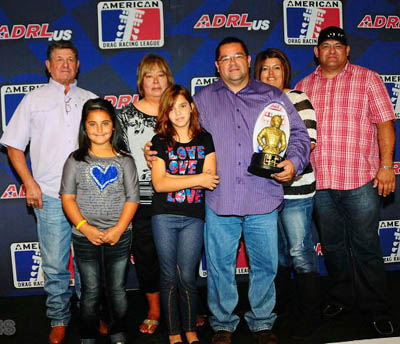 Goforth celebrates championship.
Cary Goforth knows all about finishing strong, doing it for the second straight year in the American Drag Racing League's (ADRL) Extreme Pro Stock class.
But Goforth took it a step further in 2012, joining some incredibly elite company in the process.
Not satisfied with one championship, Goforth pushed harder than ever to close out his 2012 campaign, winning the season-ending World Finals VIII presented by CarSafe at the Texas Motorplex. It gave him three wins for the year, a class-best nine for his career and his second straight XPS championship, joining the likes of Jason Scruggs, Mike Castellana and Billy Vose as the only two-time world champions in the history of the ADRL.
"It's pretty amazing, especially with the level of talent, and I couldn't even begin to describe how happy I am. To do this for a second straight year, it's just a special thing and something I will never forget," Goforth said. "This class is loaded with big-time talent. It's amazing just to win one event, but to win three, I don't know what to say. It was just another great season."
Goforth may be running out of superlatives to describe his run that actually stretches back to 2010 when he won three races.
He's repeated that effort each of the past two seasons, delivering one of the most impressive stretches in ADRL history. Driving a Jerry Haas Race Cars 2011 GXP powered by Sonny's Racing Engines, Goforth faced off against the most impressive XPS field in ADRL history in 2012.
With qualifying bumps dipping into the 4.00s on two separate occasions, Goforth was the only driver to win more than one event. Like he did in 2011 when he warded off former world champions Pete Berner and John Montecalvo, Goforth finished strong in 2012, slipping past Richie Stevens Jr. and Brian Gahm with two wins over the final four events.
Goforth was also able to get wins at the two new tracks where the ADRL debuted in 2012, Bristol Dragway and zMAX Dragway in Charlotte.
As part of a hard-working team headed by Goforth's father, Dean, and crew chief Brian "Lump" Self, Goforth gave an immense amount of credit to those who helped make the 2012 season so magical.
"We've really been consistent. Our crew is a great one. 'Lump' thrives in those hot summer conditions, and making it down the track in those dog days, that's where championships are won and lost," said Goforth, the 2011 ADRL Driver of the Year.
"We work hard and do what we have to do to put ourselves in position to win. 'Lump' is just amazing at what he does when it comes to hot race tracks. It was a great team effort from a great group of individuals and I'm extremely happy for them."
Their work ethic was fully on display in August when Goforth won Dragstock IX at zMAX Dragway during what was a scorching weekend.
With track conditions difficult to figure out, Goforth had the perfect combination, running a 4.10 to beat Stevens in the finals.
"That was a tough race. I'm proud of all my wins, but I'm really proud of that one because we were able to get that figured out," Goforth said.
Finishing the season with a flourish will also be a lasting memory for Goforth.
He put a definitive stamp on his season and the 2012 world championship by winning the World Finals VIII, going 4.09 to beat John DeFlorian, one of four first-time winners in the class in 2012.
"We raced like we had the championship won last year at the World Finals, but we didn't want to do that this year," Goforth said. "We tested for 5-6 days before the race, and we really wanted to go in and give it our best effort. To have it go like it did, it makes all of the work worth it.
"This is a great class and the competition is just something else. These drivers pushed me to the limit all year, and I'm just thankful for an awesome team and a great crew. That made all the difference."