Wed, 28 Nov 2012, 14:44 PM



Straight to the Top: Gingles Wins Central Region TAD Title



By Todd Veney/ Pro Sportsman Association


Photo copyright 2012 David Smith Photo





by Todd Veney/Pro Sportsman Association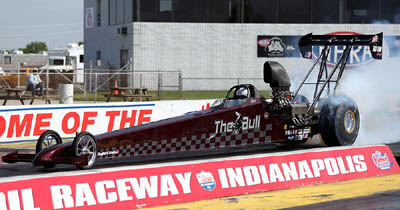 Gord Gingles
Gord Gingles was as surprised as anyone when he came out of nowhere to win the Central Region championship this year. "It's still hard to believe we finished on top," said Gingles, an unknown from Winnipeg, Man., who had run just a handful of races in Top Alcohol Dragster before 2012.
Randy Meyer was supposed to win. "He had the better car at so many races," Gingles said.
"That car went A to B all the time," Meyer said of Gingles' ride, "The Bull" A/Fuel Dragster owned and tuned by Clif Bakx. "I didn't really know those guys, didn't even know what the driver looked like, but you really have to hand it to them. They did a good job this year."
"Last year, we were in training, just learning the car and procedures. Even qualifying was amazing," Gingles said, though he had no trouble winning rounds, even in the beginning, going to the semifinals at the very first race he entered, the 2011 Division 4 meet at Dallas, and at his other two divisionals last year, Topeka and Earlville. "This year, we wanted to take a run at the top three or four in the region."
He ended up number 1. Running no national events and focusing entirely on the new Lucas Oil regional series, the Canadian team, led by Bakx, crisscrossed the continent on a grueling schedule. Average trip: about 1,000 miles each way.
Gingles put up an 8-5 win-loss mark for the year, flying under the radar until a clutch semifinal win over Meyer at the penultimate race of the season, in Earlville, put him in command for good. Gingles then won the Earlville final over former national event champ Chase Copeland and essentially claimed the championship right there because both he and Meyer bowed out early at their only remaining regional, in Noble, Okla.
Gingles, a 53-year-old former drag bike racer, came to Top Alcohol racing just last year after a single season in Top Dragster. He began his racing career 24 years ago, competing on snowmobiles on ice, and took to the quarter-mile in 2000 with a street bike, followed by a nine-second bike, a Super Comp dragster in 2006 and the Top Dragster in 2010.
After advancing to the semifinals in all three of his divisional starts in 2011, Gingles made it a perfect five for five starting this year at tracks thousands of miles apart - rain-soaked Lucas Oil Raceway in Indianapolis in April and Mission Raceway Park in Mission, B.C., in May. After suffering the first first-round loss of his alcohol career, to James Thompson at Tulsa, Gingles went all the way at Cordova, running 5.30s in every round after qualifying No. 2 and eventually stopping Dennis Drath in the under-the-lights final. From there, it was all or nothing - first round at Topeka, winner at Earlville, first round at Noble - but his two wins and the back-to-back semifinal appearances to open the year added up to 288 points, enough to hold off Meyer by 31.
Meyer, a former AHRA world champion driver and NHRA world champ tuner, had six runner-ups this year, including regional events, national events, and the Jegs Allstars race. He reached at least the semifinals in six of his seven regional starts. Mark Taliaferro won the first race of the regional era at Gainesville in February and finished third in the region despite running just three events. He was runner-up at one of the other two, last month in Noble, Okla. Copeland finished fourth, and Denver runner-up Edwin Schmeeckle was fifth.
"We never really dwelled on the thought of possibly winning the championship," said Gingles, who credited veterans Les Davenport, Larry Miersch, Ken Murray, and Doug Doucette for the team's overnight rise from beginners to regional champions. "When Clif took on this project, he was driven to learn as much as he could, and this year has been an amazing ride. Doing what he did without 10 or 20 years' experience was remarkable."




LODRS: 10 Most Recent Entries [ top ]

May 21- LODRS 7-3 - Competition Eliminator Final, Round 4 Eliminations
May 21- LODRS 7-3 - Super Stock Final, Round 6 Eliminations
May 21- LODRS 7-3 - Stock Eliminator Final, Round 7 Eliminations
May 21- LODRS 7-3 - Super Comp Final, Round 7 Eliminations
May 21- LODRS 7-3 - Super Gas Final, Round 7 Eliminations
May 21- LODRS 7-3 - Super Street Final, Round 6 Eliminations
May 21- LODRS 7-3 - Top Sportsman Final, Round 5 Eliminations
May 21- LODRS 7-3 - Top Dragster Final, Round 6 Eliminations
May 21- LODRS 7-3 - Sportsman Motorcycle Final, Round 4 Eliminations
May 21- LODRS 7-3 - Competition Eliminator Round 3 Eliminations