Tue, 27 Nov 2012, 20:22 PM



Another Great Year For The Funny Cars



By Bob Frey


Photo copyright 2012 Auto Imagery, Inc.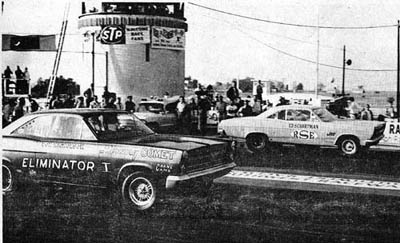 Ed Schartman (far lane) defeated Don Nicholson
at the 1966 World Finals.
Photo copyright 2012 NHRA
When I announced my retirement a few weeks ago I mentioned that I have been announcing since before Funny Car and Pro Stock were even classes. I guess that is technically correct, at least as far as the Funny Cars go. They were racing "Funny Cars" in the mid-1960's, and since I began announcing in 1966 I guess you could say that our careers are simultaneous. Of course back then I was still called
"Bob Frey"
and the Funny Cars were called "FX" cars and, later, Funny Cars. For those of you who may be relatively new to the sport and wonder why they call them "Funny Cars" all you have to do is go back to any publication from the mid-'60's and take a look at these machines. With their radically altered wheelbases they really did look funny, hence the name, and as much as we would like to change it to make it more acceptable to the general public and the media, I have to admit that the name and the class are here to stay...
Did you know
that Funny Cars ran as a class at the 1966 World Finals but the winner,
Eddie Schartman
, wasn't crowned "World Champion?" And NHRA ran the cars at six races prior to the 1970 season when they officially became part of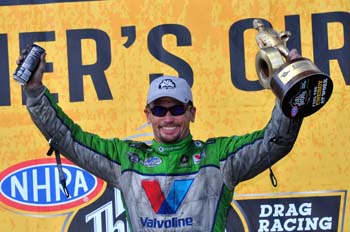 Jack Beckman celebrates Topeka win.
the national event program. In fact, that Winternationals in 1970 featured the official debut of both Funny Car and Pro Stock. Wow, that must have been some race! The drivers who populated the class in its early years are some of the true legends in the sport.
Jack Chrisman
,
Kenny Safford
,
Don Schumacher
,
Ed McCulloch
,
"Jungle Jim" Liberman
,
Clare Sanders
and so many more all helped jump start this great class...
Jack Beckman
, the 2012 Funny Car World Champion, became just the eighteenth different driver to win the Funny Car championship and he made a little history in the process.
Did you know
that Jack became the first driver to ever win a sportsman world title and then win in one of the two fuel classes in NHRA competition? The first! By the way, of those other seventeen drivers who won championships
did you know
that ten of them only won one Funny Car title? Good luck to Jack when he begins his title defense in a few months and I have to say that I think he will join the list of multiple winners before he hangs up his firesuit.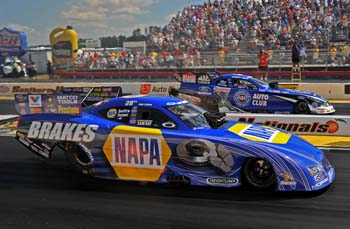 Capps defeated Hight
at Atlanta.
2012 was a streaky kind of year in the Funny Car class, wasn't it? Robert Hight opened the season like he was going to run away and hide from the field and then he came back to the pack in the middle of the season. Ron Capps had that incredible run of six consecutive final rounds and he never faded after that and was in contention until the final day, and almost until the final round of the season. In the end both of those drivers, Robert and Ron, finished in the top ten which is just about as much a given as death and taxes. Did you know that Robert has finished in the top ten all eight years that he has been in the class and Ron has now finished there in fifteen of his sixteen years as a Funny Car driver? That just goes to show you what good drivers those two are and what great teams they have been involved with over the years. Ron has now finished second four times and I'm sure it doesn't get any easier for him to embrace that fact. When you're as good as he is you have to think that one year is going to be your year, don't you? For the record, and I know this is a small and probably futile attempt to make Ron feel better, but did you know that of those seven drivers I mentioned in the previous paragraph non ever won the Funny Car championship? In fact, only Jack Chrisman ever won a season championship in any class and that came in the "Hot Car" class in 1961. Still, Ron has had a great career and has put up numbers that other drivers can only dream about. Once again, as he did in the past, Ron won more rounds and more races than the champion but still didn't come away with the number one spot. Hey, it happens in sports and it will happen again in ours.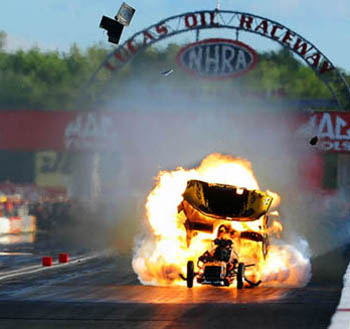 Todd Lesenko's explosion in Indy.
Photo copyright 2012 Gary Nastase Photography
There were so many great moments this year and they ranged from Jack Beckman's pair of three-second runs in Reading to the unbelievable weekend that Todd Lesenko had in Indy. Two drivers, Robert and Ron, may have made the runs of the year in the Funny Car class. Robert when he unloaded that 321.81 mph blast in Reading and Ron with his historic 3.964 in Englishtown. Did you know that while Ron's run was at the time, and still is, the quickest run ever, Robert's is only number two on the list? Last year Matt Hagan posted a whopping 322.27 in Charlotte and that still is the fastest run ever by a Funny Car at the 1,000 foot distance. At the end of the year eight of the ten quickest runs in the class came from the 2012 season, with Matt's 4.09 from Pomona last year on the list at number ten and Robert's stunning 4.005 in at number seven. I say "stunning" because did you know that Robert made that pass in 2008? Now I ask you, how good was that pass that it is still in the top ten four years later?....Obviously there were a lot of great races this year but I think that Johnny Gray's win over Jack and that super-fast Maple Grove race may have been the best. Johnny ran 4.026 to beat Jack's 4.025 and ruin what would have been one of the great Funny Car performances of all time for Jack.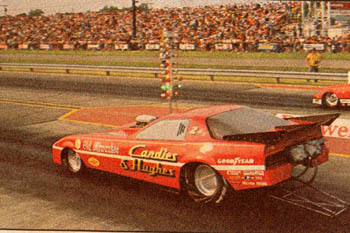 Mark Oswald won Columbus in 1984.
Photo copyright 2012 NHRA
There were a lot of surprises during the year but none nearly as unexpected as the Matt Hagan saga. The 2011 champ struggled for most of the year and failed to make the "Countdown" and I know that surprised me and a lot of other folks as well. But as I often say when referring to the unexpected in this sport, "Hey, it happens," and his title defense, while frustrating to him and his team, was not unprecedented. Did you know that Mark Oswald won the World Championship in 1984 and then didn't win a race, make a final round or finish in the top ten the next year? Now before you write and say that I'm picking on Mark, believe me nothing is further from the truth. I am as big a Mark Oswald fan as there is but I'm just telling you what happened. Ok, so maybe that's a small and futile attempt to make Matt feel better (and it won't, believe me) but I'm just stating the facts....Back to Mark (so I won't get letters or e-mails). Of course you know that he won national events in both Top Fuel and Funny Car and he qualified number one in both classes and that puts him in a very select group, but did you know that he is one of the few Top Fuel drivers ever to have a 138 points race (this is, qualify number one, win the race and set the national record)? And he is also one of the few Funny Car drivers to have set top speed of the meet, which means that his car ran faster than any Top Fuel car at the race and he did that at Columbus in 1984. Throw in his win now as a crew chief (or co-crew chief) and he has a very impressive résumé. Plus he's a nice guy....There is already talk of some switches in the Don Schumacher camp, either by design or by necessity, and while they may seem like surmountable, they're not, and you can expect Matt and all of his Team Schumacher teammates to be right in the thick of things again in 2013. Like I said, Don has been at this a long time and when you have an organization that wins two championships in one year like his did in 2012 there aren't a lot of obstacles that you haven't faced before and none that you haven't overcome.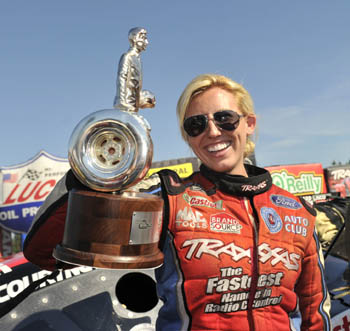 Courtney Force celebrates Seattle win.
Much is made during the year about qualifying points and "little points," the ones you get for being one of the three quickest in a given round of qualifying. In 2012 there were just five Funny Car drivers who qualified for every race. Jeff Arend, Courtney and John Force, Johnny Gray and Robert Hight were the ones who did it and in this day and age that's obviously not an easy task. Bob Tasca, who had the second longest qualifying streak in the class, behind only John Force among active drivers, failed to make the show in Pomona and that ended his streak at ninety-three races. John, who once made the field at 395 consecutive races, has the best streak in the class right now at ninety-six. Still, and even though he won a race in 2012, I think even the most loyal John Force fans would admit that it wasn't a vintage year for the fifteen-time champion. One of the reasons for that was his number of round-one losses which reached a career high of fourteen in 2012. Did you know that in the entire season the Seattle and Brainerd races was the only time that John went to the second round at back-to-back races? For the record, the last time that happened to John in a single year was 1984. Again, I'm just pointing out the facts and not pointing fingers, but that just goes to show you how rugged the Funny Car class was this year. Having said all of that about John he did win a race and that means he has won at least one race in twenty five of the last twenty six years and he did make the top ten for a record twenty-eighth consecutive season and those are marks that no other driver may ever reach.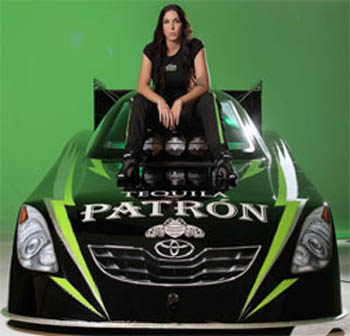 Alexis DeJoria
I said at the beginning of the year, and several times during the year, that the Funny Car class was tougher than it has ever been before and I firmly believe that. When you have drivers and teams the quality of Bob Tasca, Tony Pedregon, Matt Hagan and Alexis DeJoria among others not making the top ten you have some serious competition, wouldn't you say? I don't know what the lay of the land will be in 2013 (there are bound to be some changes) but it certainly doesn't look like things will get any easier for any of the teams and that's good news for the fans..In case you missed it, and I'm sure you didn't, Ashley Force Hood is expecting her second child and that will end any speculation about her return to the driver's seat. I said it long ago that I thought she would enjoy the role and challenge of being a mom and that she wouldn't come back to the sport as a driver and now I'm almost certain that will be the case. She's been a great representative for the sport and continues to do good things, but nothing compares to the thrill and the challenge of being a mom. Congratulations to her and Danny and good luck in the future. Which reminds me, if you were at the Full Throttle award's ceremony you saw John holding his grandson and he said that's a better feeling than holding a world championship trophy and you could tell that he meant it. With that said, maybe losing a few first round matches isn't the end of the world after all.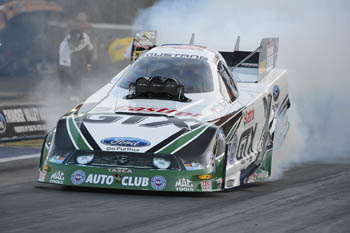 Mike Neff
Photo copyright 2012 Ron Lewis
Nine of the top ten drivers in the class won at least one race in 2012 and they accounted for twenty two wins with only Tim Wilkerson getting shut out of the win column. Bob Tasca, who finished outside that elite group, won the other race when he beat Matt Hagan in Dallas. Eight of the top ten drivers recorded at least one number one qualifying spot this year. Jeff Arend was one who didn't and that shouldn't surprise anyone since he hadn't been number one since the 2007 season. But the other driver was a surprise, at least to me. Mike Neff, who finished third in the points, never grabbed the top spot in 2012. When you're running out of Team Force you're almost expected to be at the top of the pack sometime during the year, but again it just goes to reinforce the fact that the Funny Car class was loaded in 2012...Cruz Pedregon led the way with five top spots and Jack and Robert each had four. Cruz's top spots gave him fifty for his career and that tied him with Don Prudhomme for second place on the Funny Car list and only John Force, with his 140 top spots, has more number one qualifying spots.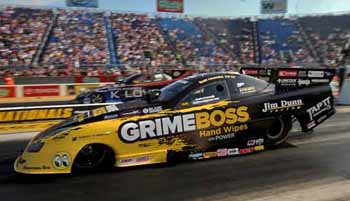 Todd Lesenko
It's nice to see that the Grime Boss folks are coming back with Jim Dunn's team in 2013. Despite a couple of wild rides, or maybe because of them, the team got some nice exposure during the season and it's always great to see Jim and his team at the races. Believe me when I tell you that he is one of the unique people in the sport and if you're ever lucky enough to be granted an audience with him it will be an experience you won't forget. People often tell me I should write a book but Jim really should because he has some great memories of his many years in the sport. He ran what he calls the "world's first Funny Car" and it was a Volkswagen. Really! He has driven Fiats, Anglias, rear-engine Funny Cars and more and that just scratches the surface of what he had raced over the years. He won NHRA national events, the famous March Meet in Bakersfield and so much more and the sport's better because Jim Dunn is a part of it and I'm glad he will be again in 2013.




NHRA: 10 Most Recent Entries [ top ]

Apr 24- CHARLOTTE 1 - Steve Torrence Enjoying Four-Wide Success Heading to NGK Spark Plugs NHRA Four-Wide Nationals
Apr 24- CHARLOTTE 1 - Fact Sheet
Apr 24- Kalitta Motorsports Welcomes NASCAR Stars to the SealMaster Track Walk in Charlotte
Apr 24- zMAX Dragway Celebrates 10th Anniversary
Apr 24- CHARLOTTE 1 - NGK Spark Plugs NHRA Four-Wide Nationals Brings 40,000 Horsepower Thrill Show to zMAX Dragway
Apr 23- HOUSTON - Lucas Oil Drag Racing Series Wrap Up The NHRA Lucas Oil Drag Racing Series Wrap Up
Apr 23- CHARLOTTE 1 - J.R. Todd Aiming for Two Four-Wide Racing Wins in 2018
Apr 23- Mid America Dragway Joins NHRA Member Track Network
Apr 23- HOUSTON - Special Awards
Apr 23- HOUSTON - Sunday Video