Sat, 24 Nov 2012, 11:39 AM



Die Cast Hot Rod All Stars Race



LAS VEGAS --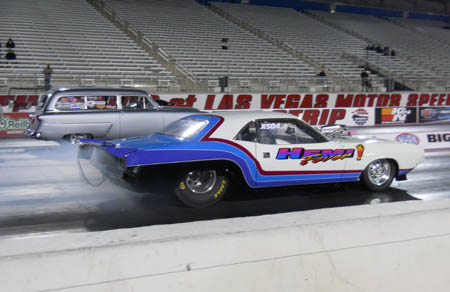 Header Goes Here
The Strip at Las Vegas Motor Speedway held its annual Thanksgiving Bracket Nationals. A new race was added this year the "Die Cast Hot Rod All Stars". The 8 car field hand-picked by the tower staff, included a chop top Nova, a Pink van, a Blown Camaro, Vega Wagon, '53 Ranch Wagon, '66 Nova wagon, '74 Hemi Challenger, '67 low ride Nova. All cars resembled the pocket die cast cars of our youth.
This showcase event was laddered on a blind draw and raced on a full tree bracket format.
In the first round the Camaro took out the Vega Wagon, the Challenger got past the Nova Wagon, the 53 Wagon over broken 67 Nova, and in a battle of the tallest vs the shortest the Van takes the win.
In second round the '53 wagon and van dialed them even and the Wagon held on for the win. The Camaro turned on the red light giving the win to the Challenger. So the finals will match the Challenger with the '53 Wagon.
Dustin Lee in the '53 Ranch Wagon took the RT.021 over Tony Carestia in the '74 Challenger .093 and held him off at the finish line 11.750 on a 11.73 dial to a 9.067 on a 8.99 dial.




Drag News: 10 Most Recent Entries [ top ]

May 24- Holley National Hot Rod Reunion presented by AAA Celebrates Car Culture Over Three Memorable Days
May 24- Biehle is Ready for Pro Mod Racing at The Night of Thunder
May 16- Winners Crowned at .90 Series Opener
May 16- 32 Members of the International Drag Racing Hall of Fame will be at be at Spring Classic Nitro Revival May 18-20
May 16- 18th Annual NMRA Ford Motorsport Nationals Final Results
May 16- PDRA Reemphasizes Commitment to Pro Extreme
May 16- For Better or Worse
May 16- Musi Racing Engines and Buck Racing Engines Take Early Lead in Flatout Gaskets Nitrous Wars
May 16- St. Louis Nostalgia Rendezvous this Weekend at Gateway Motorsports Park
May 16- Reichardt Wins Second Round of Sharks of the Strip