Thu, 22 Nov 2012, 11:57 AM



It Was A Long Road To The Championship.



By Bob Frey


Photo copyright 2012 Auto Imagery, Inc.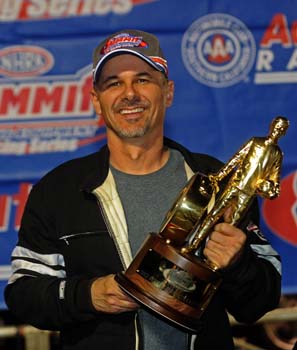 Brad Bolton
Towards the end of each year all seven of the NHRA's geographic regions stage one of the biggest races of the year. Some of the best racers from the local tracks in each region converge on a central location to decide which drivers will head west for the annual Summit Racing Series ET Championship event. It's a great race and it provides the local racers with a chance to become a national champion. While the basic format is the same, that is the winners head to Pomona, there are some variations that are specific to each division. Some race a quarter-mile while others race at the eighth mile distance. Most divisions select four winners, a Super Pro, Pro, Sportsman and Motorcycle champion and those four represent the division in the season finale. But Division 4 does something a little different, they have five winners (Super Pro, Pro, No Electronics Quick, No Electronics Street and Motorcycle) and then two of them run off for the right to represent the division at the big race. In 2012 that run-off included the Super Pro and Pro champions, Brad Bolton and Jay Bunch who raced each other, and after a very long day Brad won the head-to-head match and he earned the right to run for the national championship. "Yeah, after seven rounds in the Super Pro class I had to run Jay, who also had a long day," Brad said. "But it ended well for me."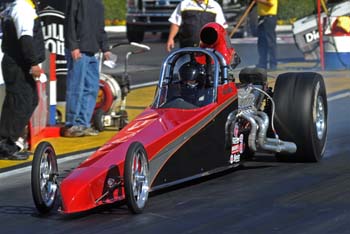 Brad Bolton
As most bracket racers know, and that's what Brad is, to run six, seven or eight rounds in a single day is really no big deal. "It sounds like a lot but it's really not," Brad said. As it turned out, with all those rounds ahead of him, on the day of the bracket finals at the Texas Motorplex Brad was on top of his game. "I've had this dragster for a few years and it was working really well that day." It was working so well that he didn't want to mess up on the tree and give a race away. With a couple of great reaction times and several runs where he ran right on the dial-in he found himself in the seventh round against Rusty Baxter. "That was a good run," he said in a major understatement. He dialed 4.85 on the eighth-mile track and ran 4.856. Then all he had to do was beat Jay and he'd be off to California and that's exactly what happened.
If Brad thought that was a long day, when he planned the trip to California he knew that it would be several long days. "We looked at the map and did some planning and knew it would be about twenty-six or twenty seven hours," he said. And while most racers would be working on their race cars in preparation for a national championship run, Brad started working on his tow vehicle. "We were excited about the trip but I wanted to make sure we didn't have any problems getting there." With that in mind he put some new tires on the truck, checked the wheel bearings and got ready to set out. "The truck is a 2001 Chevy with almost 100,000 miles on it," he said. "I keep it in pretty good shape but I didn't want to take any chances." So, with his wife, Karen, and their son Jason and daughter-in-law Nicole on board he headed west. "Everything went well on the trip except for the fact that we had to stop about every 180 miles for gas."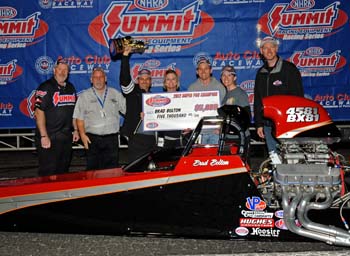 Bolton and crew celebrate win.
Once they arrived safely in California and settled in they took the car to the track, got it through tech and then they turned into tourists. "We went to the Santa Monica Pier on one day and had a good time there and the next day we went to Beverly Hills and Rodeo Drive. I have to tell you that with my pickup truck, Texas tags and all we really didn't fit in too well out there." Still, he said, they had a good time but then it was time to get down to some serious racing. "I was lucky enough to draw the bye run and that gave me a nice little cushion going into eliminations." By "cushion" I guess he means that he missed his dial-in by four-thousandths of a second. "We thought the car would go '70' and that's what we dialed." Good call! In round two he was facing Division 1 champ Rob Leipziger. "We thought we could go a little quicker so we dialed a '69' in that round." And he promptly went out and ran 7.697. Two down and one to go. "It was funny because I thought we had a long drive and then I talked to the Division 1 guy who was from New Jersey and the Division 2 champ who was from Florida and they came about twice as far as we did," he said. "I guess I shouldn't complain."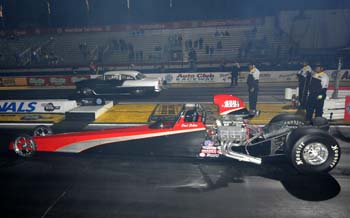 Bolton defeated Larry DeYoung
For the final round Brad was paired up with Larry DeYoung, the sixty-year old champ from Division 6 who was driving a classic 1955 Chevrolet. "We both wanted the left lane so we flipped and I won and I guess that worked out well for me." But not so for Larry who got loose around mid-track, slid across the track and flipped his car over. "I saw him start to fade and then start to come over and I knew I had to get away from him. It certainly wasn't the way I wanted to win a race and all I wanted to know at the end of the track was if he was ok." He was, other than a few bumps and bruises, not to mention a lost race car, and that made Brad feel a little better. "When you win something like this you want to get out, throw your arms in the air and celebrate, but I just couldn't do that. I felt really bad for him." As much as the celebration was muted for Brad he said that before he even got in his trusty truck to head home his phone war ringing with calls and text messages. "Everyone knew right away," he said. "Friends back home were watching on ESPN 360 and they knew as soon as I did that I won." For his friends back at Paris Drag Strip it was an exciting moment. "We had a champion from our track in 2009 (James McNeal) and he told me what a great experience it is and he was right. The folks at Summit really do this right for the racers and we couldn't have been treated any better. It was just an awesome experience."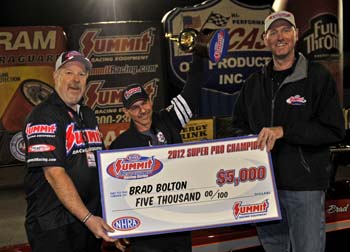 Don Lower, Brad Bolton and Jim Greenleaf
Once he won and loaded up the family they headed for home. "Jason has an engineering degree and had just started a new job but they gave him a week's vacation. Well, we had a family outing earlier in the year and he used that all up so he had to work some free Saturdays to get enough time to go with us. He has a car and races with me and I don't think I would have gone without him." So for Brad, Karen, Jason and Nicole it was a quick twenty-four hour ride home. Of course this time they had another passenger, the "Wally" they had just won as the 2012 Summit Racing Series Super Pro Champion.
"I'd like to thank God and his amazing grace for a safe trip and for allowing us to live in a free country where we can participate in this great sport. Also thanks to the greatest family ever, Karen, Jason and Nicole for all of their support, and Jeff and Anna Hefler, who had been to the Summit event before, were a big help when we were in Pomona." Brad went on to thank his friends of twenty-seven years Norvell and Stacy Bowers, all of his friends and fellow racers at Paris Drag Strip, the Division 4 Director Paul Bailey and NHRA and Summit for, as he put it, "Putting together such a great race for the local racers."




NHRA: 10 Most Recent Entries [ top ]

Apr 24- CHARLOTTE 1 - Steve Torrence Enjoying Four-Wide Success Heading to NGK Spark Plugs NHRA Four-Wide Nationals
Apr 24- CHARLOTTE 1 - Fact Sheet
Apr 24- Kalitta Motorsports Welcomes NASCAR Stars to the SealMaster Track Walk in Charlotte
Apr 24- zMAX Dragway Celebrates 10th Anniversary
Apr 24- CHARLOTTE 1 - NGK Spark Plugs NHRA Four-Wide Nationals Brings 40,000 Horsepower Thrill Show to zMAX Dragway
Apr 23- HOUSTON - Lucas Oil Drag Racing Series Wrap Up The NHRA Lucas Oil Drag Racing Series Wrap Up
Apr 23- CHARLOTTE 1 - J.R. Todd Aiming for Two Four-Wide Racing Wins in 2018
Apr 23- Mid America Dragway Joins NHRA Member Track Network
Apr 23- HOUSTON - Special Awards
Apr 23- HOUSTON - Sunday Video