Tue, 20 Nov 2012, 18:36 PM



A Look At Top Fuel



By Bob Frey


Photo copyright 2012 Auto Imagery, Inc.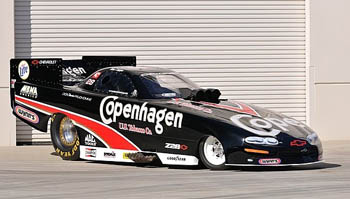 1997 Chevy Copenhagen Camaro
As I normally do in the off-season I'm going to take a look at each of the
Full Throttle
classes individually and point out what I think are some of the interesting little tidbits about the year. None of this is intended to make anyone look good or bad, they are simply statements of fact about what happened in the past year. Things that are opinions will be noted as such, or at least implied as such….Before I go on I was wondering how many of you watched the
Mecum Auto Auction
from
Anaheim
this past week. I did (hey, I have time to do that now that I'm retired) and I saw
Don "The Snake' Prudhomme
auctioning off a couple of his old Funny Cars. He sold the black and gold Copenhagen cars and it was great to see him out and about. I'm sure we'll see more of him as the movie debut approaches next year and, as always, I wish Don all the best. What a great part of our sport he has been and continues to be. I think "legend" is the appropriate word to apply to Don, and as much as I would like to say I was the first to call him that, I wasn't. Now I wonder which car he'll auction off next, if any? And what do you think that yellow hauler truck of his would fetch at auction?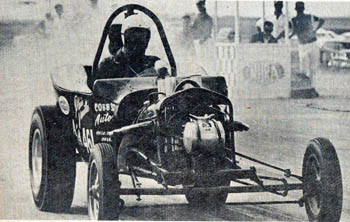 Charlie Smith in his A/Altered in 1964
I was in touch with Lewis Bloom the other day and he mentioned that Antron Brown was the 49th NHRA Top Fuel Champion and that's pretty significant. It also means that the 2013 Top Fuel champ will be the fiftieth in history and I think that's a very significant milestone. Did you know that Jack Williams was the first Top Fuel champion back in 1964? And do you know who won of the other champs was that year? How about Charlie Smith, the father of Todd Smith, crew chief for Jack Beckman's championship Funny Car this year. I just learned that Charlie was Todd's father when Jack mentioned it in his acceptance speech and I'll have more on that when I talk about the Funny Car champ next week….While he won the forty-ninth Top Fuel title did you know that Antron is just the twenty-seventh different driver to wear the crown? A lot of them, like Antron, won it once, but of course he still has a great career ahead of him and he'll have more chances to win another championship. Having said that did you know that of those twenty-seven different winners seventeen of those drivers only won one championship? Of course in the early years they scored things differently and there were many years where if you won the World Finals you were the champion regardless of what else you did that year. Imagine the message boards lighting up if that were the way it was done these days. Back then only Bennie Osborne won more than one title and he did it in back-to-back years in 1967 and '68. In the "modern era," the years we'll call 1974 to the present, almost all of the champions won more than once. Surprisingly, a couple of legends like Dick LaHaie, Gary Ormsby and Eddie Hill only won one time.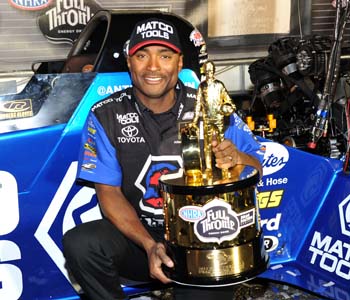 Brown with the Championship trophy
For Antron the 2012 season was more of the same. By that I mean that he has been a premier racer since he entered the sport in 1998. Did you know that Antron has finished in the top ten in every year of his drag racing career? That's fifteen years of top ten finishes going back to 1998 and that's tough to do in any class let alone two of the sport's upper echelon classes. Those top ten finishes also include eleven top five spots including the last five years, the years that he has been in the Top Fuel class….In 2012 Antron went 49-17 which means that he won almost seventy-five percent of his races (74.2 to be exact) and that raised his career total to an impressive 443-223 which computes to about a sixty-seven percent winning margin, and for someone who has raced for fifteen years that's very good. By comparison did you know that Tony Schumacher has won sixty-nine percent of his races, John Force has won seventy-one percent of his and Greg Anderson has won seventy-two percent of his races? If you just take his Top Fuel career (222-94) Antron joins the ranks of those who have won over seventy percent of their races. I don't care if it's a bracket class, a JR. Dragster class or any class for that matter, winning with that much regularity makes you an elite racer. The fact that Antron made a smooth transition from the Pro Stock Motorcycle class to Top Fuel just reinforces the notion of what a naturally gifted athlete he is.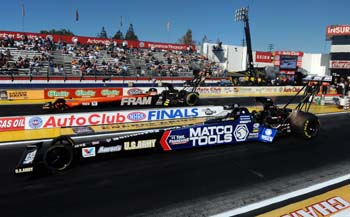 Brown vs. Massey round 1 in Pomona,
Going into the last race of the year the Sunday matchup between Antron and Spencer Massey certainly was one of the marquee races of the day. Spencer, who finished second in the points in 2011, and who edged Antron by twenty-seven points for that second place finish, beat Antron to keep his title hopes alive. Did you know that in their careers Antron and Spencer have raced a total of twenty times and that each driver has won ten races? And did you know that in 2012 they raced each other an amazing ten times and that each driver won five of those races? Of all of those 2012 races, however, the one in Pomona was the only time that they met each other in the first round and that certainly seemed to favor Antron. Did you know that over the course of his Top Fuel career Antron was a lofty 99-15 in first round matches coming into the race with Spencer? But, as we all know, Spencer won that race and that relegated Antron to a spectator for the rest of the day. It all worked out well for him in the end but that had to be the longest Sunday of his Top Fuel career and now he is the Top Fuel Champion and a very fitting one at that. Those of us who have known him, worked with him, done press conferences or personal appearances with him and watched him race over the years always knew that he was a nice guy with a great personality and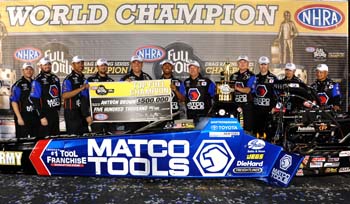 Brown and crew celebrate championship.
he'll be a wonderful champion to represent our sport….Thanks to his two co-crew chiefs,
Brian Corradi
and
Mark Oswald
, Antron has had a very good car for a number of years and it only seemed a matter of time before he won the championship. But as much as he will be recognized as the champ and Brian and Mark will get a lot of the credit for his accomplishments, they will all tell you that it was a total team effort and that they couldn't have done it without the other members of the crew. Among them are
Brad Mason
,
Wayne Waite
,
Cameron Moore
,
Tony Derhammer
,
John Benshoof
,
Michael O'Guin
and
Jason Thomas
. Of course
Don Schumacher
gets a lot of credit, too, for putting together a great team, or teams to be honest about it, and that championship trophy will look good along side all the others at the DSR headquarters in Indiana.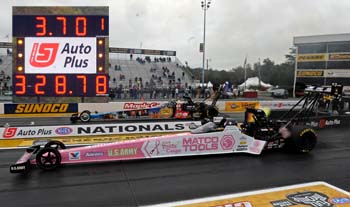 Brown ran 3.701 seconds in Reading
The Top Fuel record book took a beating in 2012 with the speed record being lowered twice and the elapsed time mark falling once. Of course that speed record is now at 332.18, a mark that most people though was unattainable when we went to the shorter 1,000 foot distance. In the end Antron's Matco Tools team grabbed the elapsed time mark with their stunning run of 3.701 at Maple Grove while Spencer's FRAM team finished the year with the speed record. Of course it was Tony Schumacher who shocked everyone with that 330 mph run in Charlotte, just like he shocked everyone with the sport's first 330 mph run in history at Phoenix in 1999. Did you know that this is the first time that Antron has held the elapsed time record in the Top Fuel class? He has set the speed record before but never the elapsed time mark. In his Pro Stock Motorcycle history he only set the E/T record once and he did that on a run that he lost. Really! He ran 7.103 at Englishtown in 2001 and set the record with the quickest run in history at that time even though he lost to Reggie Showers when he fouled out. Amazing.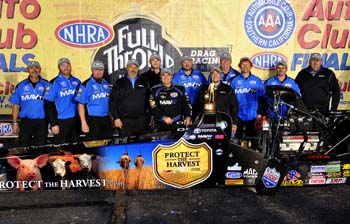 Bernstein and crew celebrate Pomona win.
I'm not trying to start anything here but if Tony Schumacher's run in the 2006 final became part of history what about Brandon Bernstein's run this year? Brandon beat Tony, won the race and decided the Top Fuel championship on a single pass so I think we should give his run a name, don't you? Any suggestions? How about "The Other Run?" Just a thought. Let's just say that it was a great run for Brandon who broke a very long drought and a tough run for Tony who is usually at the top of his game in the money rounds. As good as Tony was in that final round he still wasn't good enough to beat Brandon off the line, and like I said last week that was the second time in 2012 that Brandon beat Tony on a holeshot. Now how unusual is that? Well, did you know that Brandon became only the second driver ever to beat Tony twice in the same year on a holeshot? The other was Antron who did it in 2009. In fact, Antron is the only driver to have more holeshot wins (4) against Tony than Brandon does (3) in their career. Let's face it, Tony is very good at what he does and his reaction time in the final was very good (.054), it's just that Brandon's was a little bit better (.037). Did you know that was Brandon's best reaction time of the year? What a time to get your best r/t. As Tony often says, "If the other guy beats me I'll go shake his hand and congratulate him." Did you know that in his 119 final rounds this was only the fourth time that Tony lost on a holeshot? And his 119 finals ties him with Kenny Bernstein for seventh place on the all-time NHRA list and that includes all classes….Tony certainly knows what it's like to be involved in a close championship race but he's usually on the winning side of it. He beat Larry Dixon by two points in 2009, Rod Fuller by nineteen points in 2007 and Doug Kalitta by fourteen points in 2006. And say what you want about the "Countdown" but it sure has made for some dramatic moments at the last race of the year, hasn't it?
Langdon ran 334.14 mph in Reading.
I know the weather had a lot to do with it but Maple Grove will retain the title of the "World's Quickest Track" thanks to the barrage of outstanding runs that were made there this year. In the end, nine of the eleven quickest runs in Top Fuel were recorded at the Pennsylvania track, well eight if you take away the run that Del Worsham made there last year. And in the speed department exactly half of the top ten runs, including Shawn Langdon's unbelievable 334.14 mph blast were recorded at the Grove. zMax Dragway, with three runs, is the only other track with more than one in the top ten in the speed department. Of a possible twenty career best numbers, including elapsed time and speed, the top ten drivers recorded thirteen of their best runs at Maple Grove in 2012. So bragging rights for the year go to the PA track, now if they could only find a way to finish their race on Sunday. Hey, a guy can dream, can't he?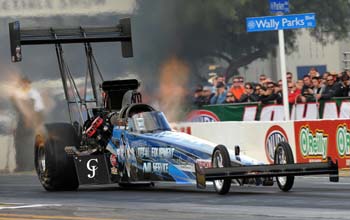 JR Todd
The dragster class was highly competitive in 2012 and I expect it to be again next year. You expect the Team Schumacher cars to be right back in the thick of things, the Kalitta cars should be back to challenge, the two-car Lucas team of Morgan Lucas and Brandon will be among the top contenders and the Al-Anabi cars should both hit the ground running in 2013. With Bob Vandergriff, who will be coming off a very good year, and maybe JR Todd joining the ranks for a dozen or more races, and with Steve Torrence back for another year along with the other independent teams it should be a fun season…..Mike Salinas, who pulled one of the big upsets of the year when he beat Morgan Lucas in round one at Pomona, says that he'll run about ten races next year and he'll be a good addition to the Top Fuel field at those events. Too bad the new Mello Yello season is three months away, but for now let's just enjoy the memories of this past season and congratulate Antron and his team on a wonderful, championship year.




NHRA: 10 Most Recent Entries [ top ]

Apr 24- CHARLOTTE 1 - Steve Torrence Enjoying Four-Wide Success Heading to NGK Spark Plugs NHRA Four-Wide Nationals
Apr 24- CHARLOTTE 1 - Fact Sheet
Apr 24- Kalitta Motorsports Welcomes NASCAR Stars to the SealMaster Track Walk in Charlotte
Apr 24- zMAX Dragway Celebrates 10th Anniversary
Apr 24- CHARLOTTE 1 - NGK Spark Plugs NHRA Four-Wide Nationals Brings 40,000 Horsepower Thrill Show to zMAX Dragway
Apr 23- HOUSTON - Lucas Oil Drag Racing Series Wrap Up The NHRA Lucas Oil Drag Racing Series Wrap Up
Apr 23- CHARLOTTE 1 - J.R. Todd Aiming for Two Four-Wide Racing Wins in 2018
Apr 23- Mid America Dragway Joins NHRA Member Track Network
Apr 23- HOUSTON - Special Awards
Apr 23- HOUSTON - Sunday Video