Mon, 19 Nov 2012, 07:12 AM



Coughlin Takes SCSN Pro Street Win on Solo Run



Courtesy of Brandon Mudd



LAS VEGAS --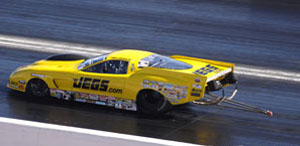 Troy Coughlin
The talk all weekend at Street Car Super Nationals VIII at The Strip at Las Vegas Motor Speedway was quicker versus faster. Dominican Republic native and 2011 event winner Jose "El General" Gonzalez had broken the doorslammer ET record twice, finishing with a 5.730-second lap on Saturday. Detroit's Don Walsh Jr., was fast, running in the 261 mph range all weekend. Fans were salivating at the thought of the two finally meeting in the Pro Street finals of the Pacific Street Car Association's marquee event.
And sitting quietly in the background was 2012 NHRA Pro Mod champion Troy Coughlin.
Coughlin and his JEGS.com Corvette was both quick and fast, but as the racer who qualified third, he was expected to be fodder for one of the two aforementioned drivers. But Walsh went out in the second round and last year's runner-up Mike Maggio was sent packing in the first round early Sunday morning. Both Coughlin and Gonzalez tore through the ladder, Coughlin running low 80s, El General running mid 70s. So it was no surprise that the two met in the finals to decide the Pro Street title.
Gonzalez, unfortunately, was standing behind Coughlin's car after breaking a rod on his hot rod in the semi-final round as the yellow and black 'Vette made a solo pass down the strip for the win.
"We made a lot of good runs this weekend and consistency paid off," Coughlin said after the event. "They had an issue with Jose's car when the finished the (semi-final) round and he said he didn't think he could get it done. We talked for a little bit and he said he just didn't think he could get it fixed. Definitely glad for our guys. What a deal. What a season!"
Coughlin was impressed that Gonzalez came out to watch the final pass of the night that would put Coughlin in the same Winner's Circle Gonzalez himself had stood in one year ago. "It was pretty awesome," Coughlin said. "He's a really good dude and he's become a great friend. I'm looking forward to cruising down to the Dominican Republic to go fishing with those guys. It's going to be a good time!"
"I can't say enough the respect I have for Jose," said PSCA President Mel Roth. "It had to be eating him up to have the car he did all week and make it to the finals and not be able to run. For him to come out and watch Troy's run and be there to congratulate the JEG's crew, that is the sign of a champion."
In Outlaw 10.5, No. 2 qualifier Mike Murillo took the victory over Richard Klann, who had made it to the final from the 12th spot after beating pole winner Doug Sikora. In Extreme Drag Radial, it was Eric Dillard taking the victory over Dave Bowman. The top qualifier for the class, 84-year-old Willard Kinzer, was on a string all weekend and was expected by many to take the victory, but Bowman was able to beat him in the semi-finals after Kinzer's Mustang had issues at the starting line.
Other SCSN VIII winners were: Michael DeMayo (Hot Street), Jeff Young (Wild Street), Ryan Jones (Outlaw 8.5), John Phlegar (Bracket 1), Ken "Dak" Spears (Open Comp), Fred Gelling (Mustang Maddness), Ron de Hoop (Triple Index), and Doug Crumlich (Super Index).
"It was a great event and I put that on the racers, the fans, and the track crew," Roth said. "Man, that crew was phenomenal. We had some delays and some oildowns like you have at every event, but that crew busted their butts for the entire event and provided a surface that I would put against any drag strip in the world. I can't say enough about them. And the fans stayed through all of it. I'm glad we were able to reward them with some phenomenal racing."




Drag News: 10 Most Recent Entries [ top ]

Apr 24- NHRA Heritage Series Heads To Wild Horse Pass
Apr 22- K&N Spring Fling Million Final Day Results
Apr 21- K&N Spring Fling Million Friday Results
Apr 20- K&N Spring Fling Million– Thursday Results
Apr 19- K&N Spring Fling Million- Wednesday Results
Apr 18- Buckeye S/SS @ National Trail April 28th
Apr 18- Don "the Snake" Prudhomme Returns To Baja Competition After 50 Years
Apr 18- K&N Spring Fling Million Tuesday Results
Apr 17- K&N Spring Fling Million Pre-Race
Apr 12- Summit Racing Equipment is Newest Sponsor of Midwest Junior Super Series