Mon, 12 Nov 2012, 13:29 PM



Bolton, Polvadore, Muller, Klemme Crowned Summit National Champions



Courtesy of NHRA Field Marketing


Photo copyright 2012 Auto Imagery, Inc.





POMONA, Calif. --
Tom Klemme collected his third NHRA Summit Racing Series National Championship in Sportsman Motorcycle today at Auto Club Raceway at Pomona during the Automobile Club of Southern California NHRA Finals. The Davenport, Iowa, racer was joined by Brad Bolton, Seth Polvadore, and Dave Muller in the winner's circle celebration.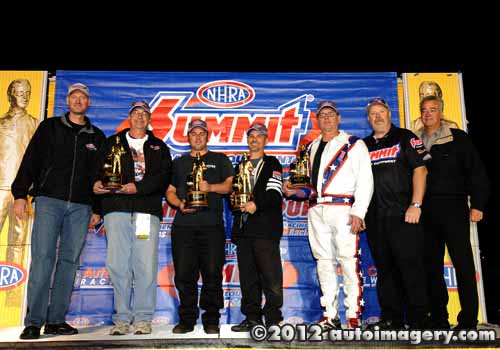 Dave Muller, Seth Polvadore, Brad Bolton and Tom Klemme
Klemme ran down Bob Nugent, Trotwood, Ohio, in the final round on his '73 Kawasaki posting a lap of 8.778 seconds at 133.18 mph to Nugent's 9.638, 132.74 .The win is Klemme's third to go along with his championships from 2008 and 2011.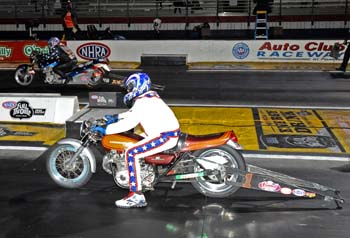 Klemme defeated Nugent
Bolton took the trophy in Super Pro posting an 8.171 second pass at 123.37 mph while Larry De Yong went for a while ride when his '55 Chevrolet went out of control ending up on it's roof and sliding across the finishline. DeYong was not hurt in the incident. Bolton, Paris, Texas, was dead on his dial in rounds one and two in advancing to the final round in his '08 dragster.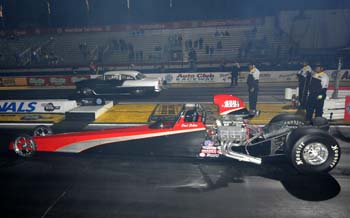 Bolton defeated DeYoung
Polvadore, Sun City, Ariz., knocked out two-time Division 1 champion Vinny DiMino for the Pro title clocking in at 10.243 on the 10.23 dial in his '79 Fairmont for the win. DiMino broke out with a 9.226 second, 146.93 mph pass on his 9.24 dial.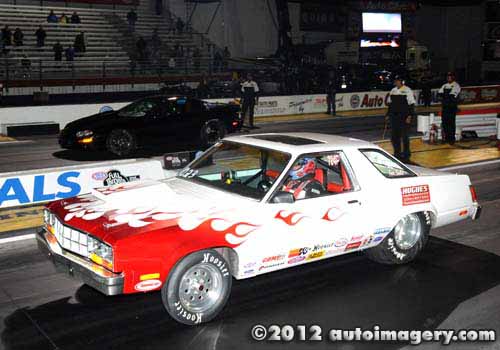 Polvadore defeated DiMino
Muller, running out of Mesa, Ariz., held off Ed Talbert, who made the trip out west from Woodbine, Md., in a double break-out win in his '74 Camaro. Muller went 12.514 at 106.09 to Talbert's 11.906 at 108.07.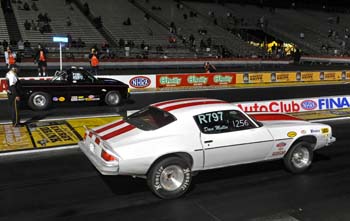 Muller defeated Talbert
Each of the four champions pocketed the $5,000 purse to go along with the $3,500 from Summit Racing Equipment for reaching the finals. 28 NHRA division champion's advanced to Pomona for a chance at the NHRA Summit Racing Series National Championship.
The following are the final results from the NHRA Summit Racing Series from Auto Club Raceway at Pomona:
SUPER PRO
Brad Bolton, Paris, Texas, '08 dragster, 8.171, 123.37 def. Larry DeYoung, Livingston, Mont., '55 Chevrolet, 13.923, 37.55
PRO
Seth Polvadore, Sun City, Ariz., '79 Fairmont, 10.243, 124.83 def., Vinny DiMino, Hawley, Pa., '99 Camaro, 9.226, 146.93
SPORTSMAN
Dave Muller, Mesa, Ariz., '74 Camaro, 12.514, 106.09 def. Ed Talbert, Woodbine, Md., '91 S-10, 11.906, 108.07
BIKE/SLED
Tom Klemme, Davenport, Iowa, '73 Kawasaki, 8.778, 133.18 def. Bob Nugent, Trotwood, Ohio, '05 Kawasaki, 9.638, 132.74




NHRA: 10 Most Recent Entries [ top ]

Apr 24- CHARLOTTE 1 - Steve Torrence Enjoying Four-Wide Success Heading to NGK Spark Plugs NHRA Four-Wide Nationals
Apr 24- CHARLOTTE 1 - Fact Sheet
Apr 24- Kalitta Motorsports Welcomes NASCAR Stars to the SealMaster Track Walk in Charlotte
Apr 24- zMAX Dragway Celebrates 10th Anniversary
Apr 24- CHARLOTTE 1 - NGK Spark Plugs NHRA Four-Wide Nationals Brings 40,000 Horsepower Thrill Show to zMAX Dragway
Apr 23- HOUSTON - Lucas Oil Drag Racing Series Wrap Up The NHRA Lucas Oil Drag Racing Series Wrap Up
Apr 23- CHARLOTTE 1 - J.R. Todd Aiming for Two Four-Wide Racing Wins in 2018
Apr 23- Mid America Dragway Joins NHRA Member Track Network
Apr 23- HOUSTON - Special Awards
Apr 23- HOUSTON - Sunday Video