Thu, 08 Nov 2012, 00:28 AM



And The Champions Are?



By Bob Frey


Photo copyright 2012 Auto Imagery, Inc.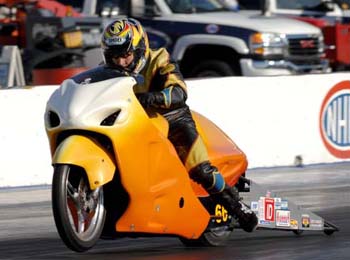 Ken George
There will be a lot of excitement surrounding this year's running of the NHRA Auto Club Finals in Pomona. First of all we will officially crown the champions in the Full Throttle classes, and even though three of them are fairly certain, the Funny Car battle could go down to the last round of the season. Good luck to Jack Beckman and Ron Capps as they each look to win their first series title. Antron Brown, Allen Johnson and Eddie Krawiec are the leaders in the other classes with Allen and Eddie virtual locks, while Antron still has to look over his shoulder at the Army team and Tony Schumacher. In addition we will also finally decide who the 2012 Lucas Oil Champions are. Like their counterparts in the Full Throttle ranks, most of the titles are decided already but we still have some unfinished business to take care of in Super Comp and that title may also not be decided before the sun sets on Auto Club Raceway at Pomona. And there's more, like the finale to the season long battle to determine the Summit Racing Series ET national champions. Each week at the national events I read a public address spot that urges fans to " try their hand at drag racing at an NHRA track near you." It goes on to say that "you could become event, track, division and even national champion" and that's what will take place this week. Racers from all seven NHRA geographic regions will converge on Pomona in order to see who is the best local track racer in the country and it will be as exciting as any racing that will take place this weekend.
Vinny DiMino
Four racers from each division, from the East Coast to California, will converge on the famous Pomona track to determine the Summit Racing Series national championship. Drivers will compete in Super Pro, Pro, Sportsman and Motorcycle (or sled) Eliminators and when it is all said and done there will be four new world champs. Just getting to Pomona is a real challenge and you have to win the division championship to earn the right to compete in this special event. Each division has their own way of determining who gets to run for the championship, but in the end it's four very good racers who come to town with one goal in mind and that is to be crowned Summit Racing Series champ.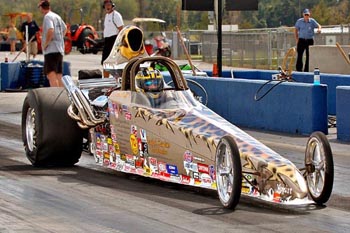 David Scigliuto
Photo copyright 2012 BME Photography
It's always interesting to watch the drivers as they get ready for their first run down the track. After a long trip just to get here, several days in many cases, and after an informal gathering on Thursday night at the NHRA Museum, the first time these drivers make the turn from the staging lanes and look down this hallowed piece of real estate they know that they're in for something special. A lot of them have never participated at an NHRA national event before and most of them have never even been to Pomona let alone raced down the track. In years past, when I spoke with the champions, they always said how neat it was to run in front of the big crowd at one of the sport's most famous venues. Unfortunately, too many times the weather plays a part, and in some years the drivers never even made it down the track until Monday and that's a real shame. In a perfect world they would get to make a couple of time runs and then go for the gold in front of the packed grandstands on Sunday. Let's hope that's the case this year because that certainly adds to the excitement and joy of being part of this special event.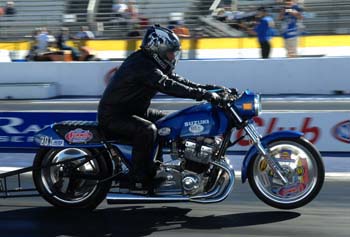 Roy Hagadorn
Several of the drivers who are racing this year are returning for a second, third or even fourth try at the brass ring. In fact, there are eight such drivers and three former winners who will make the return trip to Pomona for the show. Roy Hagadorn, one of the best motorcycle racers in the country, returns for his second trip as a competitor and his third trip overall. He was here as a racer in 2008 and as a spectator in 2007 when his wife, Candy, was the Division 2 representative. Just to get here this year he had to beat Candy in the Division 2 finals, and that just shows you how good they both are. Roy lost to Chad Isley in round one in 2008 and he vows to do better this time around. He'll be joined on the D-2 team by David Scigliuto who is also making a return trip. In 2007, when Candy was going a few rounds on her bike, David was winning his class by beating Bruce Main in the final round. There aren't many people who get the opportunity to compete at this event once, let alone twice, and now David has a chance to repeat as champion. Kelly King, the 2004 winner in the Pro ET class also returns and that makes the group from Division 2 look awfully strong. Even though there aren't any team titles to be awarded, it's always nice when you get to share the winner's circle with a friend.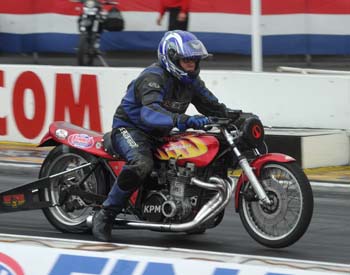 Tom Klemme
As good as Roy is in the bike class, and make no mistake about it he is good, Tom Klemme may be even better, or at least better at the Summit ET Finals. The motorcycle rider representing Division 5 will be making his third appearance in the special event and he won it the last two times he was there. In 2008 he beat Chad Isley, the same guy who beat Roy two rounds earlier, and last year he beat David Primrose for his second title. Imagine all the racers who try to make it to the Summit ET finals even once, and here's Tom with a chance at the "three-peat." Like I said, he's good, but he'll get a battle from Roy and the other bike riders, and if he wants to win it again he'll have to bring his "A" game. There is another motorcycle entrant who could make some noise and that's Ken George, the representative from Division 1. Ken came west in 2003 and again in 2007 but left empty handed and he vows not to let that happen a third time.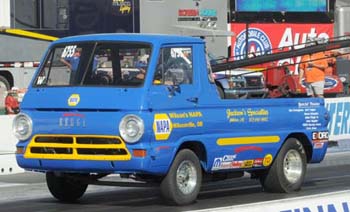 Derrick Jackson
If coming back for a second or third time is impressive then making your fourth trip to Pomona must be awesome, and that's exactly what Derrick Jackson will do this year. Representing Division 6, the great Northwest, Derrick will be racing in the Sportsman class just like he did in 2006 and 2008, and that goes along with an appearance in the Pro class in 2000. His best finish was when he was runner-up to Willie Hoefer in 2006 and he'll call on all of that experience in an effort to win his first national championship. Ken George from Division 3 will be making his third trip west and he'll be looking for his first win as well. Ken was here in 2003 and again in 2007 so I guess we'll see if experience really does pay off. Another driver, Vinny DiMino, will come all the way across country, just like he did in 2010, to compete in the Super Pro ranks. Vinny lost in the first round to Shawn Herbst the last time he was here and he vows to do better than that this time around. As I often say, your first trip to this event is like a team getting to the NCAA Final Four the first time, and by that I mean the experience is all new and you can be awed by the whole environment. So, having learned from that first time you should be better the next time you come to Pomona. You should!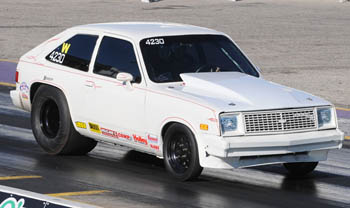 Jeff Hefler
Photo copyright 2012 Robert Grice
Jeff Hefler, who made a bit of history when he qualified for the race in two classes in 2010, returns for the third time. He was runner-up in the Pro class in 2010 and he won the Sportsman class that year to etch his name in the Summit ET Finals record book. Jeff, who represents one of the great drag racing families, will compete in the Pro class this year as he looks for his second title.
If everyone makes the trip, and they usually do, there will be twenty-eight racers who will be gunning for the very prestigious title of Summit Racing Series Champion. Super Pro, Pro, Sportsman and Motorcycle racers from across the country get to slug it out in the ultimate race for local bracket racers. Good luck to all of them and thanks to everyone at Summit Racing for making this dream a reality for all of the "little guys" across the country.




NHRA: 10 Most Recent Entries [ top ]

Apr 23- HOUSTON - Lucas Oil Drag Racing Series Wrap Up The NHRA Lucas Oil Drag Racing Series Wrap Up
Apr 23- CHARLOTTE 1 - J.R. Todd Aiming for Two Four-Wide Racing Wins in 2018
Apr 23- Mid America Dragway Joins NHRA Member Track Network
Apr 23- HOUSTON - Special Awards
Apr 23- HOUSTON - Sunday Video
Apr 22- HOUSTON - Sunday Pro Mod Wrap Up