Tue, 06 Nov 2012, 13:10 PM



Season Concludes with Ghosts and Goblins Race



Courtesy of Evan Jones



MOHNTON, Pa. -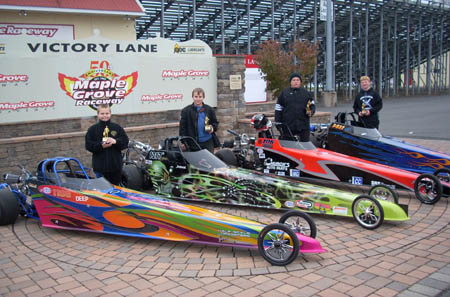 Junior Dragster Challenge winners are,
from left, Matt Schell, Jarrod Kissinger,
Eddie McBride and Kyle Robb.
Missing from photo is Robbie Allen Jr.
There was no doubt it was November when racers took to the track for Maple Grove Raceway's season finale Sunday.
Under cold and overcast conditions, The Grove held its annual Ghosts and Goblins race that was delayed from Oct. 28 because of Hurricane Sandy. The event featured the NHRA Junior Dragster Challenge, and five young racers went home with mini Wally trophies.
However, due to track conditions from the cold weather, the bracket race and the King of The Track race were not completed.
Maple Grove is now closed for the season. The 2013 racing season opens April 6 with a test and tune. Several of the bigger events have already been booked, including the Auto-Plus NHRA National on Oct. 3-6. A complete season schedule will be released in January.
Ghosts and Goblins drew more than 200 racers looking for some final runs this season. It also featured trick-or-treating in the pits, along with Halloween-themed contests. Winners received a $10 gift card from Target.
The Junior Dragster Challenge itself had 44 competitors split over five age groups.
Matt Schell (Reiffton, Pa.) won the 8-9 year-old category in his 2010 Halfscale. He beat Kelsey Brinckman (Boyertown, Pa.) in the final with a pass of 13.018 seconds at 46.96 mph that was .04 over his dial-in, while Brinckman was .12. Katelyn Kershner (New Tripoli, Pa.) was a semifinalist.
Jarrod Kissinger (Sinking Spring, Pa.) took the 10-11 group, beating Chase Ream (Narvon, Pa.) in the final. Kissinger made a pass of 9.291 at 70.19 in the final that was .01 over his dial-in. Ream was close, too, at 9.007 over a 8.99, but Kissinger's reaction time made a difference. Cory Ream (Narvon, Pa.) was a semifinalist.
In the 12-13 group, Kyle Robb (Denver, Pa.) used a great reaction time to get the advantage over Deja Brown (York, Pa.). In his '06 KCC, Robb used a .008 RT and followed through with a pass of 8.102 at 78.71. Brown went 8.251 at 78.13. Corey Sykes was a semifinalist.
Eddie McBride (Glenolden, Pa.) took the 14-15 group after runner-up Tre Brown (York, Pa.) fouled at the start. Sean Bailey (Phoenixville, Pa.) was a semifinalist.
In the 16-17 group, Robbie Allen Jr. (Earleville, Md.) had a close race with Josh Phelps (Pasadena, Md.) in the final. Allen was 8.401 at 75.37, just .01 over his dial-in; Phelps was 8.057 at 80.87 and ..02 over. Semifinalists were Amanda Boicesco (Warminster, Pa.) and Johnny Groff (Quarryville, Pa.).
Results
Ghosts and Goblins at The Grove
NHRA Junior Dragster Challenge
8-9: Matt Schell, '10 Halfscale, .037 reaction time, 13.018 seconds, 46.96 mph def. Kelsey Brinckman, KCS, .154, 13.376, 50.35.
10-11: Jarrod Kissinger, '12 JD, .062, 9.291, 70.19 def. Chase Ream, '02 Halfscale, .114, 9.007, 72.74.
12-13: Kyle Robb, '06 KCC, .008, 8.102, 78.71 def. Deja Brown, .091, 8.251, 78.13.
14-15: Eddie McBride, '04 Halfscale, .065, 7.92, 83.09 def. Tre Brown, '02 Quick Kids, foul -.006, 7.882, 83.51.
16-17: Robbie Allen Jr., .012, 8.401, 75.37 def. Josh Phelps, '12 Halfscale, .020, 8.057, 80.87.




Drag News: 10 Most Recent Entries [ top ]

Apr 22- K&N Spring Fling Million Final Day Results
Apr 21- K&N Spring Fling Million Friday Results
Apr 20- K&N Spring Fling Million– Thursday Results
Apr 19- K&N Spring Fling Million- Wednesday Results
Apr 18- Buckeye S/SS @ National Trail April 28th
Apr 18- Don "the Snake" Prudhomme Returns To Baja Competition After 50 Years
Apr 18- K&N Spring Fling Million Tuesday Results
Apr 17- K&N Spring Fling Million Pre-Race
Apr 12- Summit Racing Equipment is Newest Sponsor of Midwest Junior Super Series
Apr 12- Summit Racing Named Official MWPMS Sponsor and Event Title Rights Holder