Fri, 02 Nov 2012, 16:16 PM



I Got A Good Deal On A Used Car



By Bob Frey


Photo copyright 2012 Auto Imagery, Inc.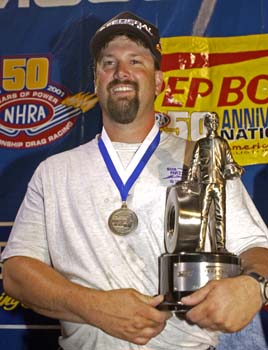 Ken Etter
Drag racers, more so than the general population, are used to making comebacks. This can be a comeback from a bad loss, an off season, a stunning upset or a spectacular crash. Don Garlits revolutionized the sport when he designed the first successful rear-engine dragster after his accident at Lions Drag Strip. John Force overcame many obstacles when he came back from his crash in Dallas five years ago. Tony Pedregon made every news and highlight reel when he came back from the devastating explosion in Pomona a few years ago, and recently Todd Lesenko rebounded from a couple of nasty explosions to race again. While these were all high profile incidents that caught the eye of the casual as well as the ardent fan, there are many more that occur out of sight of the general public. One such incident happened at California Speedway a few years ago and it happened to a guy who had been racing for a number of years and never had a real bad accident or parts failure.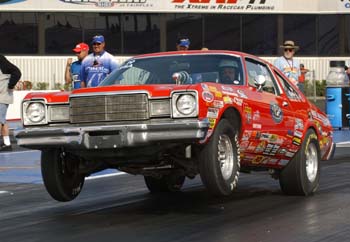 Ken Etter
Ken Etter started racing in 1991 with a car that he ran in Stock Eliminator. "My dad Al, and his partner Don Studley, had been racing for years and I knew that I wanted to be part of the action," Ken said. "Dad was a record holder and it was always fun to watch him race and do so well." With that as motivation Ken obtained his first car, a 1971 Plymouth Duster that fit neatly into the Stock Eliminator ranks. "My dad and Don raced Mopars all their lives and since that was all I had ever been exposed to as a kid, and since I knew those cars inside and out it was obvious that that would be my car of choice." He knew those Mopars so well that his first entry made a little history when it became the first small-block Stock Eliminator car with an automatic transmission to dip into the ten-second range. "I did that at the 1995 Winternationals in Pomona," he said. That wasn't all Ken accomplished at that race because he also made it to the final round where he lost to the eventual World Champion, Chuck Rayburn.
After some early success, including that trip to the final round in Pomona, Ken sold his little car and decided to sit out a while. "I wanted to buy a house and I couldn't do both, race and become a home owner," he said. He certainly isn't the first racer faced with that choice and he won't be the last. He also wasn't the first racer to come back after a brief layoff. "I always knew I'd be back, and when I returned I bought a 1976 Plymouth Volare that had a 360 engine in it and I set a couple
of records with that car. It was pretty fast." And it was pretty successful, too. A win at the 50th anniversary race at Pomona and a few other final rounds followed and all appeared to be right with the world, but then disaster struck.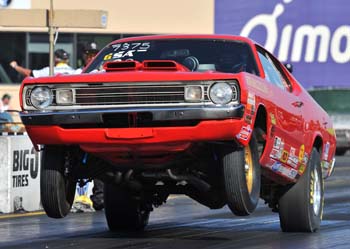 Bill Riddle's car
The year was 2010 and Ken was driving a car for Bill Riddle. "I had just finished my run at California Speedway and went to hit the brakes and there was nothing there." You don't have to be an avid follower of the sport to know that the end result of running a car and having no brakes can be a disaster, and it was for Ken. "The car was totaled and I was hurt very badly," he said. "Broken bones, a broken jaw and foot and a lot of bumps and bruises. Like I said, it was nasty." That was two years ago and he still hasn't fully recovered. "It's been a long process with a lot of operations and support from my friends." But like many racers before him Ken returned to the track. "I love racing and I knew that I'd be back."
Of course with his injuries, which cut into his availability to work on a regular basis, and his limited resources, Ken had to search around for a car that he could afford. "I looked around and found the car that I'm racing now. John Hale built it, Sonny Stancil had it for a while and I got it as 'roller' which meant it didn't have an engine or transmission. I wanted to do that myself. I guess you could say that I got a good deal on a used car." That car, a 1993 Dodge Shadow, is unique in the sport. "It's one of a very few like it anywhere," Ken said. "It has a 97.2 inch wheelbase which is very short, especially for a race car and it only weighs about 2960 pounds and that's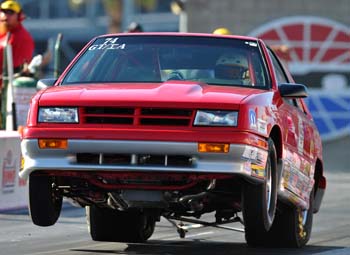 Ken Etter
light for a Super Stock car. It has a 318 cubic inch engine and it's a lot of fun to drive. In fact, even with the short wheelbase it's about the easiest car that I have ever had to drive." As easy as it is to drive Ken admits to having some engine difficulties for a while. "I kept fighting it off and on for a while and it got a little frustrating, but earlier this year I worked some things out and it's been running well ever since." So well that he went to the finals at the national event in Phoenix earlier this year and he earned enough points to go to the Jegs All Star race in Chicago. "I was having a very good year and it was a thrill to go to the All Star race. I didn't do as well as I would have liked but our team (Division 7) won the team championship and that was special. I really enjoyed the event but I have to admit that the heat was brutal."
He also did well enough this year that he had a shot at winning the national championship as recently as the event in Las Vegas this past weekend. "Yeah, I had a shot but I goofed up and gave it away." By "goofed up" he means that he had a sub-par reaction time and lost in the first round. Still, he is assured of having his best finish ever in the national standings and he could be the D-7 champ if everything goes right. "We'll see what happens at the points race this week. It's a nice position to be in but I have to focus because there are a lot of good racers who will be there."
Whatever happens and regardless of where he finishes Ken has been an inspiration to a lot of racers. "My accident was really bad and I'm glad to be racing again. I have no plans yet for 2013 and I guess I'll just see what the new year brings." If the new year is anything like the past years it will bring another season of racing for the driver of the little Dodge Shadow, a used car that has turned into a wining race car thanks to a racer who just wouldn't give up.
"Special thanks go to Bob Mazzolini Racing, a long time sponsor of mine as well as Gregg Luneack at Tri-City Competition who is a friend and who does all of my machine work. I'd also like to thank Leo Glasbrenner and Wayne Taylor who are good friends and who are always there when I need them."




NHRA: 10 Most Recent Entries [ top ]

Apr 20- HOUSTON - Friday Wrap
Apr 20- HOUSTON - Saturday Schedule
Apr 20- HOUSTON - Top Fuel Qualifying, Session #2 Order
Apr 20- HOUSTON - Top Fuel Qualifying Notes, Session #2
Apr 20- HOUSTON - Pro Stock Qualifying, Session #2 Order
Apr 20- HOUSTON - Funny Car Qualifying, Session #2 Order
Apr 20- HOUSTON - Pro Modified Qualifying, Session #2 Order
Apr 20- HOUSTON - Funny Car Qualifying Notes, Session #2
Apr 20- HOUSTON - Pro Stock Qualifying Notes, Session #2
Apr 20- HOUSTON - Pro Modified Qualifying Notes, Session #2