Tue, 30 Oct 2012, 20:16 PM



Sorokin, Rupert Take 2012 Titles



Courtesy of NHRA Field Marketing



GLENDORA, Calif. -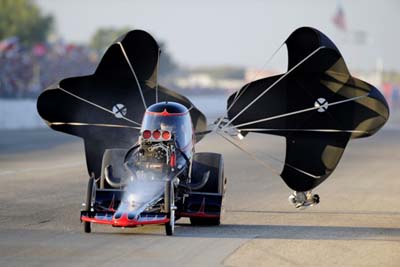 Adam Sorokin
Adam Sorokin and Jason Rupert took home the 2012 NHRA Hot Rod Heritage Series Championships this past weekend at the season ending California Hot Rod Reunion presented by the Automobile Club of Southern California at Auto Club Famoso Raceway.
Sorokin, La Crecenta, Calif., came into the event with a 41 point lead over Rick Williamson, the only driver with a shot to overtake him in Nostalgia Top Fuel. Williamson, Stockton, Calif., qualified No. 1 to Sorokin's No. 8 to gain five points but when Sorokin beat Rick White in round two, advancing to the semifinals, it wrapped up the championship for Sorokin which is his second having won it back in 2010 as well.
Sorokin faced off with Williamson in the final with Williamson taking the event win with a run of 5.809 seconds at 235.23 mph as both drivers suffered mechanical problems. Sorokin had a pair of wins in three final rounds on the year winning at Firebird Raceway and Sacramento Raceway.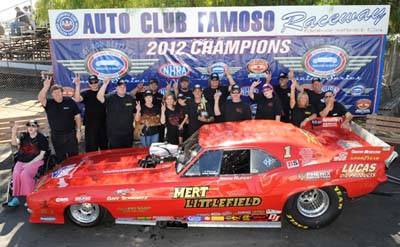 Jason Rupert
In Nostalgia Funny Car, Rupert had a 71 point lead over John Hale, looking for back to back championships as the defending NHRA Hot Rod Heritage Series Champion from 2011. With a stellar 33-car field looking to make the 16-car show it took a 5.954 second run in qualifying to advance to eliminations. Neither Rupert nor Hale made the cut giving Rupert the championship.
Rupert went to four final rounds in 2012 taking the win at Firebird's Napa Auto Parts Ignitor in his championship run with final round showings in Las Vegas, Sacramento and the second Heritage Series event at Firebird.




Drag News: 10 Most Recent Entries [ top ]

Apr 24- NHRA Heritage Series Heads To Wild Horse Pass
Apr 22- K&N Spring Fling Million Final Day Results
Apr 21- K&N Spring Fling Million Friday Results
Apr 20- K&N Spring Fling Million– Thursday Results
Apr 19- K&N Spring Fling Million- Wednesday Results
Apr 18- Buckeye S/SS @ National Trail April 28th
Apr 18- Don "the Snake" Prudhomme Returns To Baja Competition After 50 Years
Apr 18- K&N Spring Fling Million Tuesday Results
Apr 17- K&N Spring Fling Million Pre-Race
Apr 12- Summit Racing Equipment is Newest Sponsor of Midwest Junior Super Series