Tue, 30 Oct 2012, 20:04 PM



PJ Giacalone Storms to Super Street Championship at Las Vegas



By Bob Johnson



LAS VEGAS --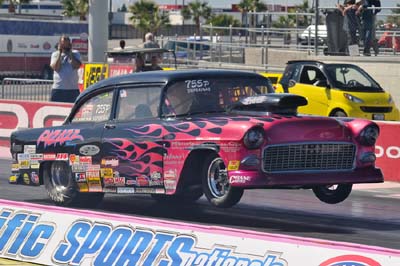 Paul "PJ" Giacalone
Paul "PJ" Giacalone of Wilmington, Calif., won the 2012 Southern California Super Street Association series championship with a come-from-behind charge that included three wins in the final four races. Giacalone, driving his popular Pizazz Racing '55 Chevy, earned the title with 4086 points, 208 ahead of '10 champ Tim Daniel. John Castro was third and John Sapone finished the season in fourth place.
With four races scheduled over two weekends at The Strip at Las Vegas Motor Speedway, Giacalone won the first race by defeating Glen Copley of North Las Vegas in the final round, 11.08, 127.58 (11.05 index), to a slowing 11.24 for Copley. Giacalone beat number one qualifier Tim Daniel in the semifinal, while Copley stopped John Sapone to earn a spot in the final.
Denso Sales sponsored the second race of the weekend, where Giacalone continue his hot streak with a final round win over top qualifier Ron Mortimer of Tehachapi, Calif. In the semifinal, Giacalone defeated John Castro while Mortimer got by red-lighting John Sapone. To cap things off, Giacalone also entered the Pro Gas competition over the weekend and drove away with a win and runner-up!
The second weekend of racing began with Tim Daniel nailing down the number one qualifying spot with his Chevy Beretta at 11.053 seconds. Quarterfinal action of the Denso Sales-sponsored race started off with Michael Boner advancing as John Castro red-lighted, John Sapone stopped the red-hot PJ Giacalone in a double-breakout contest, and Daniel got a bye run.
The semi paired Daniel and Sapone with the '10 champion Daniel taking the win. Boner drove his '88 Thunderbird to the final on a bye run. Daniel had a .034 better reaction time in the final and took the win at 11.05, 140.30 to a losing 11.09, 125.85 for Boner. Daniel credits West Coast Racing Torque Converters, Hot Rod Performance, Mickey Thompson Tires, wife Donna, and friends Jim & Mary Ketcher for their support.
The seventh and final race of the year saw Giacalone clinch the series title when he won his third of four races at Las Vegas, defeating top qualifier John Castro in the semifinal and John Sapone's El Camino in the final round. The event was sponsored by RPM Racing.
Giacalone expressed special thanks to Rick Fendley, his dad Jack, and Anthony Meek, along with sponsors Shaver Specialty Racing Engines, Hot Rod Performanace, Continental Converters, Fram Filters, AN Plumbing, Amsoil, and Industrial Tire Service.
John Castro won the annual Mechanix Wear Super Street Shootout, defeating Mike Boner in a double-breakout final round. Semifinal action saw Castro beat Jim Ketcher while Boner advanced with a win over Giacalone. Castro credits Just Smog of Torrance, Bullet Fab Service Center, TG's Performance R&M Auto and Tats Spices for his successful weekend and third place finish in the series standings.
The Super Street sponsors who helped make the 2012 season a huge success include Tim & Donna Daniel, Denso Sales, Sid's Auto Body, Jim & Mary Ketcher, RPM Racing, Instinct Gloves, Pizazz Racing, Sander's Automotive, Mickey Thompson Tires, DRW Trans, Action Awards, and EmbroidMe.




Drag News: 10 Most Recent Entries [ top ]

Apr 22- K&N Spring Fling Million Final Day Results
Apr 21- K&N Spring Fling Million Friday Results
Apr 20- K&N Spring Fling Million– Thursday Results
Apr 19- K&N Spring Fling Million- Wednesday Results
Apr 18- Buckeye S/SS @ National Trail April 28th
Apr 18- Don "the Snake" Prudhomme Returns To Baja Competition After 50 Years
Apr 18- K&N Spring Fling Million Tuesday Results
Apr 17- K&N Spring Fling Million Pre-Race
Apr 12- Summit Racing Equipment is Newest Sponsor of Midwest Junior Super Series
Apr 12- Summit Racing Named Official MWPMS Sponsor and Event Title Rights Holder