Thu, 25 Oct 2012, 13:04 PM



He's The Champ...Again



By Bob Frey


Photo copyright 2012 Auto Imagery, Inc.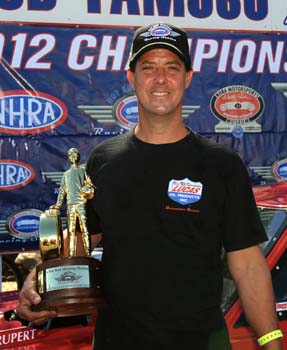 Jason Rupert
I had the pleasure of going to the 21st annual California Hot Rod Reunion this year. It's about the tenth time I have been at the affair and I am continually amazed at the atmosphere that is generated by the entire event. From the car show, the swap meet, the presentation of the honorees on Friday night and the final runs on Sunday it truly is a "must see" event for any drag racing fan. Having said that I must admit that I am usually so wrapped up in meeting the heroes of the sport that I often don't get to see much of the action on the track and that's a shame. It's a shame because the action is unbelievable, the cars are amazing and there are champions to be crowned, and anytime you have a combination of things like that it makes for a great day on the track. This year the championships were up for grabs in both the Top Fuel and the Funny Car class. Adam Sorokin, a second-generation racer won the dragster championship and that's the second time he has been the Hot Rod Heritage champ. In the Funny Car class it was another second-generation racer, Jason Rupert who won the title, and like Adam, Jason is proud to carry on a tradition that has been in the family for years.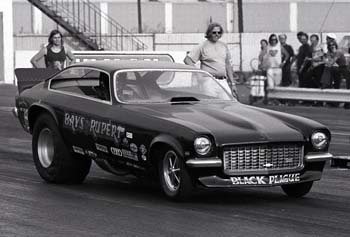 Bays and Rupert Funny Car
When I say that racing is a family tradition and has been for years I should add the fact that very few families have been involved in the sport as long as the Rupert family has. Jason's father, Frank, drove one of the best Top Fuel cars in the country in the late 1960's. "He raced the Eagle Electric car," Jason said. "He ran out of the Northwest and was one of the quickest and fastest in the country at the time." Proof of the elder Rupert's status as one of the best can be found by looking at the final Drag News Top Ten list that came out at the end of 1966. "That list was regarded as the one that everyone looked at to determine who the top cars in the country were at the time," Jason said. "The final list had Pete Robinson number one, the Winkel & Trapp car with Gerry Glenn driving number two and my dad, in the Eagle Electric car as number three." That's pretty good company for any Top Fuel driver to be in. "He also ran the Rupert and Bays Funny Car, a car called the 'Black Plague.' They called it that because after he moved to Southern California their engine builder said this car would run through the competition so quickly they would think they had been hit by the black plague." Those were the good old days, weren't they, when every car worth its salt had a nickname?
Jason, who currently runs his own business, a welding and custom fabrication shop, has been involved with drag racing in one way or another for many years. "I worked for Mert Littlefield for a long time," he said. "I kind of did everything at the shop over the years. I learned a lot there." Founded by the late Mert Littlefield, the company still operates making superchargers for the racing industry, and is run by Lee Kronquist and Lee Littlefield. Since Jason's father was involved in the sport it came as no surprise that he wanted his turn behind the wheel. "We ran an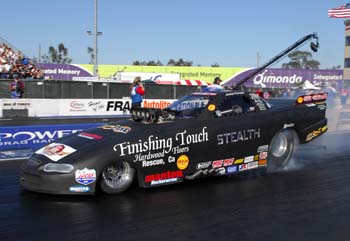 Jason Rupert's Alcohol Funny Car
alcohol dragster for a while and then we built our first Top Alcohol Funny Car in the mid 1990's, he said. "We were about eighty percent done with it when we met a gentleman by the name of Forrest Lucas. He and Charlotte were a huge help, both financially and emotionally and we even got to be good friends with their son, Morgan. In fact, when he was only about twelve years old he used to tag along with us and come to the races, and look at him now."
Jason's early days included stints behind the wheel of an alcohol dragster and a funny car. The funny car made it to a few final rounds with the first being in Phoenix in 1997, an event he lost to Frank Manzo. "Let me tell you, there's not a better racer in this sport than Frank. He is so good and so humble. John (Glade, Frank's crew chief) and he have done such a great job and it's a pleasure to watch them race." Jason went on to add that Frank is not only a good racer but a great person, too. "Not everyone knows him or gets to see him away from the track, but he really is something special. It's a joy to be able to compete with him."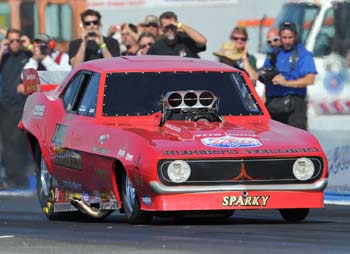 After running his own car for a few years Jason assumed the duties of hired driver for Geoff Goodwin, and he'll be in that roll at the final three races of the year, the national and divisional races in Las Vegas and the final national event in Pomona. But as much as he enjoys driving an alky car there is something else that he enjoys even more and that's competing with his own Funny Car in the NHRA Heritage Series, a series that he has won in two consecutive years. "They call it nostalgia racing, and in a way it is. The cars are a bit of a throwback to the old days and the entire spirit at the races is too. Everyone is so nice and helpful and very competitive, and after the races someone is always cooking up something in the pits. It's just a great atmosphere." The car that he runs is a 1969 Camaro that is complete with a 500 cubic inch Brad Anderson engine, a Grant Downing chassis, a B&J Transmission and a Littlefield supercharger. It also carries the "Mert Littlefield" name on the side. "My father and my partner knew and respected Mert and they knew that he was having some serious health issues, so when we went to name the car we decided to name it after him. Unfortunately we didn't know how soon he would pass away after we did that. He was a great guy and we all miss him."
To win any series you have to have several things, a good car, a good crew and a little luck and Jason has all of that. "We started both seasons, 2011 and 2012 off the same way," he said. "We won the big race in Boise and we won a lot of rounds early in the year and made everyone chase us." He admits to having some consistency problems during the year, but fortunately they had a big enough lead that nobody could catch them. "We were having some mechanical issues, but as the year went on we got a hold of things and now we're running much better." Among their
accomplishments is the fact the he was the first, and to this date only car in the class to go over 260 miles per hour. "In both of our championship years we were able to go to Bakersfield with a nice lead and we were lucky enough to hold on for the win. To win this title means a lot to our team, and to be a part of racing at a historic track like Bakersfield, where my father used to race, makes it even more special."
During the course of the 2012 season Jason ran about a dozen times and that includes some NHRA national and nostalgia events and even an IHRA race. "That's about as much as we want to run. With the business and a six year old son it keeps me pretty busy." His partners, Ed Vanderwoude and Dave Schwartz, help him maintain the car and together they have now won back-to-back championships. "I always liked running the alky car and I would love to run in the fuel classes, but right now from a logistical and financial point of view this is where I am and I'm very happy." And with his father serving as his crew chief the Rupert's get to experience that father-son bond that has been so prevalent in drag racing since, well, since Frank was racing. "It's always been a great family sport and my dad is happy and I'm glad we get to share this together." Just think, if Drag News was still around the name at the head of the top ten list for the Nostalgia Funny Cars would be Jason Rupert.
"Everyone knows we couldn't do this without the great help we get from our sponsors," Jason said. "I'd like to thank Lucas Oil, B&J Transmissions, Littlefield superchargers, Phenix Industries, Good Year tires, GRP rods, Manton pushrods, Manton Engineering, Brad Anderson Engineering, Velasco crankshafts, Molinari clutches, Craig's Pit Stop, Pro Bell, Control Cable, MAHLE/Clevite, Autolite, Creative-Metals.com and A&R Powder Coating."




NHRA: 10 Most Recent Entries [ top ]

Mar 21- LAS VEGAS 1 - Fact Sheet
Mar 21- LAS VEGAS 1 - Event Preview
Mar 20- Strong Stable of Contending Pro Stock Racers Vie for Final Starting Position for K&N Horsepower Challenge
Mar 20- GAINESVILLE - Special Awards
Mar 20- GAINESVILLE - Lucas Oil Drag Racing Series Wrap Up
Mar 19- GAINESVILLE - Sunday Video
Mar 18- GAINESVILLE - Pro Mod Sunday Wrap Up
Mar 18- GAINESVILLE - Sunday Wrap Up
Mar 18- GAINESVILLE - Pro Mod Championship Points
Mar 18- GAINESVILLE - Bonus Points