Tue, 23 Oct 2012, 19:37 PM



Auto Club Road to the Future Award Contenders Will Try to Earn More Votes



Courtesy of NHRA Communications



At The Strip at Las Vegas Motor Speedway



LAS VEGAS -
Khalid alBalooshi
While many veteran drivers will be fighting it out in the Full Throttle Countdown to the Championship playoffs, the battle for the 2012 Auto Club Road to the Future Award is also going to be intense at The Strip at Las Vegas Motor Speedway during the Big O Tires NHRA Nationals, Oct. 25-28. Each of the eight eligible rookie drivers will have one last shot at the season's penultimate event to make a lasting impression on the auto racing journalists who will be casting votes to determine the winner of the prestigious award.
Among the candidates who will be trying to make a strong showing to earn some votes is the most recent rookie winner, Top Fuel driver Khalid alBalooshi. The native Middle East driver who resides in Los Angeles is still riding the momentum following his first career victory this past weekend at Reading after defeating Al-Anabi Racing teammate Shawn Langdon in the semifinals and Countdown to the Championship points leader Antron Brown in the final round of eliminations. alBalooshi, only the third driver from outside North America to win a Full Throttle Series race, got off to a slow start this season, but has been picking up steam near the end of the year.
"I give my team owner, the crew guys and all the people who work with us thanks for making this win," an elated alBalooshi said while clutching his first Top Fuel Wally last weekend in Pennsylvania. "I try my best, and I know that everybody on the team is trying their best, and finally, I won my first race."
Alexis DeJoria
Two Funny Car drivers - Alexis DeJoria and Courtney Force - have made an immediate impact in the sport and are certainly among the leading candidates.
The season's most decorated rookie, Force, has had a memorable first year behind the wheel, as she earned her first career victory at Seattle and raced to No. 1 qualifying positions at Indianapolis and Dallas in her Traxxas Ford Mustang. She also posted runner-up finishes at Chicago and Denver and was one of only two rookies to qualify for the Full Throttle Countdown to the Championship, NHRA's playoffs, ensuring a top 10 points finish.
"I am excited to be up for the Automobile Club of Southern California Road to the Future Award for rookie of the year," the second-generation driver said, who would become the fourth driver from the John Force Racing stable to win the award if selected. "There is a lot of good competition amongst the rookie drivers this season. There are a lot of great rookies this season and it has been a fun year. At the beginning on the season winning this award was one of my major personal goals."
DeJoria and her Tequila Patron Toyota Camry posted a runner-up finish earlier in the season at Bristol and qualified a season-best fifth at Indianapolis. She also posted a career-best performance of 4.032 seconds at 319.07 mph at the recent Reading event. Like Force, DeJoria has been a fan-favorite in the pits and a popular interview subject with the media. In her opinion, those journalists with a vote have a very difficult choice.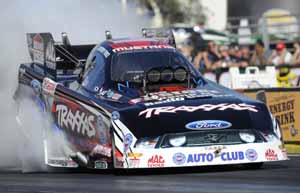 Courtney Force
"It was a really tough field this year," DeJoria said. "There were a lot of really great teams and rookie drivers. It was super competitive, but overall, I think we've all done a good job - we've all handled ourselves really well with the media and on the racetrack. And of course, how well we perform on the track, is definitely a team effort. May the best candidate win!"
Pro Stock Motorcycle rookie Scotty Pollacheck joins Force as the only rookies to qualify for every race and earn a spot in the Full Throttle Countdown to the Championship playoffs. He says his Sovereign-Star Racing team has been on an upward trend and hopes that a win at Las Vegas could garner him some last minute votes.
"I have had a very exciting year so far and I think the best is yet to come, though," Pollacheck said. "Being a rookie and getting to do so many things for the first time has been an adventure. Going to all the different tracks for the first time is very cool. Having (wife) Susan and the kids come to Sonoma, our home track, was a highlight of the season. Seeing the progress of the whole team is encouraging also. I can tell week after week we are getting better. That is the epitome of a being a rookie."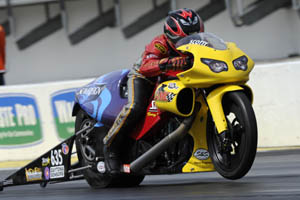 Scotty Pollacheck
While the rookie battle intensifies, the Countdown to the Championship playoffs are coming down to the wire. Brown and Spencer Massey will decide the Top Fuel title, while a three-way race is brewing in Funny Car with leader Jack Beckman, Ron Capps and Mike Neff. Allen Johnson, defending champ Jason Line and Erica Enders are pursuing the Pro Stock crown and Eddie Krawiec and Andrew Hines are atop the Pro Stock Motorcycle points standings.
The event also will feature the season-ending race for the NHRA Pro Mod Series presented by ProCare RX. It's a close battle for the championship as Mike Castellana leads the points heading into the finale, while Rickie Smith and Troy Coughlin still have a shot at winning the title.
On Friday in observance of Nevada Day, children 12 and under will be admitted free with a paid adult and fans attending the event will have the opportunity to see two powerful jet dragsters make their first set of exhibition runs. As part of the many special off-track activities during the weekend, Rock Ridge Music/Warner Music Group singer Chelsea Bain will perform a concert near Club Nitro on Saturday.
Before the action heats up at the track, one of the biggest NHRA Fan Fests of the season will take place at the Third Street Stage at Fremont Street in downtown Las Vegas on Thursday, Oct. 25 from 5-7 p.m. This free event will feature race cars on display, as well as one of the biggest driver autograph sessions of the year. More than 30 of the biggest personalities in the NHRA Full Throttle Series will make an appearance at the autograph session, including 15-time Funny Car world champion John Force, Courtney Force, Top Fuel pilots Massey and Langdon, Pro Stock fan-favorites Johnson and Enders and three-time Pro Stock Motorcycle champion Hines. A special NHRA-themed light show will be presented on the popular Fremont Street Experience canopy throughout the fan fest.
* SCHEDULE: Full Throttle Drag Racing Series qualifying sessions are scheduled for noon and 3 p.m. on Friday, Oct. 26, and 11 a.m. and 2 p.m. on Saturday, Oct. 27. Final eliminations will begin at 11 a.m. on Sunday, Oct. 28.
* TICKETS: Tickets are available for the 12th annual Big O Tires NHRA Nationals. Please call The Strip at Las Vegas Motor Speedway at (800) 644-4444 or visit www.lvms.com.
* ON TV: ESPN2 and ESPN2HD will televise 90 minutes of qualifying coverage at 10:30 p.m. (ET) on Saturday, Oct. 27. ESPN2 and ESPN2HD will televise three-hours of eliminations coverage at 8 p.m. (ET), also on Sunday, Oct. 28.
* LUCAS OIL SERIES: The 12th annual Big O Tires NHRA Nationals also will feature competition in seven categories in the NHRA Lucas Oil Series, where the future stars of the NHRA Full Throttle Series are born. Lucas Oil Series qualifying begins at 8 a.m. on Oct. 25 and continue through Oct. 26. Lucas Oil Series eliminations begin at 8 a.m. on Oct. 27.
* NHRA PRO MOD SERIES PRESENTED BY PROCARE RX: NHRA's popular Pro Mod touring series will make its final start of the 2012 season at the 12th annual Big O Tires NHRA Nationals. The first two qualifying sessions will be Oct. 26 at 11:30 a.m. and 2 p.m. Qualifying will continue on Saturday, Oct. 27 with a session at 10:30 a.m. and will be followed by the first round of eliminations at 4 p.m. Eliminations will continue Sunday, Oct. 28 at approximately 2:30 p.m.




NHRA: 10 Most Recent Entries [ top ]

Apr 20- HOUSTON - Stock Eliminator Round 1 Winners
Apr 20- HOUSTON - Stock Eliminator Round 1 Eliminations
Apr 20- HOUSTON - Super Stock Round 3 Class Eliminations
Apr 20- HOUSTON - Super Stock Eliminations Ladder
Apr 20- HOUSTON - Super Stock Final Qualifying, Session #3 Order
Apr 20- HOUSTON - Stock Eliminator Eliminations Ladder
Apr 20- HOUSTON - Stock Eliminator Final Qualifying, Session #3 Order
Apr 20- HOUSTON - Super Stock Round 2 Class Eliminations
Apr 20- HOUSTON - Super Stock Round 1 Class Eliminations
Apr 20- HOUSTON - Super Stock Class Eliminations Qualifying