Tue, 23 Oct 2012, 16:37 PM



Congratulations to the Honorees



By Bob Frey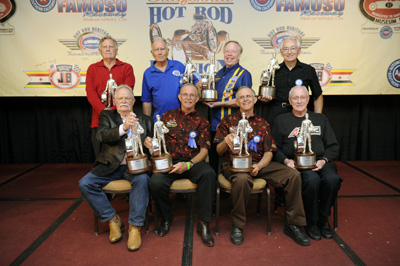 The California Hot Rod Reunion inductees.
Photo copyright 2012 Marc Gewertz/NHRA
I'm just back from spending a fun weekend at the
California Hot Rod Reunion
and I have to say that I thoroughly enjoyed it. Let's face it, when you're a fan like I am and you get to hang out with the legends who were in
Bakersfield
how could you not enjoy yourself? >From the Friday night reception to the huge silent auction to the crowning of champions it was a lot of fun. I know I've said this before but if you are a fan of this sport, and I assume you are because you are reading this story, you have to go to the "
Reunion
" when you get a chance. It's so much fun and you get an opportunity to meet some of the true legends and pioneers of the sport?.On Friday night they had the reception for the honorees and that included
Bob
and
Jim Brissette
,
Gary
and
Jerry Mallicoat
,
Jim Nicoll
,
Marv Ripes
and
Ed Sigmon
. The Grand Marshall for the event was the legendary
"TV Tommy" Ivo
. During the presentation on Friday Tommy gave another one of his typical great speeches and he had the crowd in stitches. All of the other honorees were present and they gratefully accepted their awards and the adulation of the crowd?.One of the funny parts of the weekend surrounded Jim Nicoll. It seems there was an article in the new
Hot Rod Magazine
that mentioned some of the most famous accidents in drag racing, and of course that meant a recap of the final round at Indy in 1970, the year when
Don Prudhomme
beat Jim and the year that Nicoll's car got cut in half by a clutch explosion and went spinning out of control. The article in the magazine said that Jim died as a result of the accident and as we all know that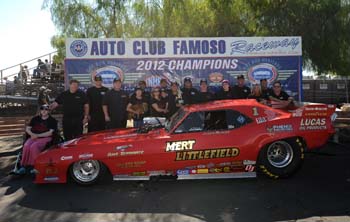 Jason Rupert
Photo copyright 2012 Auto Imagery, Inc.
was not correct. Jim got a good laugh out of it over the weekend and so did a lot of the folks except the author of the story who, I'm told, met Jim this weekend. By the way, since everyone tells a lot of stories at the "
Reunion
" there was one that said Jim actually suffered his most damaging injury not in the accident but when he fell out of the gurney when they tried to take him out of the ambulance. I'm not saying that's true, I'm just telling you what was being said in
Bakersfield
.
The racing was also a huge part of the event with both the Top Fuel and Funny Car Hot Rod Heritage series champions being crowed. In the Funny Car class Jason Rupert won the championship in the strangest way possible, by not qualifying. Jason finished in the seventeenth spot but his closest competitor, John Hale, also failed to make the show giving the title to Jason for the second consecutive year?.On Sunday Adam Sorokin clinched the Top Fuel championship when he beat Rick White on a holeshot in the second round. Adam, a second generation driver, carries on the legacy that was started by his father, Mike, years ago. Did you know that Mike Sorokin won the Bakersfield "Smokers Meet" in 1966 when he beat James Warren in the final round? Mike drove the "Surfers" car to the win on Saturday, sat out on Sunday and then beat Warren, the winner of the 32-car field eliminations, in the final round. Along the way Mike ran 7.34 which was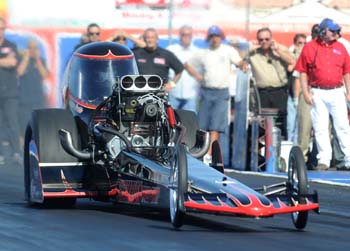 Adam Sorokin
Photo copyright 2012 Auto Imagery, Inc.
the quickest run in history at that time....
Rick Williamson
, who finished second in the points, did get a little measure of revenge when he beat Adam in the final round on Sunday?.
Mike Lewis
, yes
that
Mike Lewis of
Maple Grove
and
Team Schumacher
fame, won the Funny Car portion of the race when he beat
Stephen Densham
in the final round?.. In addition to the crowning of champions there were some monster runs turned in on Sunday. The best of them may have been the 268.33 mph run that was turned in by
Tony Bartone
in the second round, a run that was one of the fastest in the history of the nostalgia dragster class. With
Steve Boggs
tuning and Tony driving I think they both added a little something to their already impressive r?sum?s?..By the way, if you happen to see
Del Worsham
this weekend you may want to check out his dental work. I'd like to tell you what happened but let me just say that it's a long story and one I'm sure Del will not want to (but he'll have to) tell over and over again in Las Vegas?.In addition to a lot of the obvious stars who were there I found a couple of may not be household names, but should be.
Jess Van Deventer
, the 1962 Hot Car World Champion was there for the weekend and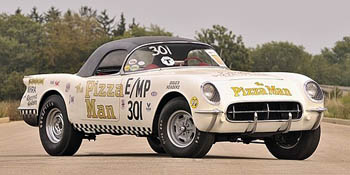 "Pizza Man" Corvette
it was a pleasure to speak with him. Jess donated three of his very early trophies (one was from Pomona in 1958) to the auction and they were a big hit?..
Ronnie Broadhead
was also there, and while you may not recognize the name I would like to point out that he was the NHRA Stock Eliminator World Champion in 1963. There were more, many more, but that's just an indication of the kind of stars who show up at the "Reunion" each year, and like I said, if you've never been it is a "must see" event that you should put on your 2013 calendar. By the way, even with my impending retirement I plan on going to Bakersfield next year, and one of the main reasons is to see the refurbished
Walton, Cerny and Moody
car, a dragster that may make its first public appearance at the event?.I spoke with both
Don Prudhomme
and
Tom McEwen
in Bakersfield and they both said that are very pleased with the progress and production of their movie. We will have a preview of that during the NHRA breakfast at the
SEMA
show next week. I can't wait?. One of the great Modified Production cars of all time will be up for sale this week when
Earl Britt's
"Pizza Man" Corvette crosses the auction block at the
Mecum Auction
in
St. Charles, Missouri
. The classic 1954 Corvette should fetch a tidy sum and it's just the latest in a long line of legendary drag race cars that have been offered for sale at the Mecum auctions. I don't know what it will go for but I know one thing as I head into retirement and that is I won't be able to afford it. Maybe if I kept working another ten or seventy years!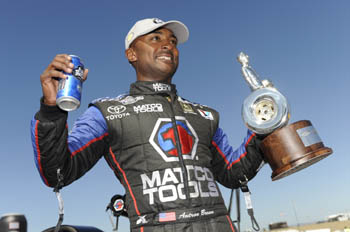 Antron Brown
Photo copyright 2012 NHRA
With the champions crowned in the nostalgia classes it's time now to turn our focus on the NHRA Full Throttle ranks and the race this week in Las Vegas. Antron Brown has a commanding, but not an insurmountable lead in the Top Fuel class and he'll look to just match his closest competitor, Spencer Massey, round for round in Las Vegas. He will also have to keep Tony Schumacher and Shawn Langdon at bay and that won't be easy. I often ask why certain drivers do well at a particular track and the same could be asked in reverse, that is, why certain drivers don't do well at a particular track. That's a question that I could ask about Antron Brown and the second Las Vegas event. Did you know that Antron is just 13 - 11 at this race and he has never won it? Now, as the expression goes, past performances are no indication of what lies ahead and I'm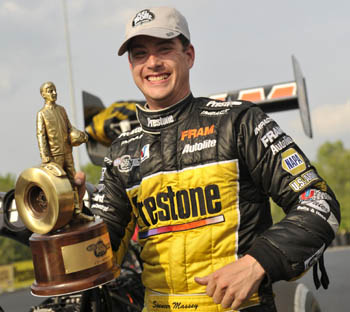 Spencer Massey
Photo copyright 2012 NHRA
sure Antron knows that this isn't one of his better events. Still, the
Matco Tools
car, the team and the driver have been so consistent all year and they will be tough to catch at the last two races of the season?.Tony Schumacher, on the other hand, has already won this race four times and that should give him a lot of confidence coming into the event. Of course, as good as Tony,
Mike Green
and the rest of the
Army
team have been for years, they are probably confident going into any race and any race track.
Did you know
that the "Sarge" is an amazing 26 - 7 at this event and that means he wins almost eighty percent of his rounds at the "Strip?" I don't care who you are or where you're racing, if you win eighty percent of your rounds you're going to win a lot of races?.For his part Spencer has only raced in the Top Fuel class twice at the
Las Vegas
event and he has been to the final round both times. In 2009 he beat
Larry Dixon
in the final and last year he lost to Del Worsham in the money round. Any way you look at it this will be the pivotal race in the dragster class and the scenario is simple?.get Antron out early or start calling the engraver and tell him the champ's name is spelled ANTRON!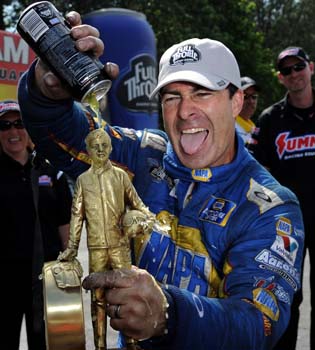 Ron Capps
Photo copyright 2012 Auto Imagery, Inc.
Ron Capps may come into town in second place, but if the scenario I talked about with the dragsters is true Ron has to like his chances to win rounds on Sunday. Did you know that he has won this event three times and that's the most by any Funny Car driver? Ron beat Bob Gilbertson in the 2001 final, took out Gary Scelzi in the 2005 final and stopped Johnny Gray last year. Ironically it was that DNQ at the first Las Vegas race this year that prompted the wholesale crew chief changes in the Schumacher camp, changes that certainly appear to have worked out for both Ron and Jack Beckman?.Jack is the points leader and he has been to the final round in Las Vegas twice before, beating Tommy Johnson in 2006 and losing to Robert Hight in 2009. Jack has been to the semi-finals at three of the four races in the "Countdown" and the only time he didn't advance that far he lost to Ron. Those Team Schumacher cars just keep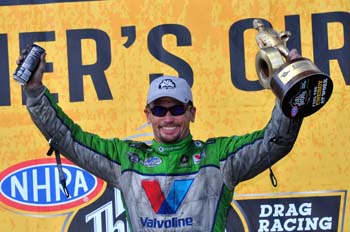 Jack Beckman
Photo copyright 2012 Auto Imagery, Inc.
running into each other and that could be crucial this week.
Did you know
that at eight of the last fourteen races this year Jack's last round, win or lose, has been against one of his teammates? That's a lot of deciding matches, one way or the other, for Jack, isn't it? And if you were wondering, Jack is 2 - 6 in those deciding rounds?..
Mike Neff
is in third place and certainly within range of the leaders. His 2,383 points have him ninety-one behind Jack and thirty-seven behind Ron.
Did you know
that Mike came into the Vegas race last year in third place in the points while Jack entered the race in first place? And while that is similar to this year there is another similarity and that is the fact that in between them was another Team Schumacher driver, the eventual champion
Matt Hagan
. Granted, the top three were closer in points than they are this year but it still shows you the quality of these two mega-teams, Force and Schumacher, as they slug it out for the championship once again.....If Mike hopes to keep his title hopes alive he will have to do better than he did last year when he lost in round one to
Paul Lee
. Paul will be in action this week when he gets behind the wheel of the
Gary Densham
car and he could be one of the many surprise factors in
Las Vegas
.
In the same Hot Rod Magazine that mentions Jim Nicoll there is a great story on Erica Enders. In it Erica again shows why she has a great future in this sport. In addition to being a very good driver she handles the media extremely well, knows how important it is to market yourself and your team and she talks about what it's like to be one of the top drivers in the Pro Stock class. Between that and the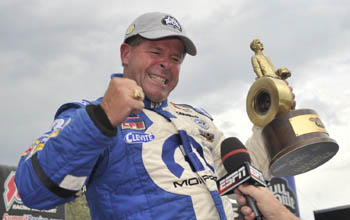 Allen Johnson
Photo copyright 2012 NHRA
recent teleconference interview that she did with
Allen Johnson
and
Jason Line
it's obvious that Erica knows she has a good car and had a chance at the championship, but she also knows that right now she is probably racing for a good finishing spot in the standings. She is a real credit to the sport and her team and she should be proud of her outstanding season?..Allen Johnson can taste the championship. With his Dodge running the way it is he will be very tough to overtake, and it appears that Jason is the only one who can do it. Even though he went to the final round last year this isn't one of Allen's favorite events.
Did you know
that in nine races he has only put up a 10 - 9 record in his previous starts at this race? Allen has, however, done very well against his two closest competitors this year.
Did you know
that he is a combined 7 - 4 against Jason and Erica in 2012? That three round edge may not seem like a lot over an entire season but it's enough to have AJ comfortably in the lead?.None of the top three drivers in the class have ever won this event, in fact, this race, maybe more than any others has given us some real surprises over the years.
Mark Pawuk
won it in 2001,
Richie Stevens
won it in 2006 and
Larry Morgan
won it in 2009?.Since I mentioned Larry Morgan I thought I would throw this little gem out there. When
V. Gaines
won in
Reading
I mentioned that it ended a streak of 111 consecutive races without a win for him. Well,
did you know
that Larry holds the record for the longest gap between wins in the Pro Stock class? Larry won in Englishtown in 1994 and he then went 175 races before his next win in
Sonoma
in 2002 and that's longer than any other Pro Stock driver has gone between wins. Having said that I think Larry should be congratulated for what he has done in his career and for the great progress he has made with the Ford program.
Did you know
that at the end of this year Larry will have finished in the top ten eleven times in his career?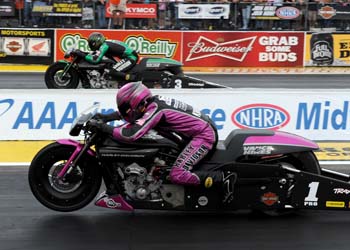 Krawiec vs. Hines
Photo copyright 2012 Auto Imagery, Inc.
Other than the fact that one of the Harley-Davidson riders will win the championship there isn't much news in the bike class as we head to Las Vegas. Either Eddie Krawiec or Andrew Hines will be the champ, and before we even get to Sunday's eliminations one of them will get a big boost in the standings. That's because the final round at Reading will be run on Saturday and that's a forty point swing for one of the Vance & Hines team riders. Did you know that this will be the sixth time this year that those two have squared off in a final round? Of those previous five races Eddie has won four of them, so if he doesn't have a mechanical edge at least he should have a mental advantage. Over the course of their careers the pair couldn't be much more evenly matched. Did you know that they have faced each other twenty-five times and Andrew has won thirteen of those meetings? Even their final round record is close with Eddie holding a slight edge 6 - 5 advantage in the last round?..There was a bit of news when it was announced that the motorcycles will compete at the 4-Wide race next year and that should spice up that event a bit. Of course one thing they will have to do is make sure the riders all know exactly what's going on with the staging procedure. There are always more fouls in the bike class than any of the other classes at each race so the wacky staging process at the 4-Wide could be a real test for the motorcycles.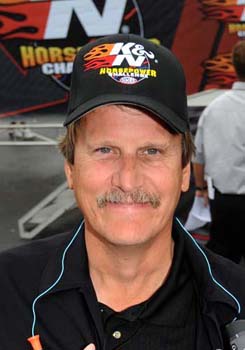 Jon Knapp
Photo copyright 2012 Auto Imagery, Inc.
Finally, I would like to mention the passing of a great friend of all of us in the sport. Jon Knapp, who along with his wife, Joanne, had been handling the public relations for the Summit Racing team drivers, Greg Anderson and Jason Line, passed away this week after a battle with cancer. Jon was one of the nicest guys I have ever met and he and Joanne did a great job for all of their clients for many years. Even though many fans probably did not know him by name or even to see him, Jon's presence was felt throughout the sport by virtue of the many press releases and stories that he wrote. He was also part of the annual trip to visit our service members in Germany and that was something that he always looked forward to doing. Jon will be missed and our prayers go out to Joanne. Funeral arrangements are pending at this time.




NHRA: 10 Most Recent Entries [ top ]

Apr 24- CHARLOTTE 1 - Steve Torrence Enjoying Four-Wide Success Heading to NGK Spark Plugs NHRA Four-Wide Nationals
Apr 24- CHARLOTTE 1 - Fact Sheet
Apr 24- Kalitta Motorsports Welcomes NASCAR Stars to the SealMaster Track Walk in Charlotte
Apr 24- zMAX Dragway Celebrates 10th Anniversary
Apr 24- CHARLOTTE 1 - NGK Spark Plugs NHRA Four-Wide Nationals Brings 40,000 Horsepower Thrill Show to zMAX Dragway
Apr 23- HOUSTON - Lucas Oil Drag Racing Series Wrap Up The NHRA Lucas Oil Drag Racing Series Wrap Up
Apr 23- CHARLOTTE 1 - J.R. Todd Aiming for Two Four-Wide Racing Wins in 2018
Apr 23- Mid America Dragway Joins NHRA Member Track Network
Apr 23- HOUSTON - Special Awards
Apr 23- HOUSTON - Sunday Video