Thu, 18 Oct 2012, 22:15 PM



He's Movin' On Up!



By Bob Frey


Photo copyright 2012 Bob Johnson Photography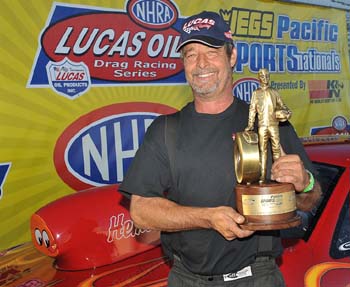 Daryl Hemley
There's something about this time of the year that always makes me think about human nature. I guess it's the elections that take place every year and the fact that nobody seems to be content where they are. The town council member wants to be mayor, the mayor wants to be an assemblyman, the assemblyman wants to be a congressman, the congressman wants to be a senator and the senator wants to be president and so on. As the expression goes, that's life. It's like in basketball, the guards always want to be centers and the centers want to be guards and nobody is happy where they are. Well, in the world of drag racing there is always that urge or desire to move up. Most racers in the sportsman ranks have higher aspirations, don't they? A Stock Eliminator racer wants to be a Pro Stock driver and an alky racer wants to turn pro, and after all these years of being around the sport I think that's what keeps us going. Take a look at the drivers in the Full Throttle classes and you'll see that a majority of them used to race in the Lucas Oil classes. At the recently completed Sportsnationals in Las Vegas there was one racer who grabbed a trophy in his new class, Top Sportsman, but that racer has been around the sport for some time. I guess he just figured that it was time to move up, and he did in a big way.
Unlike a lot of racers who have been involved in the sport for a long time, fifty-five year old Daryl Hemley has only been racing for about eight years. "I always loved the sport and I followed John Force, Ron Capps, Tony Pedregon and other Funny Car racers," Daryl said. "But as much as I enjoyed the sport I just didn't have the resources to go racing." What he did have was a business, a wife and five children, and as you can imagine, that's more than enough to keep anyone busy. Oh yeah, he had one other thing. "I always had a real need for speed," he said. "I know a lot of people say that but I had a real burning desire to go racing." He also had a good friend, Dave Barcelon, who is one of the best racers in the country and a real fixture at the races in Daryl's home state of Washington. "Every race car that I have I bought from Dave and he has been a great mentor to me," Daryl said.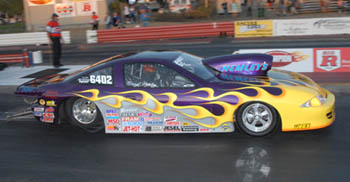 Daryl Hemley
Photo copyright 2012 Rich Carlson
The string of cars that Daryl has obtained from Dave and raced includes his first race car, a 1968 Chevrolet Camaro. "It was basically a street car, a real nice Camaro with a 327 engine. It was basically stock and I raced it in the bracket classes at my home track, Bremerton Raceway." He followed that with a beautiful split-window, 1963 Chevrolet Corvette and that was a big step up from his Camaro. "That was a very fast car and I had a lot of fun with that." As fast as the Corvette was Daryl decided to race it in the Super Comp category, a place that is normally populated by rear-engine dragsters. "I just wanted to give it a try and I enjoy doing things a little differently," he said. But after running that in the 8.90 class for about two years Daryl came to the stark realization that Super Comp wasn't for him. "I just really didn't enjoy the throttle-stop racing. It wasn't for me." So, after a few years he decided to move up again and this time the class of choice was one that has been very popular at local tracks across the country, Super Pro. "I got another '63 Corvette, a Tim McAmis built car with a 468 cubic inch engine, and I ran that in Super Pro." But as much fun as that was it still didn't fully quench Daryl's need for speed.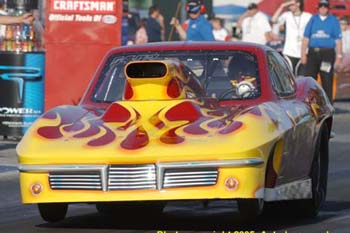 Hemley's Corvette
Photo copyright 2012 Auto Imagery, Inc.
About that time there was a new class springing up, Top Sportsman, and that caught Daryl's attention. "I have always raced door cars, I love them, and this new class looked perfect for me. You could go fast and there were no throttle stops." The Washington businessman jumped in with both feet. "I purchased the 2002 Cavalier that I am running now. It had a Dart engine that Bob Johnson prepared for me. It was 622 cubic inches and had nitrous and could run in the 7.20 range. It was fast and fun." Armed with a new car Daryl became a regular fixture at the Division 6 races and he promptly started winning rounds. In 2008 he made it to the final round at Woodburn, won the race in Medford and he followed that with another win in Woodburn in 2009 and a final round appearance at the Boise points race this year. But all of that was just a prelude to his big day at the recent Pacific Sportsnationals in Las Vegas. "Yeah, that was a great weekend," he said. Other than the fact that I had pneumonia and I ran over my crew chief's foot, that is."
Hemley defeated Newman
Daryl won the Top Sportsman class in Vegas to pick up his first NHRA national event win. "The car was running well and I drove well," he said. "And, yes, I did have pneumonia and I'm still getting over it." A quick look at the stats will show that Daryl had reaction times of .000, .004, .004 and ..007 in the final round. But there was that one reaction time of .030 that stands out. So what happened in that round? "It's funny, actually. My crew chief, Patrick Skahan, does a great job for me and he's one of the reasons that I have been able to do so well. But on this occasion as he was leading me into the staging beams, he got a little close to the car and I actually pulled the tire onto his foot. Fortunately he tucked his toes in and didn't get hurt, but I had to lurch forward to get off his foot and it threw me off on the line." He still went on to win the round and then beat Chris Newman in the final round with a .007 reaction time and a 7.579 on a dial-in of 7.57. "I was so excited when the win light came on that I almost forgot how bad I felt." Nothing like a win light to chase the blues away. "And I wanted to dedicate the win to my father. He was such a big part of my life, he started the business that I run today and he always came to the races with me. He passed away about three years ago, and as I was staging I just said 'Lord, let me win this for my father.' I was so excited when I won and I know my father would be proud."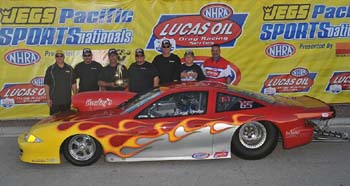 Hemley and crew celebrate win.
Daryl still has a shot at the Division 6 title this year so he will bring his car and his crew chief to the final Lucas Oil division race in Las Vegas in a few weeks. "I'm in third place right now but I have a chance to win it and I won't give up until it's over. And even if I don't win I've had a great year. I enjoy the class and love the people because everyone is willing to help the other guy." And what about moving up in class again? "Well Dave keeps trying to talk me into running in Comp Eliminator, but that's a pretty big leap so I'm going to stay where I am for a while." A wise move for a man who has climbed the ladder rapidly in the last eight years and now can call himself a national champion.
Daryl would like to thank his crew chief's wife, Brandy Skahan, and then added a "special thanks to my wife Kimberly Hemley for putting up with me throughout the race season."




NHRA: 10 Most Recent Entries [ top ]

Apr 24- CHARLOTTE 1 - Steve Torrence Enjoying Four-Wide Success Heading to NGK Spark Plugs NHRA Four-Wide Nationals
Apr 24- CHARLOTTE 1 - Fact Sheet
Apr 24- Kalitta Motorsports Welcomes NASCAR Stars to the SealMaster Track Walk in Charlotte
Apr 24- zMAX Dragway Celebrates 10th Anniversary
Apr 24- CHARLOTTE 1 - NGK Spark Plugs NHRA Four-Wide Nationals Brings 40,000 Horsepower Thrill Show to zMAX Dragway
Apr 23- HOUSTON - Lucas Oil Drag Racing Series Wrap Up The NHRA Lucas Oil Drag Racing Series Wrap Up
Apr 23- CHARLOTTE 1 - J.R. Todd Aiming for Two Four-Wide Racing Wins in 2018
Apr 23- Mid America Dragway Joins NHRA Member Track Network
Apr 23- HOUSTON - Special Awards
Apr 23- HOUSTON - Sunday Video