Wed, 17 Oct 2012, 19:35 PM



Jackie Alley named Grand Marshal and Honorary Starter of Big O Tires NHRA Nationals



Courtesy of Kelly Wade



LAS VEGAS --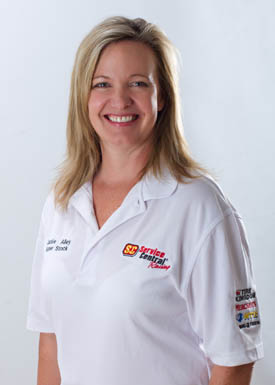 Jackie Alley
Through discipline, dedication, and determination, Jackie Alley and her husband Mick have built a very respectable and solid business as owners of Big O Tire store #12200 in Boise, Idaho.
Last year, Jackie used that same discipline, dedication, and determination to win a world championship title in NHRA's season-long sportsman competition, the Lucas Oil Drag Racing Series. In scoring the prestigious and coveted Super Stock title behind the wheel of her well-shoed Super Stock '69 Camaro, Jackie became just the fourth woman to win an NHRA championship and the second female to do so in the ultra-competitive sportsman categories.
Jackie's road to the championship really kicked off mid-season at the 2011 Mile-High Nationals in Denver, Colo., not too far off the map from the Boise-area home that she and Mick share with twin daughters Brittney and Courtney. When Jackie won the NHRA national event in Denver, she moved into third place in the national standings, and she knew she had a shot.
Jackie then made a huge move at last season's Big O Tires NHRA Nationals in Las Vegas when she wrestled the points lead from one of the most respected and notable sportsman racers of all time, Peter Biondo. Although her worthy opponent got the win light in their final-round meeting, Jackie had already collected enough round wins and points to oust him from the top position in the standings. Ultimately, the pair finished as the No. 1 and No. 2 best in the nation.
With the exceptional performance at the Big O Tires Nationals, Alley was in the lead and closer than ever before to the title that many only dream of. However, as every conscientious tire store owner in wintry climes knows: snow season is the busiest time of year, and when the championship chase came down to the last national event in November, Jackie could only sit back and watch as she and Mick kept their Big O Tires store as the top priority and stayed home to sell tires.
"We had to take care of the business, so we just had to hope for the best," said Jackie. "The last race of the season, the NHRA Finals in Pomona, is always a tough race for us to hit, so we opted not to go and to just see how it went down there - and there we were back in Idaho sweating it out. We got lucky, and it was just amazing."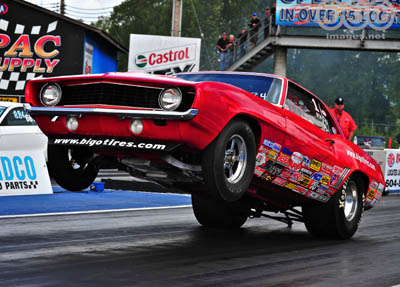 Jackie Alley
No matter what they do, Jackie and husband Mick are a team, through and through. On the drag racing side of things, Mick paved the way, and Jackie followed suit a couple of years later. She began bracket racing at their local track - Firebird Raceway in Boise - in 1996.
"I was going out and watching him all the time," said Jackie. "I decided it was something I wanted to do, and I got hooked immediately. Back then I was driving a '70 Chevelle, and we still have that car. Our daughter Brittney even raced it in the High School Series."
Back at their Big O Tires store, the couple keeps their teamwork fine-tuned. Jackie and Mick, who worked his way up from mechanic to assistant manager to store owner right there in Boise, purchased the store in 1989. Jackie handles all of the administrative duties and Mick handles sales and the crew.
"It's a challenge, balancing racing and the store," said Jackie. "There is a lot that I can't do on the road, so there is always plenty for me to do when I get back - but I just love it."
For her unwavering dedication to Big O Tires, even when the dream of a world championship title in the lauded NHRA Full Throttle Series is on the line, Jackie was recently named as the Grand Marshal and Honorary Starter of the 12th annual Big O Tires NHRA Nationals in Las Vegas, October 25-28, 2012.
"It is an incredible honor to be asked to hold these positions," said Jackie. "We've raced in Las Vegas a lot - more than our home track, even - and it's always so exciting. It's a huge venue, and everyone is there. The best of the best come out to race, and it's such a thrill, so to be the Grand Marshal and Honorary Starter there just means so much to me.
"I'm a little nervous, but mostly, I'm just excited. I'm sure it will be a lot of fun, and it will definitely be something that I remember for the rest of my life."
Kevin Kormondy, Executive Vice President and Chief Operating Officer of Big O Tires LLC, extended warm appreciation towards both Alley and her husband Mick.
"All of us in the Big O Tires family are so proud of Jackie and Mick and their accomplishments," said Kormondy. "We truly value their contributions to the Big O organization."




NHRA: 10 Most Recent Entries [ top ]

Apr 26- CHARLOTTE 1 - Jack Beckman Making Most of Opportunities Approaching NGK Spark Plugs NHRA
Apr 26- HOUSTON -Through the Lens of Ron Lewis
Apr 24- CHARLOTTE 1 - Steve Torrence Enjoying Four-Wide Success Heading to NGK Spark Plugs NHRA Four-Wide Nationals
Apr 24- CHARLOTTE 1 - Fact Sheet
Apr 24- Kalitta Motorsports Welcomes NASCAR Stars to the SealMaster Track Walk in Charlotte
Apr 24- zMAX Dragway Celebrates 10th Anniversary
Apr 24- CHARLOTTE 1 - NGK Spark Plugs NHRA Four-Wide Nationals Brings 40,000 Horsepower Thrill Show to zMAX Dragway
Apr 23- HOUSTON - Lucas Oil Drag Racing Series Wrap Up The NHRA Lucas Oil Drag Racing Series Wrap Up
Apr 23- CHARLOTTE 1 - J.R. Todd Aiming for Two Four-Wide Racing Wins in 2018
Apr 23- Mid America Dragway Joins NHRA Member Track Network