Wed, 17 Oct 2012, 19:21 PM



Bowen Wins Tulsa, Closes In On DRO Series Points Lead



Courtesy of Jeff Burk


Photo by Jeff Burk photo





TULSA, Okla. --
The Mickey Thompson Tires DragRacingOnline.com AA/FC Challenge presented by Comp Cams and Victory Performance visited historic Tulsa Raceway Park for the first time, the fifth of six races on the 2012 schedule.
The results included a first time winner Shawn Bowen driving the "Violator" '77 Pontiac Firebird, a new series ET record of 5.707 by the Fred Mandoline-tuned "Flashback" Pontiac driven by Marc White, and the quickest side-by-side race in the series' history -- a 5.707 to 5.717 epic race between White and defending DRO national champion, Texan John Hale.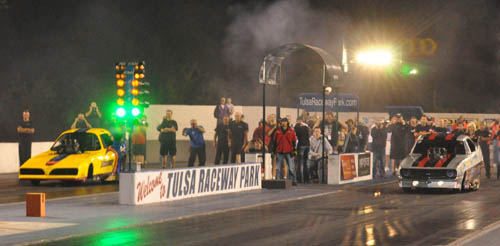 Final round, Shawn Bowen (left) vs. John Hale.
In the first round of Eliminations Ronnie Young and the Texas-based "Blue Max" AA/FC, who were at the team's first DRO AA/FC Challenge race of the season, ran his best ET of the year (a 5.79) but unfortunately was up against the hottest team on the circuit and lost to Bowen's 5.74.
No fewer than five teams recorded ET's in the 5.70s in the first round of eliminations, a record for the series that is completing its fourth season.
The final round was a classic between Hale, the number-one qualifier and current series points leader, and Bowen. Hale appeared to have the edge as he had run a 5.717/249.30 to beat White's quicker 5.707 in the semi-finals while Bowen beat California racer Dennis La Charite driving his Cory Lee-tuned "Back in Black" GTO with an off-pace 6.046 to La Charite's troubled 6.123.
At the flash of green in the final Bowen had his best RT of his career with a .061 to Hale's very respectable .082. Hale spun the tires early but managed to stay with Bowen for a while before getting his car sideways in the lights while in the other lane Bowen burned a piston, blew a hole in the valve cover and oiled his right tire. He had to manhandle his car to keep it off the wall, but Bowen still managed a 5.926/217.11 for the win while Hale coasted to a 6.55.
The win brought the Grand Blanc, Michigan-based Bowen family team to within 100 points of Hale and insured that the 2012 champion won't be decided until the last race of the season.




Drag News: 10 Most Recent Entries [ top ]

Apr 22- K&N Spring Fling Million Final Day Results
Apr 21- K&N Spring Fling Million Friday Results
Apr 20- K&N Spring Fling Million– Thursday Results
Apr 19- K&N Spring Fling Million- Wednesday Results
Apr 18- Buckeye S/SS @ National Trail April 28th
Apr 18- Don "the Snake" Prudhomme Returns To Baja Competition After 50 Years
Apr 18- K&N Spring Fling Million Tuesday Results
Apr 17- K&N Spring Fling Million Pre-Race
Apr 12- Summit Racing Equipment is Newest Sponsor of Midwest Junior Super Series
Apr 12- Summit Racing Named Official MWPMS Sponsor and Event Title Rights Holder