Wed, 10 Oct 2012, 23:08 PM



Summit SuperSeries Prize Dragsters Ready to Race



Courtesy of IHRA Communications



Winners of Top, Junior Dragster at IHRA World Finals Receive Two Beautiful Machines



NORWALK, Ohio --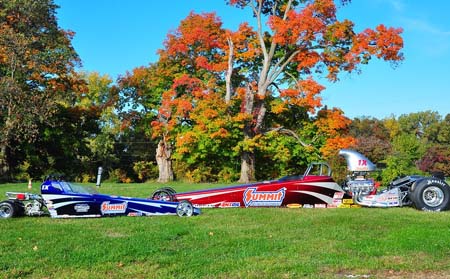 The big winners of Top and Junior Dragster
in Memphis will win these incredible machines.
The Summit SuperSeries presented by AMSOIL and Moser Engineering prize dragsters awarded to the winners of the Top ET and Junior Dragster champions at this weekend's IHRA Summit Racing Equipment World Finals are loaded up and ready to go.
But before the two machines make the trip to Memphis International Raceway and get handed out, we got a sneak peak at the two dragsters in the parking lot at the IHRA World Headquarters in Norwalk, Ohio. Both dragsters feature the unique Summit Racing Equipment blue and red design with reverse colors on both sides.
The Top ET prize dragster was built by American Race Cars and features a Trick Flow engine with major contributions from Summit Racing Equipment, Moser Engineering, Abruzzi Transmissions and Converters and many more. The Junior Dragster prize machine was built by Vic Puglia and features a Steve Waller engine with many fine companies helping make both possible.
In addition, the winner of Mod ET will receive a brand new Pace trailer and a custom golf cart as part of their prize package. The winner of Top and Mod will also receive $10,000 courtesy of Summit Racing Equipment plus other various prizes including a trip to Aruba, championship Ironman and much more.
The IHRA Summit Racing Equipment World Finals are this Friday, Saturday and Sunday at Memphis International Raceway. Competition in the Summit SuperSeries will take place Saturday evening.




IHRA: 10 Most Recent Entries [ top ]

Mar 21- 2018 IHRA Summit Sportsman Spectacular Series on April 20-22
Feb 26- Weather-Related Construction Delays Postpone IHRA Xtreme Raceway Park Opener
Feb 16- IHRA Summit Sportsman Spectacular Schedule Announced
Feb 15- New York Track Finds Value for Racers with IHRA Agreement
Feb 15- IHRA Summit Sportsman Spectacular Debut Only One Month Away Now is the Time to Pre-Enter
Feb 15- Summit Texas Location is a Racers' Paradise
Feb 15- Canadian Track Makes Large Commitment to IHRA Drag Racing
Jan 27- Mid-Michigan Destination Joins IHRA Family
Jan 27- Mississippi Track Reaches Sanctioning Agreement
Jan 16- Michigan Track to Host IHRA Summit Sportsman Spectacular