Wed, 10 Oct 2012, 22:58 PM



Summit World Finals Weekend LIVE on IHRA.com



Courtesy of IHRA Communications



Sportsman Spectacular, Summit SuperSeries, Tournament of Champions All Live



NORWALK, Ohio --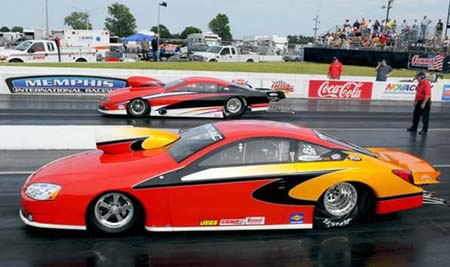 Memphis International Raceway is
the home of this year's IHRA Summit World Finals.
Thanks to a collaborative effort between the International Hot Rod Association and Motor Mania TV, the IHRA is pleased to announce that the IHRA Summit Racing Equipment World Finals from Memphis International Raceway will be broadcast live on IHRA.com and additional sites the weekend of October 12-14.
All three days of the Summit World Finals will be broadcast live through a special partnership with Motor Mania TV as the Summit Sportsman Spectacular presented by AMSOIL, Summit SuperSeries presented by Moser Engineering and AMSOIL and Summit Tournament of Champions presented by AMSOIL races will all be seen live and uncut throughout the weekend on IHRA.com, Motor Mania TV, Competition Plus, Bangshift and more.
"We have been webcasting drag racing events for over six years," said Mark Walter of J-Angel Productions. "We streamed our first event in February of 2006 from Las Vegas. From there we started streaming Fun Ford, National Street Car Association, The Million and several one-off events like the World Street Nationals in Orlando.
"In June of 2009 my wife and I started Dragstory.com. Initially we covered the ADRL and then branched out into other events and series. It was an instant hit. Our channel has seen over 1.35 million page views in three years."
Today Walter's company continues to grow with coverage of some of the biggest drag racing events in the country and last year rebranded itself with the name Motor Mania TV to cater to a more diverse racing audience. Walter, a 28 year veteran in the United States Air Force and veteran racer, has made this company his life and looks forward to providing first class coverage for IHRA's biggest weekend.
"As long as I can remember technology has intrigued me. I have been an avid drag race fan and racer since the early 70s and during my military career I got to learn a lot of new technologies and combining the two just seemed like the perfect fit," Walter said. "We have come a long way since those days of single servers and fixed cameras."
Using three separate camera angles in addition to live audio and live timing from the event, drag racing fans will be able to watch the entire event unfold as the IHRA and Summit Racing Equipment present sportsman drag racing's biggest weekend with world championships and over $200,000 in cash and prizes on the line.
In 2011 the World Finals weekend attracted hundreds of racers from 26 states and five Canadian provinces to take part in this unique event. This year those racers will get the extra attention they deserve with a worldwide audience able to tune in.
"We started Dragstory.com and the streaming business to get the 'little guy' the visibility they deserve," Walter said. "I have always been a bracket and index racer and won many national level events and titles, but we never seemed to get any exposure. Dragstory.com and Motor Mania TV are all about getting the sportsman racers that exposure. Yes the pros drive the marketing, but the sportsman racers are the industry.
"To say we are thrilled to be hosting the IHRA World Finals would be an understatement. We can't wait to bring this event to the world."
For more information on the IHRA Summit World Finals and the live broadcast courtesy of Motor Mania TV, check back with www.ihra.com for more details.




IHRA: 10 Most Recent Entries [ top ]

Mar 21- 2018 IHRA Summit Sportsman Spectacular Series on April 20-22
Feb 26- Weather-Related Construction Delays Postpone IHRA Xtreme Raceway Park Opener
Feb 16- IHRA Summit Sportsman Spectacular Schedule Announced
Feb 15- New York Track Finds Value for Racers with IHRA Agreement
Feb 15- IHRA Summit Sportsman Spectacular Debut Only One Month Away Now is the Time to Pre-Enter
Feb 15- Summit Texas Location is a Racers' Paradise
Feb 15- Canadian Track Makes Large Commitment to IHRA Drag Racing
Jan 27- Mid-Michigan Destination Joins IHRA Family
Jan 27- Mississippi Track Reaches Sanctioning Agreement
Jan 16- Michigan Track to Host IHRA Summit Sportsman Spectacular