Wed, 10 Oct 2012, 20:16 PM



At Least It Didn't Snow



By Bob Frey


Photo copyright 2012 Auto Imagery, Inc.





The folks at
Maple Grove
can't get a break. It doesn't seem to make any difference when they run the race, August, September or October, it always seems to rain. When we were in
St. Louis
two weeks ago people started coming up to me saying that it was going to snow in
Reading
. Snow!! Well, it didn't, but it missed a really good chance. Friday and Saturday were nice days, mild temperatures and great crowds (especially Friday), but Sunday dawned cold, cloudy and damp and it got worse, and after a slightly altered schedule and three pairs of cars in round two of Top Fuel it rained and ended the day. That was a shame, too, because the people who came out saw some of the best racing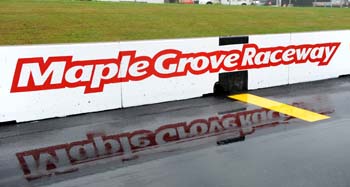 in a long while, and those who returned on Monday saw even more including the quickest run in the history of the sport. When it was all over, actually it still isn't over, but when we left town the battles for the championships in Funny Car and Pro Stock tightened up a bit, while the Top Fuel title chase is all but over and the motorcycle class is just waiting to see which Harley-Davidson rider wins it all. If the race had ended on Sunday I would say it was a great race, but since it didn't I will say it was a fun race with a barrage of outstanding runs that will be remembered and talked about for a long time.
Antron Brown didn't win Top Fuel but he did make it to the final round, set the national record and open up a huge lead. The driver of the pink Matco "Tools for the Cause" car ripped off a spectacular 3.701 in his win over Brandon Bernstein, set the national record and made the final round and that increased his lead to 104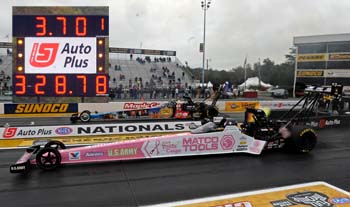 Brown set National E.T. record.
points over
Spencer Massey
. That's a five round lead with eight rounds to go and that's why I say that the battle for the Top Fuel title is basically over. With his semi-final appearance and the twenty points that go with setting the record, AB put a lot of distance between himself and Spencer who lost in round one..The national record switched hands a couple of times starting with
Morgan Lucas
setting it on Saturday then Antron set it on Sunday,
Shawn Langdon
taking it and then Antron finally putting it out of reach with his run against Brandon. By the way,
Brandon
must be wondering what he has to do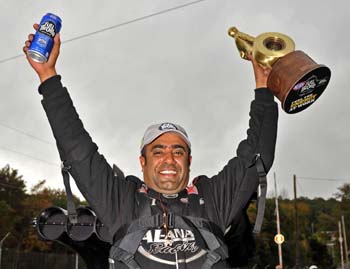 alBalooshi celebrates first Top Fuel win.
to win a round, a race or even get lane choice. He made a great 3.736 run in his win over
Tony Schumacher
in the second round and didn't even get lane choice for his race against Antron in the semi-final because Antron went 3.722 in his race with
Morgan Lucas
. Think about it, Brandon runs 3.736 and doesn't get lane choice and that will tell you how fast it was in Reading on Monday..When all the smoke had settled
Khalid alBalooshi
won his first race for the
Al-Anabi
team and in the process joins the select group of drivers who have won in the sport's premier class.
Did you know
that Khalid becomes the 99
th
Top Fuel winner in the sport's history? He is also the second first-time winner in the last four races and he now joins the other one, his teammate
Shawn Langdon
, on the winner's list. After a sluggish start Khalid has now won ten rounds in the last seven races and appears to be hitting his stride as a driver. His win over Langdon in the semi-finals surprised a lot of people since Shawn was in the title chase and that loss basically derailed any title hopes he might have had. Congratulations to the Al-Anabi teams for playing it straight up and congrats to Khalid for joining the elite list of Top Fuel winners.
David Grubnic
joined the huge list of dragster drivers who recorded their career best runs with his 3.728 in qualifying, a run that gave him the number one spot.
Did you know
that was David's ninth number one spot and his first since the
St. Louis
race in 2008? While I often say that being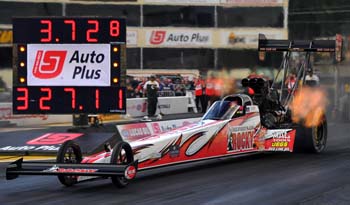 Grubnic qualified No. 1.
number one isn't a guarantee that you will win the race, being number one at
Maple Grove
is almost a guarantee that you'll at least get out of the first round.
Did you know
that in the previous twenty-seven years in
Reading
the top qualifier in Top Fuel was an impressive 25-2? The only losses were by
Darrell Gwynn
(to
Gary Ormsby
) in 1986 and
Scott Kalitta
(to
Don Prudhomme
) in 1993? David lost to
Ike Maier
who won his first Top Fuel round at an NHRA national event..The number one qualifier usually loses about once or twice a year on average, but in 2007 it wasn't safe being the top qualifier.
Did you know
that in 2007 the top qualifier in the dragster class lost a staggering eleven times in round one? Unbelievable, isn't it?...The next two races will be fun to watch and the only hope the other drivers have is that Antron goes out early, like round one, in Vegas and that one of the other contenders wins the race. Good luck.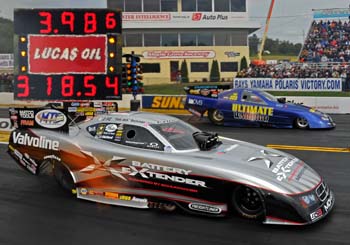 Beckman set National E.T. and speed record.
Jack Beckman won the battle but lost the war in Reading. The battle was the effort to gain ground on the leader, Ron Capps, and Jack accomplished that. In fact, after his record-setting performance he left town in the top spot in the standings and a twenty-three point lead over Ron. Mike Neff, the winner in Reading, also cut into the lead and he is now just fifty-four points behind the leader. Johnny Gray, the runner-up, also gained a lot of ground and he is now in fourth place (up from eighth before the race) and he trails Jack by ninety-one points. That will make the Las Vegas race extremely important for all of those drivers, and a little slip or a great race could change everything around going into Pomona..Jack set the national record with his 3.986 and he became the first driver to make more than one three-second pass at the same race, or at any race for that matter. Did you know that this was the sixth time that the Funny Car elapsed tiem record has been set at Maple Grove? Four of the previous six record setters were at the race this weekend. Mark Oswald, Cruz Pedregon, John Force and Matt Hagan have all set records in Reading and all were a big part of the race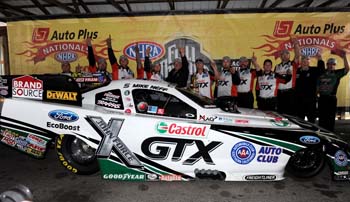 Neff and crew celebrate win.
this weekend..Like David, Jack wasn't able to close the deal and that continues a long and frustrating streak at
Maple Grove
.
Did you know
that the top qualifier in the Funny Car class has only won twice in the last twenty-one years at this event?...Going into the last two races Jack has to have a lot of confidence since he has now been the top qualifier at consecutive races for the first time in his career. Plus the fact that he made those three-second runs has to give him and his team an edge going forward, don't you think?...The racing and the conditions were so good in Reading that ten of the sixteen qualifiers in the Funny Car class recorded personal bests, either elapsed time, mile per hour or both..
Tim Wilkerson
missed the cut and that basically ended his dreams of a championship. To show you how devastating that was,
did you know
that he slipped from fifth to ninth in the standings because of that DNQ? On the other side of the coin
John Force
, who went to the semi-finals, jumped from tenth place to sixth, the highest he has been in the points since after the first
Charlotte
race this year.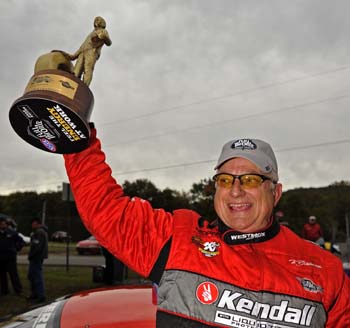 Gaines celebrates win.
There was so much going on in the Pro Stock class that I really don't know where to start. V. Gaines, who has had a very good car this year, finally went the distance and put one in the win column. A lot of people thought a Hemi-powered car would win but most of them thought it would be Allen Johnson, and that means that a lot of people were wrong. V. made his career best run in the second round when he went 6.489 to beat Greg Anderson. In addition to Greg, V. also beat two other current or former Full Throttle Champions, Warren Johnson and Jason Line on his way to victory. Throw in the final round win over Dave Connolly and that's a pretty impressive lineup that V. handled in Reading. With the win V. jumped three spots in the standings and is now in sixth place.Dave Connolly beat Jeg Coughlin on a holeshot in the semi-finals and not many people do that in any round. He then fouled out against V. in the final round and that's something he doesn't do very often. Did you know that Dave has forty-nine holeshot wins in his career and this is only the second one that has come against Jeg?....Allen Johnson will carry a big lead, eighty-two points (more than four rounds) into Las Vegas and that is going to be very tough to overcome. AJ was running well in Reading even if he did qualify in the sixth spot. Did you know this was just the second time this year that he qualified lower than fourth and the first time since the Phoenix race in February? Allen's red light in the second round was his first in over a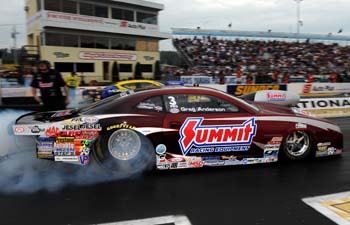 Greg Anderson
year and it came on a run where Dave Connolly shook and only mustered a 26.68 run and that has to add insult to injury for Allen. Still, with a four round lead he will be hard to catch, especially since you don't expect anyone to set the record at the last two races of the year.
Did you know
that the Pro Stock elapsed time record has been set eight times at
Pomona
but never at the last race of the year? The last time anyone set the mark there was in 2009 when
Greg Anderson
did it so good luck to everyone trying to catch Allen. It can be done but it won't be easy...Since I mentioned Greg, did you notice how he was shutting off early on runs in an effort to be able to get paired up with Allen Johnson in one of the early rounds? That's why he only ran 198, 193 and 200 mph on his last three qualifying runs. Hey, you can't gain ground on the leaders by beating them in the final round so you have to do whatever you can to increase your chances of meeting him early, Nice try, Greg..Jason Line is in second place and he did manage to set the speed record in
Reading
. His 214.35 mph blast not only gave him the mark but was also the fastest run in Pro Stock history.
Did you know
that this was the tenth time that a Pro Stock record was set in
Reading
but only the third time that it was the speed mark that was shattered?
The last time the speed record fell in
Pennsylvania
was when Greg Anderson went 208.91 in 2006.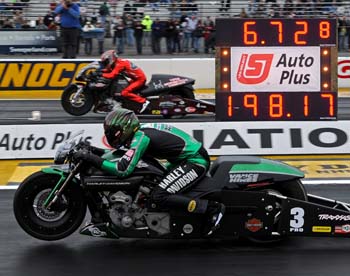 Hines set National E.T. record.
The motorcycle final round will take place during the fourth qualifying session in Las Vegas, and the only suspense will be which Harley rider gets the win. Eddie Krawiec and Andrew Hines, who have had their way with the bike class this year, were clearly the class of the field in Reading and they'll battle for the win and the championship at the next race. With the twenty points for the record already going to Andrew (since there is no chance that Eddie could run 6.72 or quicker in Vegas), it will be a two race sprint for the title between the two. Both guys made fantastic runs in Reading, with Andrew setting the record at that 6.72 number and Eddie was right behind him at 6.730. On their best runs each rider went 198.17 which shows how evenly matched the two bikes are..As well as the Harley's went it was surprising that none of the other bikes, including the Arana's, posed much of a threat to them. I'm not sure what that means but it was one of the few races this year where it didn't appear that anyone really threatened the two on race day. Matt Smith looked like he had the next best bike once eliminations started and he was a full tenth behind the leaders..When it was all done five of the quickest and three of the fastest runs in the history of the class were recorded in Maple Grove..As dominant as Eddie and Andrew have been I guess the big question is can anyone else even win a race before the year is over. Only Michael Ray, who won in Dallas, has kept the two from winning everything this year..The extra weight the Harley's are carrying probably prevented them from hitting the 200 mph mark and now it appears that we will have to wait until Gainesville next year before we see that barrier broken.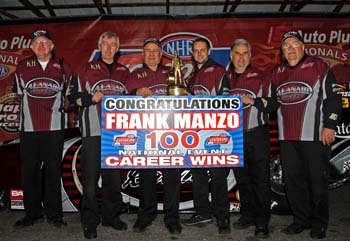 Manzo and crew celebrate 100th win.
There was a great tribute to Bill "Grumpy" Jenkins at the track all weekend and I'm sure the fans enjoyed seeing that. From classic cars to great stories it was a fun time to be a "Grumpy" fan and I want to thank all of the folks who had a part in putting it together. I got to host a little gathering on Saturday that included Joe Lepone, Larry Lombardo, Joe Tryson and Stevie Johns, all vital members of the Grump's team at one time or another. They were joined by a special guest, Jere Stahl, who made an appearance and that was extra special. The stories that Larry and Joe told were priceless, as the expression goes, and I only wish that we had more time to sit around and swap stories about Bill. Again, thanks to everyone who brought the cars and had a hand in this little get together..Frank Manzo did it again. With his win, the 100th of his great career, Frank claimed his record-setting sixteenth Top Alcohol Funny Car championship. While I won't get to present him with another division (or regional) championship at the Division 1 banquet this year, I will be in California to give him his national title at the Lucas Oil banquet after the Auto Club Finals. He is an extraordinary man, and with his team that has been with him for years, including John Glade who has been there for all of his wins, Frank really is "The Man" and it's been a joy to watch him race all these years.




NHRA: 10 Most Recent Entries [ top ]

Apr 24- CHARLOTTE 1 - Steve Torrence Enjoying Four-Wide Success Heading to NGK Spark Plugs NHRA Four-Wide Nationals
Apr 24- CHARLOTTE 1 - Fact Sheet
Apr 24- Kalitta Motorsports Welcomes NASCAR Stars to the SealMaster Track Walk in Charlotte
Apr 24- zMAX Dragway Celebrates 10th Anniversary
Apr 24- CHARLOTTE 1 - NGK Spark Plugs NHRA Four-Wide Nationals Brings 40,000 Horsepower Thrill Show to zMAX Dragway
Apr 23- HOUSTON - Lucas Oil Drag Racing Series Wrap Up The NHRA Lucas Oil Drag Racing Series Wrap Up
Apr 23- CHARLOTTE 1 - J.R. Todd Aiming for Two Four-Wide Racing Wins in 2018
Apr 23- Mid America Dragway Joins NHRA Member Track Network
Apr 23- HOUSTON - Special Awards
Apr 23- HOUSTON - Sunday Video