Wed, 10 Oct 2012, 18:10 PM



Six More Drivers Earn Way Back to Memphis



Courtesy of IHRA Communications



Memphis International Raceway Takes Team Crown at Division 2 West Team Finals



NORWALK, Ohio --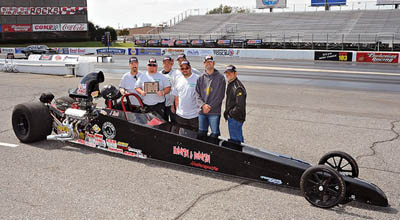 Jonathan Robin (pictured) and
Ken LaBoe advanced in Top ET.
For some drivers, winning at the IHRA Summit Team Finals means earning a ticket to the World Finals and, sometimes, packing up for a long road trip. For others, well, that necessarily isn't the case.
For the six drivers from this past weekend's Division 2 West Summit Team Finals presented by AMSOIL and Moser Engineering at Memphis International Raceway that earned their way to the World Finals via the Summit SuperSeries, the trip isn't going to be all that bad. That is because this past weekend's Summit Team Finals took place at the same location as the IHRA Summit Racing Equipment World Finals this coming weekend and for most drivers that means leaving the rigs in one place for the week in preparation for this weekend's big race.
In all six more drivers earned their way to the IHRA Summit SuperSeries presented by AMSOIL and Moser Engineering World Championship and Memphis International Raceway, home to this year's season finale, took the team crown over Jackson Dragway as both teams finished the weekend with 44 points. Alabama International Dragway finished third in the team competition, followed by London Dragway and Knoxville Dragway rounding out the top five of the more than a dozen tracks on hand.
In the Summit SuperSeries Jonathan Robin of State Capitol Raceway and Ken LaBoe of Middle Tennessee Dragway advanced in Top ET, Shane Kay of Alabama International Dragway and Jay Landry of State Capitol Raceway advanced in Mod ET and Wesley Mayfield of Montgomery Motorsports Park and Dylan Kiser of London Dragway advanced in Junior Dragster.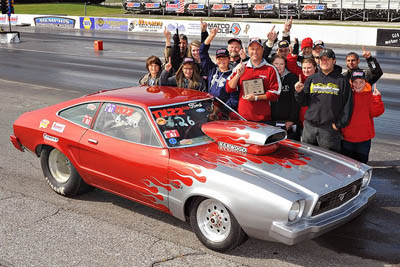 Shane Kay (pictured) and Jay Landry advanced
to the Summit SuperSeries Finals in Mod ET.
Both the winner and runner-up from the Division 2 West Summit SuperSeries runoff advanced.
In the Top ET final both Jonathan Robin and Ken LaBoe were deadly on the tree throughout the day, but both ran into trouble on the final run and it all came down to a battle of battered cars. Robin ran closest to the numbers with a 5.979 on a 4.82 dial, while LaBoe crossed the line with a 7.968 on a 5.58.
In Mod ET Shane Kay moved into the favorites category for this weekend's Summit SuperSeries by having a tremendous day at the same track he will race on again for the world title. Kay capped his big day with a .005 reaction time and a 6.272, 104.52 on a 6.26 to dispatch of Jay Landry who ran a 6.347 on a 6.35.
Finally Wesley Mayfield showed up all of his big car peers with a deadly .003 reaction time in the Junior Dragster final and ran a 7.957, 76.67 on a 7.92 dial to defeat Dylan Kiser who ran a tad too quick with a 7.897 on a 7.90.
Despite the runner-up finish in Junior Dragster Kiser still advanced to the IHRA World Finals and seemingly dominated the remainder of the weekend.
In Junior Dragster competition Wesley Mayfield (pictured) and Dylan Kiser advanced
In other competition Cody Graham (Memphis Int'l), Greg Rushing (Jackson Dragway) and Kiser (London) won the Main Event in Top, Mod and Junior Dragster respectively giving them the biggest individual victories of the weekend.
Other winners from the Memphis weekend included gamblers victors Cynthia Farrow and John Labbous in Top ET, Ricky Pennington and Josh Epperson in Mod ET and Dylan Kiser and Tyler Poindexter in Junior Dragster.




IHRA: 10 Most Recent Entries [ top ]

Apr 24- Racers Receive Prizes at IHRA Summit Sportsman Spectacular Opener
Apr 24- Comeaux, Hughes Make History at IHRA Summit Sportsman Spectacular
Mar 21- 2018 IHRA Summit Sportsman Spectacular Series on April 20-22
Feb 26- Weather-Related Construction Delays Postpone IHRA Xtreme Raceway Park Opener
Feb 16- IHRA Summit Sportsman Spectacular Schedule Announced
Feb 15- New York Track Finds Value for Racers with IHRA Agreement
Feb 15- IHRA Summit Sportsman Spectacular Debut Only One Month Away Now is the Time to Pre-Enter
Feb 15- Summit Texas Location is a Racers' Paradise
Feb 15- Canadian Track Makes Large Commitment to IHRA Drag Racing
Jan 27- Mid-Michigan Destination Joins IHRA Family