Wed, 10 Oct 2012, 14:56 PM



Field Almost Set as 12 More Drivers Advance to Memphis at D1, D4 Summit Team Finals



Courtesy of IHRA Communications



Wichita Raceway Park, Maryland International Raceway Take Team Crowns



NORWALK, Ohio (October 1, 2012) -
The field is almost set for the Summit Racing Equipment SuperSeries World Championship presented by AMSOIL and Moser Engineering at Memphis International Raceway as a dozen more drivers earned their way to sportsman drag racing's biggest stage at the Division 1 and Division 4 Summit Team Finals over the weekend.
Each division netted six new participants for the Summit SuperSeries runoffs in Top ET, Mod ET and Junior Dragster at the IHRA Summit Racing Equipment World Finals at Memphis International Raceway October 12-14 as both the winner and runner-up advance. The two divisions also crowned two new team champions as Wichita Raceway Park won the Renegades Division by 22 points over Redline Raceway and Maryland International Raceway captured the Patriots Division by one point over Motor Mile Dragway.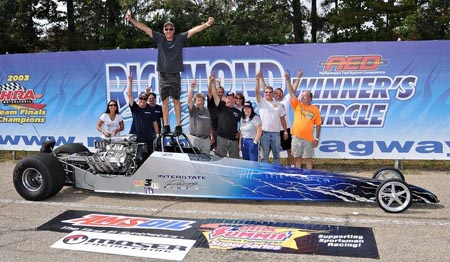 Alan Glatt won the Top ET Summit SuperSeries
runoff at Richmond Dragway over the weekend.
The Summit SuperSeries drivers to advance out of the two divisions were Michael Keylich and Aaron Gee in Top ET, Jay Robinson and Tim Ray in Mod ET and Chris Pearson and Cory Tankersley and Junior Dragster in the Renegades Division and Alan Glatt and Jason Blankenship in Top ET, Kris Bunch and George Page in Mod ET and Tyler Macedo and Austin Johnson in Junior Dragster in the Patriots Division.
Beginning in the Patriots Division Maryland International Raceway took the team crown at Richmond Dragway by a narrow 53-52 margin over Motor Mile Dragway in Virginia. Host track Richmond Dragway was third with 46 points, followed by Sumerduck Dragway (35) and Capitol Raceway (31) rounding out the top five.
In the Summit SuperSeries runoff Alan Glatt of Capitol Raceway took the Top ET crown with a solid ..015 reaction time and a 4.633, 149.20 on a 4.58 dial to advance past Jason Blankenship of Natural Bridge Dragway who had a .028 reaction time with a 5.838, 116.34 on a 5.84. In Mod ET Kris Bunch of Sumerduck Dragway drove around George Page of Motor Mile as Page went red by .012. Finally in Junior Dragster Tyler Macedo of Sumerduck Dragway had a great run with a .015 reaction time and a 8.011, 79.90 on a 7.99 dial to defeat Austin Johnson.
Other big winners from the Patriots Division were Main Event winners Brent Martin (Top), Chris Moren (Mod) and Brad Keyton (Junior).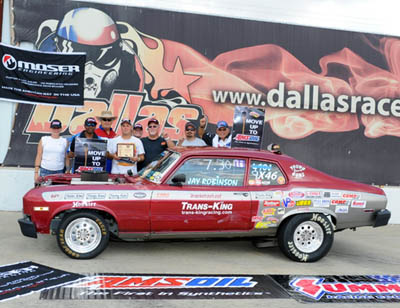 In Division 4 Jay Robinson
advanced in Mod ET at Dallas Raceway.
In the Renegades Division Wichita Raceway Park piled up an impressive 58 points over the course of the weekend to finish 22 markers ahead of Redline Raceway which finished with 36 points. Host team Dallas Raceway was third with 36 points, followed by San Antonio Raceway (31) and Little River Dragway (26) rounding out the top five.
In Summit SuperSeries competition Michael Keylich of San Antonio Raceway put together a great package with a .016 reaction time and a 4.943, 138.91 on a 4.94 dial to defeat Aaron Gee of Wichita who was a tad too quick on the top end with a 4.924 on a 4.93. In Mod ET Jay Robinson of Lonestar Motorsports Park also had a great run with a .024 tree and a 7.304, 92.08 on a 7.30 to Pine Valley Raceway's Tim Ray who had a 6.576 on a 6.57. Finally in Junior Dragster competition Chris Pearson of San Antonio Raceway had a .088 tree combined with a 7.916, 81.33 on a 7.90 dial to defeat Cory Tankersley from Lonestar Motorsports Park who had a 8.074 on a 7.99.
Other big winners from Division 4 were David Bills (Top), Jay Robinson (Mod) and Michael Turman (Junior) in the Main Event.
For complete results from the Division 1 and Division 4 Summit Team Finals presented by AMSOIL and Moser Engineering visit www.ihra.com.




IHRA: 10 Most Recent Entries [ top ]

Apr 24- Racers Receive Prizes at IHRA Summit Sportsman Spectacular Opener
Apr 24- Comeaux, Hughes Make History at IHRA Summit Sportsman Spectacular
Mar 21- 2018 IHRA Summit Sportsman Spectacular Series on April 20-22
Feb 26- Weather-Related Construction Delays Postpone IHRA Xtreme Raceway Park Opener
Feb 16- IHRA Summit Sportsman Spectacular Schedule Announced
Feb 15- New York Track Finds Value for Racers with IHRA Agreement
Feb 15- IHRA Summit Sportsman Spectacular Debut Only One Month Away Now is the Time to Pre-Enter
Feb 15- Summit Texas Location is a Racers' Paradise
Feb 15- Canadian Track Makes Large Commitment to IHRA Drag Racing
Jan 27- Mid-Michigan Destination Joins IHRA Family