Wed, 10 Oct 2012, 12:26 PM



Manzo Wins 100th; Clinches 16th Championship



Courtesy of NHRA Communications



MOHNTON, Pa. --
Frank Manzo raced to his 100th NHRA National Event win today and clinched his 16th NHRA Lucas Oil Drag Racing Series Top Alcohol Funny Car National Championship in doing so.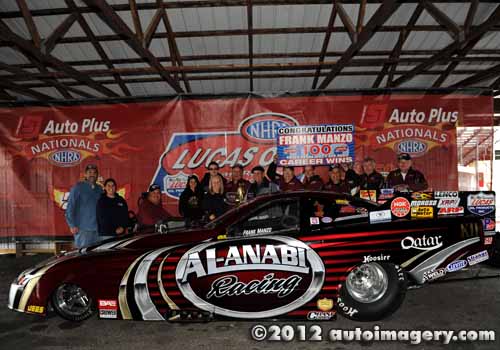 Manzo celebrates 100th win.
Manzo, who increased his final round win streak to 39, qualified No. 1 and ran strong all weekend including an event low 5.486 second pass in round 2 to beat Paul Gill. The Morganville, N.J., racer faced off with Paul Noakes in the final posting a 5.508 second lap at 263.20 for the win. Noakes was out first with a great .005 second reaction time and a nice 5.611 second lap but it was not enough for Manzo.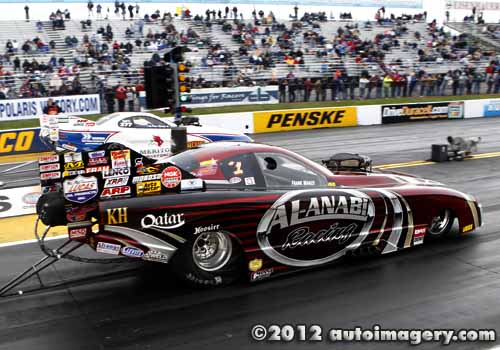 Manzo defeated Noakes
In Top Alcohol Dragster it was a pair of class heavyweights going to battle as Bill Reichert met up with Chris Demke with the 5-time national champion Reichert posting a 5.286 second run at 286 mph for the win. Reichert ran 5.20's and .30's all day coming out of the No. 1 qualifying spot. Demke had troubles right from the start and slowed to a 6.292 in the final.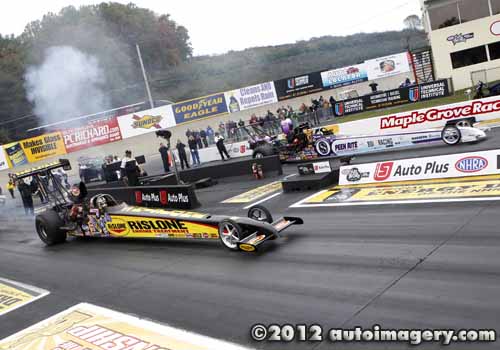 Reichert defeated Demke
Calvin Hill beat a pair of national champions in his final two rounds to take the trophy in Comp Eliminator. Hill first went up against Al Alkerman in his semifinal round, winning with an 8.075 second lap to advance to the final with Sal Biondo. Both drivers left early with red-lights giving Hill the win.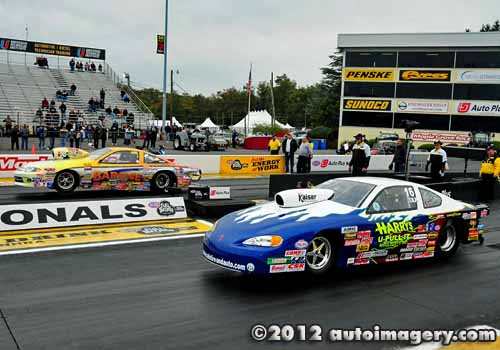 Hill defeated Biondo
Father and son went to battle in the Super Gas final with Dad coming out on top as Al Kenney beat his son Jason for his 5th national event win. Al went 9.906 at 158 mph as Jason jumped the start by .009 seconds with a foul start.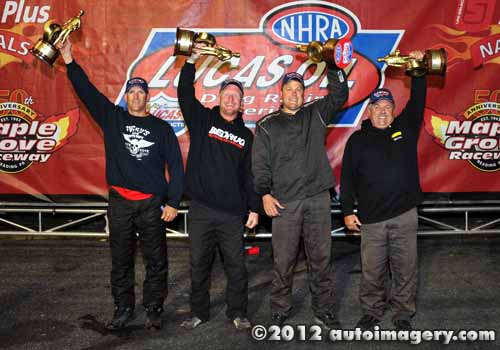 Bryan Worner, Craig Marshall, Jack Sepanek and Al Kenny
Jack Sepanek used a near perfect reaction time of .008 seconds to grab his first NHRA national event win in Super Comp. Sepanek beat out Chase Fahnestock with a time of 8.934, 169.78.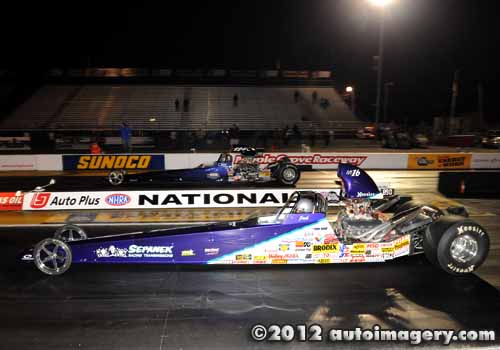 Sepanek defeated Fahnestock
The final two trophies went to Craig Marshall and Bryan Worner in Stock and Super Stock respectively. Marshall drove his Dodge Dart to a 10.952 second lap to defeat Kelly MacKay by three feet and Worner knocked out Anthony Bertozzi in his Camaro running 10.021 at 107.66 mph.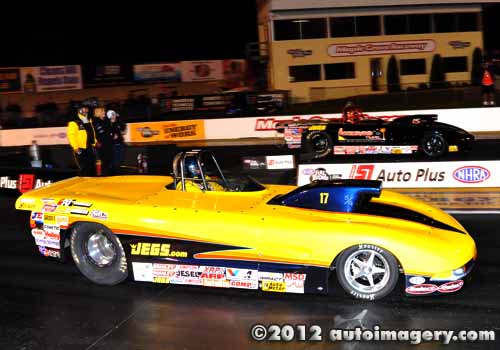 Alan Kenny defeated Jason Kenny
The following are the final results from the Auto-Plus NHRA National and the NHRA Lucas Oil Drag Racing Series event at Maple Grove Raceway:
Top Alcohol Dragster
Bill Reichert, 5.286, 268.12 def. Chris Demke, 6.292, 119.87.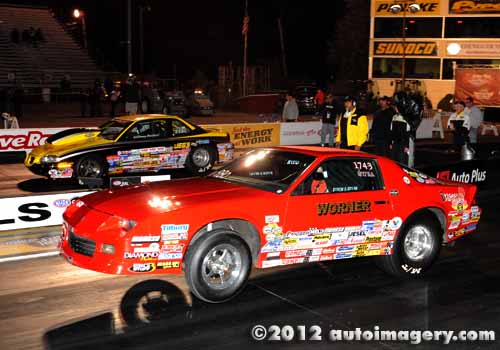 Bryan Worner defeated Bertozzi
Top Alcohol Funny Car
Frank Manzo, Chevy Monte Carlo, 5.508, 263.20 def. Paul Noakes, Ford Mustang, 5.611, 256.65.
Comp Eliminator
Calvin Hill, Pontiac Grand Am, 8.667, 120.54 def. Sal Biondo, Chevy Cavalier, foul.
Craig Marshall defeated MacKay
Super Stock
Bryan Worner, Chevy Camaro, 10.021, 107.66 def. Anthony Bertozzi, Pontiac Grand Am, 12.029, 69.45.
Stock Eliminator
Craig Marshall, Dodge Dart, 10.952, 115.02 def. Kelly MacKay, Plymouth Duster, 11.211, 115.81.
Super Comp
Jack Sepanek, Dragster, 8.934, 169.78 def. Chase Fahnestock, Dragster, 8.921, 170.56.
Super Gas
Alan Kenny, Chevy Corvette, 9.906, 158.56 def. Jason Kenny, Corvette, foul.




NHRA: 10 Most Recent Entries [ top ]

Apr 24- CHARLOTTE 1 - Steve Torrence Enjoying Four-Wide Success Heading to NGK Spark Plugs NHRA Four-Wide Nationals
Apr 24- CHARLOTTE 1 - Fact Sheet
Apr 24- Kalitta Motorsports Welcomes NASCAR Stars to the SealMaster Track Walk in Charlotte
Apr 24- zMAX Dragway Celebrates 10th Anniversary
Apr 24- CHARLOTTE 1 - NGK Spark Plugs NHRA Four-Wide Nationals Brings 40,000 Horsepower Thrill Show to zMAX Dragway
Apr 23- HOUSTON - Lucas Oil Drag Racing Series Wrap Up The NHRA Lucas Oil Drag Racing Series Wrap Up
Apr 23- CHARLOTTE 1 - J.R. Todd Aiming for Two Four-Wide Racing Wins in 2018
Apr 23- Mid America Dragway Joins NHRA Member Track Network
Apr 23- HOUSTON - Special Awards
Apr 23- HOUSTON - Sunday Video