Thu, 04 Oct 2012, 20:44 PM



Stouffer Claims Points Lead at North Star Dragway



Courtesy of Chris Graves



DENTON, Texas --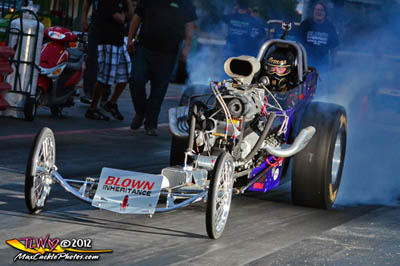 Chris Graves
The Texas Blown Fuel Association held the sixth points race of the 2012 racing season on September 15th at North Star Dragway in Denton, Texas. The cloudy skies and continued lines of showers parted just in time to provide a clear and comfortable Saturday evening for some drag racing in North Texas. A ten car field came to put on a show as Steve Matthews entered the event in the points lead over Chris Stouffer and Steve Dunkin.
After six weeks off, the T.B.F.A. teams were eager to hit the strip and blaze the hides as the call went out for the first round of qualifying. Ted McCord wheeled his "Senior Moment" through the water box in the first pair out alongside Rick Grindstaff's "Quarterflash II". McCord clicked off a strong 4.69 at 143 mph while Grindstaff pedaled to a 5.00 at 149 mph. Steve Dunkin posted a 4.74 at 147 mph in his "Foolish Pleasure" slingshot alongside Frank Sharon's 5.00 in the "Cantankerous" blown altered owned and tuned by Frances Newlin.
Chris Stouffer posted a 4.68 at 148 mph in the "Defiant" entry and Wes Breiten laid down a 4.75 at 146 mph in the "Bad O'Man" blown altered. Steve Matthews went under the 4.65 index with a 4.59 at 151 mph as he and the rest of the teams returned to the pits to prepare for the final qualifying round.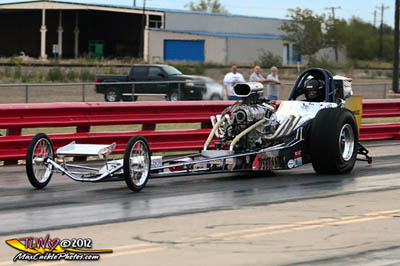 Chris Stouffer
In round two, Chris Graves stepped up to a 5.04 pedaling the "Blown Inheritance" dragster and Dustin Johnson improved to a 4.96 at 139 mph in the "Fair Warning" blown altered. Ted McCord stepped up to a near perfect 4.66 at 145 mph to take home the AMS Racing Engines "#1 Qualifier" bonus in his Mike Brown tuned machine. Randy Mueller made his second T.B.F.A. appearance of the season in his blown altered and qualified ninth with a 5.31 at 129 mph. Wes Breiten improved to a 4.73 at 146 mph in his blown altered as the teams completed qualifying and returned to the pits to draw their pairings for the first round of eliminations.
FINAL QUALIFYING ORDER: 1) Ted McCord (Claremore, Oklahoma) - 4.66 @ 145 2) Chris Stouffer (Cleburne, Texas) - 4.68 @ 148 3) Wes Breiten (Wolfe City, Texas) - 4.73 @ 143 4) Steve Dunkin (Aledo, Texas) - 4.74 @ 147 5) Dustin Johnson (Davis, Oklahoma) - 4.96 @ 139 6) Frank Sharon (Granbury, Texas) - 5.002 @ 144 7) Rick Grindstaff (Dickinson, Texas) - 5.007 @ 149 8) Chris Graves (Carrollton, Texas) - 5.05 @ 138 9) Randy Mueller (Floresville, Texas) - 5.31 @ 129 10) Steve Matthews (Ardmore, Oklahoma) - 4.62 @ 152*
Randy Mueller and Chris Graves started off the first round of eliminations and this one ended on the starting line as Graves went -.009 red and had the best seat in the house to watch Mueller click off a 5.39 at 107 mph to take his first T.B.F.A. round win.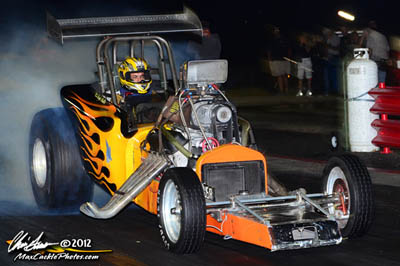 Randy Mueller
Chris Stouffer and Frank Sharon were out next in a great race. Stouffer was off the line first and led the race to the stripe with a 4.71 at 141 mph to Sharon's close 4.75 at 146 mph.
Ted McCord and Wes Breiten crept into the beams in the next pair. McCord was off the line first with a stout .013 reaction time, earning him the Good Vibrations "Quick Reaction Time" bonus and clicked off a "perfect" 4.65 at 151 mph to take the win over Breiten's 4.73 at 146 mph. With his 4.65, McCord also claimed the Fuel Injection Enterprises "Closest to the Index" bonus.
Steve Dunkin and Dustin Johnson rolled through the water next as eliminations continued. Johnson posted his best time of the night with a 4.91 at 140 mph but it wasn't enough to hold off Dunkin's 4.67 at 148 mph as Dunkin advanced to the semi-finals.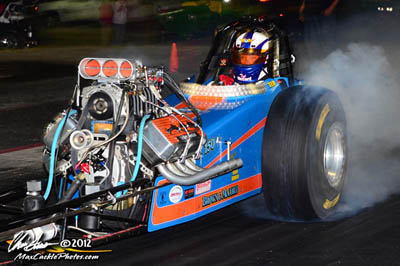 Ted McCord
In the final pair, Steve Matthews and Rick Grindstaff came to the line. Grindstaff left before the tree dropped and Matthews took the win with a 5.09 at 138 mph. The four quickest winners, Chris Stouffer, Ted McCord, Steve Dunkin and Steve Matthews advanced to the semi-final and Randy Mueller claimed the Joe Monden Racecars "First Elimination Alternate" bonus.
First Round Eliminations: (W) Randy Mueller (.114 rt) 5.39 @ 107 mph vs. (L) Chris Graves (-.009 rt) 10.75 @ 47 mph (W) Chris Stouffer (.048 rt) 4.71 @ 141 mph vs. (L) Frank Sharon (.138 rt) 4.75 @ 146 mph (W) Ted McCord (.013 rt) 4.65 @ 151 mph vs. (L) Wes Breiten (.158 rt) 4.73 @ 146 mph (W) Steve Dunkin (.034 rt) 4.67 @ 148 mph vs. (L) Dustin Johnson (.031 rt) 4.91 @ 140 mph (W) Steve Matthews (-.011 rt) 5.09 @ 138 mph vs. (L) Rick Grindstaff (Foul) 6.77 @ 76 mph
Chris Stouffer and Steve Matthews lined up to kick off the semi-final. This drag race had huge points implications as the top two in the standings met here in the semis. Matthews was off the line with a -.003 reaction time, unfortunately wasting his 4.69 at 147 mph while Stouffer clicked off a clean 4.70 at 148 mph to advance to the final round.
Ted McCord and Steve Dunkin were out next in this all front engine dragster semi-final round. McCord took a huge advantage off the starting line and his 4.67 at 149 mph was enough to take the win and advance to the team's first T.B.F.A. final round to Dunkin's 4.71 at 149 mph.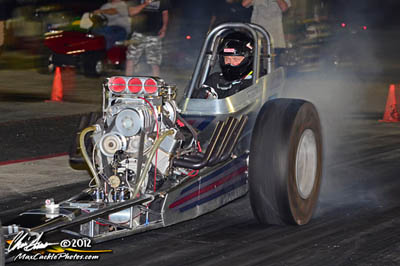 Steve Matthews
Semi-Final Round Eliminations:
(W) Chris Stouffer (.030 rt) 4.70 @ 148 mph vs. (L) Steve Matthews (-.003 rt) 4.69 @ 147 mph
(W) Ted McCord (.021 rt) 4.67 @ 149 mph vs. (L) Steve Dunkin (.204 rt) 4.71 @ 149 mph
As the clock ticked past eleven o'clock the call went out to bring the Texas Blown Fuel final to the lanes as Stouffer looked to notch another win for team "Defiant" while Brown & McCord hoped to claim their first T.B.F.A. series victory.
After their burnouts the crew chiefs made their final adjustments and brought their drivers into the beams. The stage bulbs were lit and McCord was off the line first but left too soon by -.058 and made a strong move to the centerline and crossed into Stouffer's lane forcing him to lift as Stouffer coasted to a 5.17 at 105 mph to take the win in a wild final round.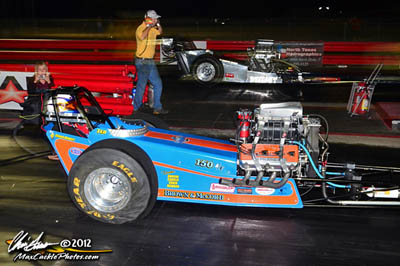 McCord vs. Stouffer
Final Round Eliminations:
(W) Chris Stouffer (-.028 rt) 5.17 @ 105 mph vs. (L) Ted McCord (-.058 rt) 6.44 @ 67 mph
Team "Defiant" took home their third win of the season and claimed the points lead by just four over Steve Matthews as the series heads into the seventh points race of the season just seven days later participating in the "Nitro Nationals" at Tulsa Raceway Park.
"Drag racing is truly 90% luck and 10% performance at a lot of races. The third Denton event for team 'Defiant' was exactly that. 100% of our round wins were a blessing from the man upstairs and our glory goes to Him! We couldn't be happier to race against such a great group of folks. We knew coming back to Denton for the third time would be a tough one to go rounds at due to the unpredictable Texas weather forecasted. It was much cooler weather than we'd competed in all year and the chance of showers and dew setting in as the night progressed was on our minds. We were also without Chris' dad, David, who was off enjoying something called vacation. None the less Defiant was overcoming some self-inflicted starting line issues to qualify number one after first round with a 4.68 and we dropped to number two after Ted McCord put up a fantastic 4.66 during the second qualifier that we couldn't surpass," said team owner and crew chief Carl Meador.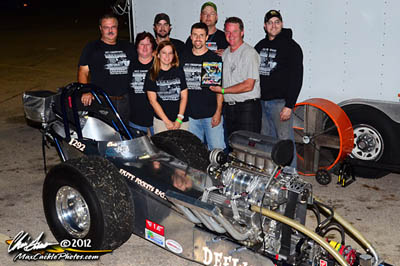 Stouffer and crew celebrate win.
"No one in the T.B.F.A. can be taken lightly because we drew "Cantankerous" first round and wow did Francis and Frank find a sweet spot. They ran a .75 to our barely winning .71 in one of the tightest races of the night. Congrats to them! The semis and the finals for us were decided on the starting line. Steve Mathews went red in our semi-final match and then Ted lit the red one first in a wild final pass of the night. There were some awesome numbers put up here as everyone was swinging for the fence. We can't wait for the next one in Tulsa to play on a quarter mile. Special thanks to Gene, the new owner at North Star Dragway, for letting us come out to play. The final stretch of our 2012 season should a barn burner so ya'll gather up your family and friends and the neighborhood kids and come out and enjoy the races," Meador continued.
On September 22nd, the T.B.F.A. will invade Tulsa Raceway Park and we hope to see you there. The series would like to thank Good Vibrations, Competition Sales of Dallas, AMS Racing Engines, Fuel Injection Enterprises and Joe Monden Racecars for their support of the 2012 racing season. For more information, please visit us online at www.texasblownfuel.com.




Drag News: 10 Most Recent Entries [ top ]

May 16- Winners Crowned at .90 Series Opener
May 16- 32 Members of the International Drag Racing Hall of Fame will be at be at Spring Classic Nitro Revival May 18-20
May 16- 18th Annual NMRA Ford Motorsport Nationals Final Results
May 16- PDRA Reemphasizes Commitment to Pro Extreme
May 16- For Better or Worse
May 16- Musi Racing Engines and Buck Racing Engines Take Early Lead in Flatout Gaskets Nitrous Wars
May 16- St. Louis Nostalgia Rendezvous this Weekend at Gateway Motorsports Park
May 16- Reichardt Wins Second Round of Sharks of the Strip
May 16- Cook wins Carl's 4WD Bracket Series Super Pro final at Gateway Motorsports Park
May 16- Inaugural VP Racing Lubricants Mid-America SuperCar Showdown Results