Tue, 02 Oct 2012, 20:01 PM



Welcome Back!!



By Bob Frey


Photo copyright 2012 Auto Imagery, Inc.





Everyone was looking forward to the return trip to
Gateway
Motorsports
Park
and everybody was thrilled with what they saw, both on and off the track this past weekend. >From the press conference on Thursday to the thrilling Top Fuel final round on Sunday it was a very good weekend. There were a lot of small things done to the facility that made it much more racer and fan friendly, and the preparation to the track racing surface itself guaranteed that there would be great racing. Other than a few tire-smoking runs here and there it was a very good race, and that includes the two days of qualifying and the final day of eliminations. I think I speak for everyone at NHRA and the fans who came to the event when I say we should offer a big "thank you" to
Curtis Francois
, the owner of the track, and his staff for a couple of things.
First and foremost for saving the track and second, for making it a great place to attend a race.
I enjoyed it and I hope all the racers and fans did too..In the end, as we head to Maple Grove and the fourth race in the "Countdown," it looks like three drivers will contend for the championships in Top Fuel and Funny Car, while the second and third place drivers in Pro Stock will be facing a do-or-die situation. And the
Harley-Davidson
riders did nothing to make me think that one of them won't be the champion this year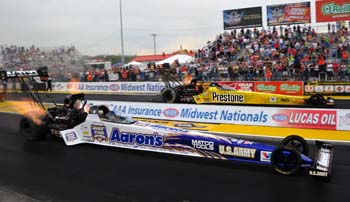 Brown defeated Massey
Antron Brown and Spencer Massey came into the race tied for first place and they left with Antron twenty-one points ahead of Spencer thanks to his win over Spencer. The two, who met in the final round for the second time in two weeks, treated the fans to a great final round, a round that was won by Antron when he went 3.766 to Spencer's 3.812. Did you know that this was the nineteenth time those two have met and Antron has now won ten of the matches? You can't get much more evenly matched than that can you? And of those meetings eight, or almost half, have come in final rounds and Antron holds the edge there with a 5-3 mark...Antron started race day from the number one spot and that has not always been good for him. Did you know that in his career including his stint in the motorcycle class, Antron has been the top qualifier thirty-two times and he has now won just six races from that spot? But he's not alone in that department since there have only been three top qualifiers who went on to win in the dragster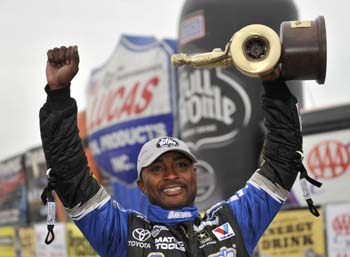 Brown celebrates second win
in the Countdown to the Championship.
class in the last seventeen events...I know these are different times, but because I love to look at the numbers there was something about the two finalists that caught my attention. Antron was in his forty-first Top Fuel final round and that tied him with
Don Garlits
for the seventh most finals in dragster history. Meanwhile, Spencer's final round was the twenty-third of his career and that ties him with
Don Prudhomme
. Hey, anytime you can mention "Big Daddy" and the "Snake" in a story it's a good thing..Antron dominated the weekend and his 3.737 in qualifying eventually was the low elapsed time of the meet, while his 326.79 mph blast was top speed.
Did you know
that means that Antron swept the event and that's just the second time in his Top Fuel career that he has done that? The other time came in
Denver
in 2009 when he beat
Doug Kalitta
in the final round. His four round wins ran Antron's overall record to 440 - 220, which means that he wins sixty-seven percent of his rounds and that's good for any driver in any class. On the way to his win Antron beat three other top ten drivers and that has been one of the keys to his success this year.
Did you know
that he is an amazing 34-12 against drivers in the top ten this year? Against two of the drivers he beat on Sunday,
Brandon Bernstein
and
Steve Torrence
, Antron is a perfect 9-0 this year..
Tony Schumacher
is third in the points and he is just eighty-three points out of first place. The "Sarge" is within striking distance but he must gain some points this weekend to keep his title hopes alive.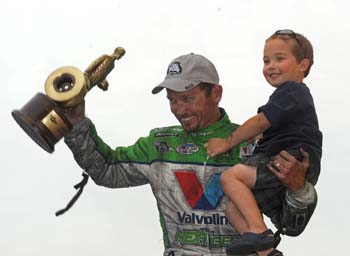 Beckman celebrates win with his son.
Jack Beckman made a big move in the points and with his win he is now just thirty points behind his teammate, Ron Capps, in the battle for the championship, and that's the same margin between the two after they re-set the points and started the "Countdown" after Indy. Jack's win was his third this year and that equals the most wins for him in a single season. Jack's car was very consistent on Sunday and he made four runs that ranged from a 4.09 to a 4.13, and two of the runs were identical passes of 4.093. It's that kind of consistency that wins championships. Jack's win was the fifteenth of his career and that ties him with Al Hofmann for thirteenth place on the Funny Car list..Matt Hagan went to his second consecutive final round and just like the Dallas race he came up just a bit short. For some wacky reason Matt just staged and took off, and when he did he left a red-light shining and he was, as I say, out of here! Did you know that is only the third foul start of Matt's career but two of them have happened in final rounds?....The old expression goes that if you want to win a race you need to have at least one lucky round. Well, in St. Louis, Jack got two lucky rounds. The first came when Jeff Arend was shut off on the line for a small oil leak and the second was the red light against him in the final round. Jeff, by the way, set top speed of the meet for the Funny Cars and that's something that doesn't happen very often. Did you know this was only the third time in his career that Jeff has had the fastest car on the property?...Mike Neff dropped from second to third in the standings but he is only three points further out of first than he was at the start of the race. Still, he's ninety-nine points behind the leader and that's almost five rounds and that could be a lot to make up in just three races..Tim Wilkerson moved up to fifth in the points with his semi-final finish and in the process he also moved up on the all-time Funny Car list. Did you know that Tim has won 275 rounds and that moved him past both Mark Oswald and Don Prudhomme and into seventh place in Funny Car history. That total is also fifth best among active Funny Car drivers so let's give a tip of the Levi, Ray & Shoup hat to Tim for a job well done.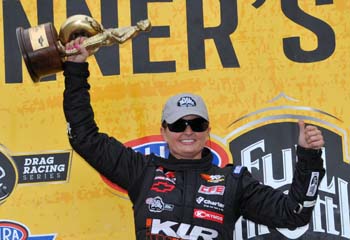 Enders celebrates her fourth win.
Allen Johnson didn't win but he did extend his lead in the Pro Stock class. AJ was ninety-three points in front of Jason Line coming into the event and he left town 109 points ahead of Jason. That's over a five round advantage with just twelve rounds of racing to go, and while it's far from a lock I'd rather be in Allen's position than anyone else's, wouldn't you?...You have to feel sorry for Allen because the final round will go down in the books as a holeshot since his 6.538 lost to Erica's 6.540. I say you'll feel sorry for him because he had a very good, almost great reaction time of .019 and still left last. Did you know that was the second time Allen has lost a final round this year on a holeshot? The other one came in Bristol when he lost to Mike Edwards despite a very good, almost great, .018 reaction time. What's a guy have to do to leave first around here? Allen's car is running very well and he is driving well and he is going to be very hard to stop over the next three races....Erica Enders won the race and that was her fifth final round in the last six races and that's very good for any driver in any class. With twelve rounds to go in the season Erica is a little more than six rounds behind Allen, and that means that she has to hope that AJ goes out early at one of the next few races and that she can continue her torrid pace. Of course that's a good theory while the reality may be a little more bleak. Did you know that Allen hasn't lost in the opening round since Larry Morgan beat him at back-to-back races in Phoenix and Gainesville? Add to that the fact that he has been to at least the semi-finals at thirteen of the last fifteen races and it's easy to see why any hopes of him losing early may be more of a fantasy than a reality. But, if you're the other Pro Stock racers and you're looking for a bright spot, the fact that the next race is at Maple Grove might be some consolation. Did you know that Allen has competed in sixteen races at the "Grove" and has only been past the first round at four of them? His overall record there is 5-11 with five DNQ's, so Pro Stock drivers may have some hope after all. Hey, you grab whatever piece of good news you can at this stage of the game. Having said that, if it's cool this weekend look for someone, Allen, Erica or Jason Line to set the national record, and if they do that will be huge for that team.Allen's three round wins gave him 299 for his career and he will look to hit the 300 mark this week in Reading.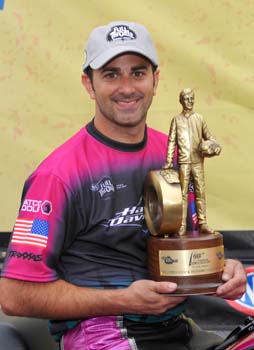 Krawiec won for the
seventh time this season.
After a week of turmoil the Pro Stock Motorcycle class returned to normal, that is, if you consider the two Harley-Davidson riders racing in the final as normal. Even though they weren't the top qualifiers Eddie Krawiec and Andrew Hines both advanced to the money round where Eddie won when Andrew lit the red light. That, by the way, was the third red light against Eddie on Sunday and that put him in a very select group. Did you know that this was only the seventeenth time in NHRA history, including all of the professional classes, that a driver won a race when he had three or more opponents foul out against him? By the way, if you're counting, that's a total of 2485 races when you include Top Fuel, Funny Car, Pro Stock and Pro Stock Motorcycle, so you can see how very rare it is. And did you know that the last time it happened was in Denver in 2009 when Eddie's final round opponent fouled out to make it three red lights against him at that race. Oh, by the way, that final round opponent just happened to be, drum roll please, Andrew Hines? What are the odds?... Eddie's final round was the thirty-third of his career and that ties him with, of all people, Antron Brown on the motorcycle list. That's sixth best all time and second among active riders behind his teammate, Andrew...The Hector's had another good qualifying performance and they finished up in the top two spots. Did you know that this was the third time this year that Hector Arana Sr. and Hector Arana Jr. were the top two qualifiers in the field? By comparison the Harley riders have also done it three times this season. The difference is that the Harley riders have won from the top spot while the Arana's have not...Hector Arana Jr. is 109 points behind Eddie and that's the same deficit that Jason has in Pro Stock, so I guess if you think Jason can catch Allen you have to think that Jr. can catch Eddie. Now, if you think the Pro Stock race is over than the only question in the bike class is which Harley rider will be the champ?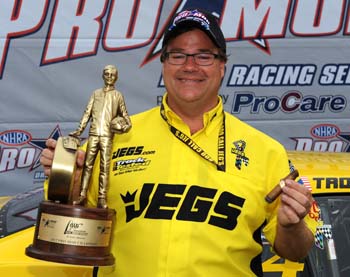 Coughlin won his first Pro Mod event.
Troy Coughlin won his first NHRA Pro Mod race when he beat Danny Rowe in the final round. I have to say that the Pro Mod cars have been putting on a great show at every race lately and they sure are fun to watch. Troy won the race with a quick car and a very fast one too. Did you know that his 257.97 mph run was top speed of the event and it was also the fifth fastest run in Pro Mod history at the NHRA events..Mike Castellana continues to lead the points with Rickie Smith in second and Troy up to third with one race remaining on their schedule..David Billingsley didn't win in Competition Eliminator but he did go to the semi-finals so he gained some ground on the point's leader, Bruno Massel. He still has two national events remaining and he will have to make deep runs at both but he has put himself into position to challenge for the national championship.A couple of first-timers, Fred Bartoli in Super Stock and Michael Eggleston in Super Comp made their first trip to the winner's circle so congratulations to them. Clint Neff, Jarod Bowman and Daryl Bureski rounded out the Lucas Oil winners in St. Louis.




NHRA: 10 Most Recent Entries [ top ]

Apr 24- CHARLOTTE 1 - Steve Torrence Enjoying Four-Wide Success Heading to NGK Spark Plugs NHRA Four-Wide Nationals
Apr 24- CHARLOTTE 1 - Fact Sheet
Apr 24- Kalitta Motorsports Welcomes NASCAR Stars to the SealMaster Track Walk in Charlotte
Apr 24- zMAX Dragway Celebrates 10th Anniversary
Apr 24- CHARLOTTE 1 - NGK Spark Plugs NHRA Four-Wide Nationals Brings 40,000 Horsepower Thrill Show to zMAX Dragway
Apr 23- HOUSTON - Lucas Oil Drag Racing Series Wrap Up The NHRA Lucas Oil Drag Racing Series Wrap Up
Apr 23- CHARLOTTE 1 - J.R. Todd Aiming for Two Four-Wide Racing Wins in 2018
Apr 23- Mid America Dragway Joins NHRA Member Track Network
Apr 23- HOUSTON - Special Awards
Apr 23- HOUSTON - Sunday Video