Wed, 26 Sep 2012, 15:43 PM



Busy Weekend Nets Nine more Summit SuperSeries Participants at Summit World Finals in



Courtesy of IHRA Communications



Pittsburgh, Carolina, Greer Take Summit Team Finals Team Wins



NORWALK, Ohio --
Memphis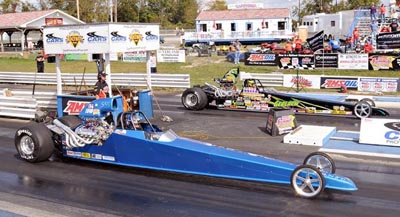 Rich Zemrose bested Sheldon Gerlach
at the D3 Summit Team Finals
in Pittsburgh Raceway Park.
It was a busy weekend across the county this past weekend as nine more drivers punched their tickets to the Summit SuperSeries World Championship at Memphis International Raceway in October and three more tracks claimed Summit Team Finals gold.
In the Carolinas six drivers advanced to the Summit Racing Equipment World Finals in Memphis next month as Carolina Dragway hosted the Division 2 East Summit Team Finals and Piedmont Dragway hosted the Division 9 Summit Team Finals, while a few hours north Pittsburgh Raceway Park hosted the Division 3 Summit Team Finals that same weekend.
In team competition host tracks Pittsburgh Raceway Park and Carolina Dragway both easily swept their Summit Team Finals presented by AMSOIL and Moser Engineering competitions, with Pittsburgh taking a six point win over Beaver Springs Dragway and Carolina Dragway running away from Immokalee Regional Raceway to take the win. In Division 9 Greer Dragway is the only track to break through and record a team victory at an opposing track, taking the Raiders championship by four points over Fayetteville Motorsports Park.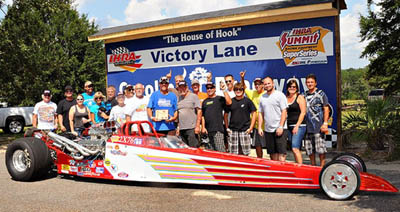 Tim Butler won Top at Carolina Dragway
and will advance to the
Summit World Finals in Memphis.
Individually those drivers that took home the biggest prize of the weekend by advancing to the Summit Racing Equipment SuperSeries presented by AMSOIL and Moser Engineering runoff are, from Division 2 East, Top competitors Tim Butler and Sammy Hollingsworth, Mod competitors Chris Adams and Aaron Brock and Junior Dragster competitors Toni Salsgiver and Jennifer Craft. From Division 3 it was Top competitors Rich Zemrose and Sheldon Gerlach, Mod competitors Randy Biddle Jr. and John Janu and Junior Dragster competitors Randi Teed and Lewie Wrotman. And from Division 9 it was Top competitors Chad Brewer and Chris Dean, Mod competitors Jay Norris and Scott Yates and Junior Dragster competitors Connor Caulder and Robert Vogler.
Both the winner and runner-up at each Summit Team Finals over the weekend advanced, making up the 16-car field in each of the three classes.
In the Heat Wave Division Tim Butler, representing Bradenton Motorsports Park, defeated Sammy Hollingsworth from Union County Dragway that saw two solid lights - a .003 to a .006 in favor of Butler - and a close race as Butler ran a 4.968, 138.46 on a 4.95 dial to Hollingsworth's 4.967 on a 4.95. Chris Adams, from Immokalee Regional Raceway, and Aaron Brock, from Pageland Dragway, put on an equally impressive show as the two competitors brokeout by a narrow margin with Adams taking the win, hitting a .004 light with a 7.467, 87.92 on a 7.47 while Brock was over by two hundredths. In Junior Dragster competition Carolina Dragway's Toni Salsgiver ran a solid 7.953, 70.43 on a 7.90 dial while Jennifer Craft from Central Florida broke out by two tenths.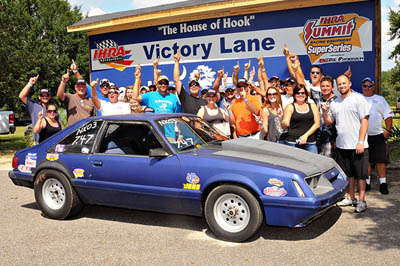 Chris Adams celebrates win with team and friends.
Carolina Dragway won the team portion of the weekend with 61 points, finishing 18 points ahead of Immokalee Regional Raceway. Bradenton Motorsports Park was third, followed by Orangeburg Dragstrip, Union County Dragway and Pageland Dragway.
In the North Stars Division it was Pittsburgh Raceway Park's Rich Zemrose taking the Top ET title over Sheldon Gerlach from West Virginia's Kanawha Valle Motorsports Park, running a 5.050, 136.07 on a 5.06 dial while Gerlach went red by .015. In the Mod ET final Randy Biddle Jr. from Quaker City Motorsports Park also benefitted from a bad tree by his opponent as he landed a .013 bulb to John Janu's .068 and ran a 6.991, 93.69 on a 6.97 dial to Janu's 6.845 on a 6.84. In Junior Dragster Randi Teed from Skyview Drags edged Lewie Wrotman from Pittsburgh Raceway Park with a 7.997, 80.00 on a 7.98 dial to Wrotman's 7.947 on a 7.93.
In team competition Pittsburgh Raceway Park finished six points ahead of Beaver Springs Dragway with 61 points, while Quaker City Motorsports Park finished third followed by Dragway 42 and Skyview Drags.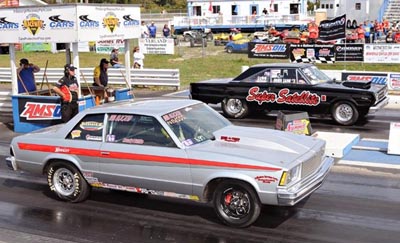 Biddle Janu
Finally from Division 9 Chad Brewer from Fayetteville Motorsports Park led the Top ET category with a win over Chris Dean from Piedmont Dragway, nailing a .011 light and running a 4.729, 145.86 on a 7.71 dial to Dean's 6.197, 6.18. In Mod ET Jay Norris represented Greer Dragway with a win over Mooresville's Scott Yates as Yates struggled on the tree allowing Norris an easy with a 7.347, 92.18 on a 7.33 dial to Yates' 6.925 on a 6.91. The Division 9 Junior Dragster representatives are Connor Caulder from Fayetteville and Robert Vogler from Piedmont as Caulder ran a dead-on 6.934, 73.73 on a 8.93 dial, proving just enough to beat Voger who was a perfect .000 on the tree, but was a tad too quick on the top end.
Greer Dragway led the team competition with a narrow four point win over Fayetteville Motorsports Park, while Dunn Benson Dragstrip, Farmington Dragway and Elk Creek Dragway rounded out the top five.




IHRA: 10 Most Recent Entries [ top ]

Apr 24- Racers Receive Prizes at IHRA Summit Sportsman Spectacular Opener
Apr 24- Comeaux, Hughes Make History at IHRA Summit Sportsman Spectacular
Mar 21- 2018 IHRA Summit Sportsman Spectacular Series on April 20-22
Feb 26- Weather-Related Construction Delays Postpone IHRA Xtreme Raceway Park Opener
Feb 16- IHRA Summit Sportsman Spectacular Schedule Announced
Feb 15- New York Track Finds Value for Racers with IHRA Agreement
Feb 15- IHRA Summit Sportsman Spectacular Debut Only One Month Away Now is the Time to Pre-Enter
Feb 15- Summit Texas Location is a Racers' Paradise
Feb 15- Canadian Track Makes Large Commitment to IHRA Drag Racing
Jan 27- Mid-Michigan Destination Joins IHRA Family