Wed, 26 Sep 2012, 12:33 PM



IHRA Divisional Champions Crowned



Courtesy of IHRA Communications



Drivers One Step Closer to Tournament of Champions Glory



NORWALK, Ohio --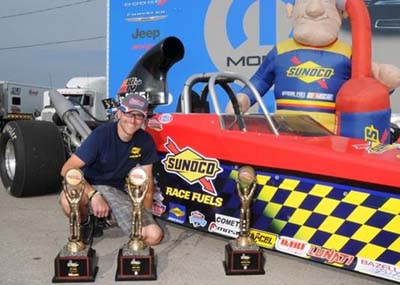 Jacob Elrod won two divisional championships
in D3 and seven Pro-Am races in 2012.
The regular season is over, the fields are set and the drivers are ready to race - bring on the Tournament of Champions!
After a memorable season of racing within the six divisions of the Summit Racing Equipment Pro-Am Tour presented by AMSOIL, several big-name drivers and a few new faces have emerged as division champions making up the final spots in this year's edition of the Summit Racing Equipment Tournament of Champions presented by AMSOIL.
The Tournament of Champions, which determines the world championships in each of IHRA's seven touring classes, is made up of national event winners, winners of special TOC qualifying races held throughout the year and the top three in each class within each division of the Summit Pro-Am Tour. All of the qualified drivers will travel to Memphis International Raceway in October to compete in the preeminent sportsman event to determine the world champion in each class.
To add to the prestige of capturing a divisional championship, drivers that finish first in their respective class on the Summit Pro-Am Tour will also earn a first-round bye in the Tournament of Champions in addition to a cash bonus for winning the division.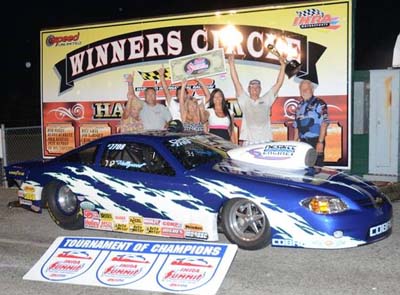 Donny Urban won five times in 2012 on his
way to winning the Division 2 Top Sportsman title.
Headlining this year's batch of divisional champions is Harrod, Ohio's Jacob Elrod who led the way on the Pro-Am Tour in 2012. In addition to winning an astonishing seven Pro-Am races in nine finals in four different classes, Elrod also captured two divisional championships by winning the Top Dragster and Super Rod crowns in the North Stars division. Elrod actually qualified for the Tournament of Champions in four separate classes, but the rules of the TOC state that a driver may only compete in two classes at the World Finals so Elrod will represent both of his divisional championships when he competes for his first-ever world championship in October.
Another driver who enjoyed a great deal of success in 2012 is Donny Urban from Pittsboro, N.C. Urban won five Pro-Am races this season, won the big money Summit Sportsman Spectacular presented by AMSOIL at Maryland International Raceway in July and captured the Top Sportsman divisional championship in the Heat Wave division.
Steve Dweck from Hollywood, Fla. also won two divisional championships in Top Dragster and Hot Rod in the Heat Wave division on the strength of three Pro-Am wins. Mark Faul, the Division 6 Stock champion, and Bart Nelson, the Division 4 Hot Rod champion, also had big seasons with four Pro-Am wins apiece, while Division 2 Super Stock champion Michael Beard visited six finals in two classes spanning multiple divisions, winning twice.
All told the 2012 edition of the Summit Tournament of Champions features 162 different drivers from 20 states and four Canadian provinces. The field also includes 17 former IHRA World Champions - a record for this event - and features six drivers that will go for gold in more than one class. Those drivers are Jacob Elrod, Steve Dweck, Brett Nesbitt, Michael Beard, Mark Faul and Patrick Forster.
Steve Dweck joined Elrod in winning two
divisional championships in Division 2.
By far the largest chunk of the Tournament of Champions is made up of drivers that regularly compete on the Summit Pro-Am Tour adding extra weight to the IHRA's exciting divisional series. This year's divisional champions in Top Sportsman, Top Dragster, Super Stock, Stock, Quick Rod, Super Rod and Hot Rod are:
Division 1 Patriots
Calvin Butler (TS), Cameron Manuel (TD), Brandon Peterson (SS), Thomas Fletcher (ST), Ed McCleaft (QR), Bernard Weaver (SR), Donald Webb (HR)
Division 2 Heat Wave
Donny Urban (TS), Steve Dweck (TD), Michael Beard (SS), B.J. Bianchi (ST), Steve Muller (QR), Steve Furr (SR), Steve Dweck (HR)
Division 3 North Stars
Scott Wasko (TS), Jacob Elrod (TD), Mark Nowicki (SS), Brent Darroch (ST), Jeremy Mason (QR), Jacob Elrod (SR), Michael Schiberl (HR)
Division 4 Renegades
Kamron Wright (TS), Larry Eidson (TD), Jeffrey Miller (SS), Jimmy Hidalgo Jr. (ST), Dale Scates (QR), Joe Collier (SR), Bart Nelson (HR)
Division 6 Border Bandits
Jason Miller (TS), Tom McAvoy (TD), Art Congdon (SS), Mark Faul (ST), Eric Goulden (QR), Chad Barclay (SR), Warren Neitsch (HR)
Division 9 Raiders
Tim West (TS), Greg Slack (TD), Gil Carty (SS), Tim Sloan (ST), Carey Long (QR), Jeff Estep (SR), Chris Dean (HR)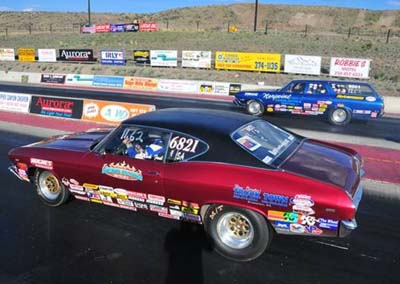 Mark Faul
The Summit Tournament of Champions presented by AMSOIL will be part of a grand-scale weekend made up of three separate races all during the IHRA Summit Racing Equipment World Finals at Memphis International Raceway the weekend of October 12-14.
For more information on the Summit World Finals weekend and a complete breakdown of this year's Summit Tournament of Champions field, check back with www.ihra.com.




IHRA: 10 Most Recent Entries [ top ]

Apr 24- Racers Receive Prizes at IHRA Summit Sportsman Spectacular Opener
Apr 24- Comeaux, Hughes Make History at IHRA Summit Sportsman Spectacular
Mar 21- 2018 IHRA Summit Sportsman Spectacular Series on April 20-22
Feb 26- Weather-Related Construction Delays Postpone IHRA Xtreme Raceway Park Opener
Feb 16- IHRA Summit Sportsman Spectacular Schedule Announced
Feb 15- New York Track Finds Value for Racers with IHRA Agreement
Feb 15- IHRA Summit Sportsman Spectacular Debut Only One Month Away Now is the Time to Pre-Enter
Feb 15- Summit Texas Location is a Racers' Paradise
Feb 15- Canadian Track Makes Large Commitment to IHRA Drag Racing
Jan 27- Mid-Michigan Destination Joins IHRA Family