Tue, 10 Jul 2012, 09:30 AM



Notes from Jim Luikens' Reporter's Notebook at the 6th Annual Summit Racing Equipment NHRA Nationals



By Jim Luikens



NORWALK, Ohio --
The 2012 Summit Racing Equipment Nationals were a race that was hot, hot, hot and slightly cooler. The early weekend typically saw air temps over 100 degrees, heat indexes around 110 degrees, and track temperatures as high as 151 degrees. When things cooled off a bit for Sunday's final eliminations it threw the tuners a challenge, because conditions were 20 degrees below what they had seen the first three days. Some responded to the challenge better than others and that explains several of the wacky runs that we saw in eliminations.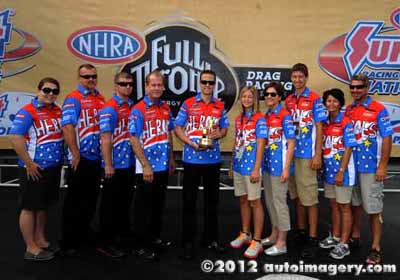 Tasca's crew won
"Best Appearing Crew" award.
Eleven year old Libby Ledford, a consistent winner with her Rislone sponsored Jr. Dragster, earned another kind of distinction here. Libby designed the winning entry in the Ford/Juvenile Diabetes Research Race Car Design Contest, a contest that was open only to kids with Type 1 Diabetes. Her design, "Our Everyday Hereos," was applied to the Bob Tasca Shelby Funny Car. Libby's family, the Ledford's, have operated the Mid-Michigan Motorplex in Stanton, Michigan for years. Tasca's crew, which sported special uniforms that matched the custom paint scheme, were named the Best Appearing Crew at this event.
Not so happy was Matt Smith. Here at Norwalk he was running three bikes, one for himself, one for his wife Angie, and one for Michael Ray. The good news is that all three bikes qualified in the field of sixteen. The bad news is that on Saturday Angie took her bike for an extended run when her brakes failed. It seems that the metal end on the braided hose that runs from her brake lever to the brake simply unthreaded at the connection and left her with no brakes as approached the shut down area. She rode the bike as long as she could before setting it down. On the big screen here at the track it appeared that the bike merely went riderless into the corn field. However, one end over end roll and three side over side rolls ensued before the bike came to a stop. Angie told me that the lever felt "spongy" after the burnout but she was not alarmed. She thought the bike could be repaired for Sunday's eliminations but a later examination in the pits revealed more damage than originally thought and an upcoming trip back to the chassis jig. On Sunday, Angie was a no-show (obviously) and both Matt and Michael were first round runner-ups.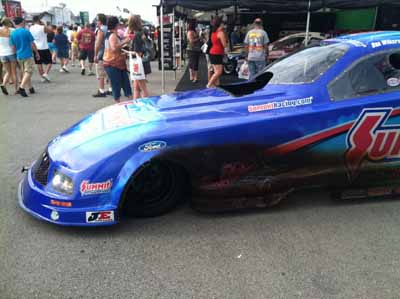 Daniel Wilkerson was equally dismayed on Saturday. After qualifying seventh, one place ahead of his dad, he experienced a fire in the shutdown area that significantly burned his Summit Racing Equipment Ford Shelby Mustang funny car. Instead of trying to repair that car the team pulled out a spare car that was lettered with the Diversified Yacht Services livery, another company owned by team patron Dick Levi. Both Wilkerson's missed the driver's introduction ceremony because they, and their crews, were still thrashing to ready Daniel's new mount. In eliminations Daniel lost in the first round while Tim went all the way to the final round.
Of the three Mustangs that were entered in Pro Stock the only Ford that qualified was the entry of J.R. Carr. Despite being the least heralded of the three Mustang Pro Stock programs they were the ones that made the big show. A lot of credit for their accomplishment goes to Crew Chief Frank Gugliotta. A winner in his driving days, Gugliotta has transitioned into the role of crew chief very successfully. Earlier this year the team opened their own engine shop and it was one of their home-built engines that powered them into the field. George Miller and Doug Ewart work every day looking for more power and their search is starting to pay off. This was only the team's second 2012 start, and it plans to run about eight more races this year. Long term plans call for Frank to return to the driver's seat also but right now the team feels he is more valuable out of the car and serving as crew chief.
One racer that has been on somewhat of a roll lately is Alcohol Funny Car's "Sassy" Cassie Simonton. Cassie reports that they really haven't changed anything but her team has overcome the bad racing luck and parts breakage that had plagued their early 2012 season efforts. Cassie has done her part by cutting better lights. Last week Cassie qualified third at Joliet and went to her first ever final round despite the team having to thrash between every round. This weekend, in much worse conditions, she qualified third again and made it to the final round once again. She credits her crew chief, former Top Fuel pilot, Randy Anderson, and a great crew for being there for her every week. She also wanted to thank Spiro Kontas, Fay Stephens, and Thomas Kontos for allowing her to live her dream. By the way, her Monte Carlo is the former Mark Thomas IHRA World Championship car from right here in Ohio.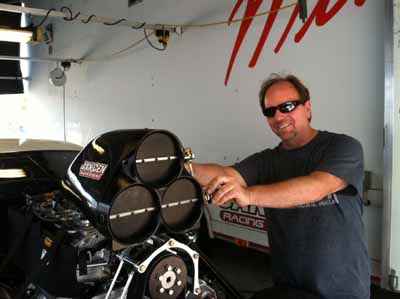 I had a chance to spend some time with well-respected tuner Jimmy Rector. As he has for some time, Jimmy is working with the Danny Rowe Pro Mod team. Currently, the team runs two cars, one for Danny and a second for Donnie Martin. Going into this race Danny had won two of first five 2012 Pro Care RX events after finishing second overall in 2011. Jimmy feels that track temperature is the most important component of a blown car making a successful run. After qualifying with a 6.179-second run Danny lost in the first round to Mike Janis. Meanwhile, Donnie Martin won his first round match-up with Leah Pruett before falling in the second round. This weekend was also Jimmy's 50th birthday and an airplane towing a giant banner above the track let everyone in on the secret.
Pitted across from Danny and Jimmy was Mike Janis, Danny's eventual first round competitor. Mike was using his unusual "Three to Go" three port fuel injector. Mike couldn't be more pleased with his injector. He reports that the injector is much more aerodynamic while adding a pound and half of boost to his blower. A pleasant side effect of his new injector is that the narrow shape of his "hat" allows him to see the starting line christmas tree much easier. Mike, who is normally a very sober and factual individual couldn't stop smiling while he told me that he is preparing a second generation of this injector. Mike, who will debut it at the U.S. Nationals this year, could barely contain his glee as he told me that his new, new injector will "absolutely blow away his current model." It's unusual see such enthusiasm from Mike so he might really be on to something.
Star Racing has been out of NHRA Pro Stock Motorcycle competition for the past few seasons but they have returned this year in a big way. With newcomers Scotty Pollacheck and John Hall sitting astride the respective seats, both bikes qualified here. While Pollacheck hails from Medford, Oregon, Hall couldn't be from any further away in Hamden, Connecticut. Both have extensive previous motorcycle drag racing experience and are expecting big things ahead in NHRA Full Throttle competition. Here they qualified 6th (Hall) and 10th (Pollacheck) and both went to the second round. As an aside the final four in PSM consisted of the "Two Harleys" and the "Two Hectors." Conveniently, each pair of teammates were paired together in the semis, which guaranteed a Harley versus Hector match-up in the final no matter who won the respective semi-finals.




NHRA: 10 Most Recent Entries [ top ]

Feb 28- GAINESVILLE - Fact Sheet
Feb 28- GAINESVILLE - Event Preview
Feb 25- PHOENIX -Through the Lens of Ron Lewis
Feb 25- PHOENIX - Torrence Back On Top at Arizona Nationals
Feb 25- PHOENIX - Tommy Johnson, Jr. Earns 20th NHRA Victory, and First for MD Anderson
Feb 25- PHOENIX - Special Award
Feb 25- PHOENIX - Erica Enders Continues Strong Start, Rolls to Pro Stock Win in Phoenix
Feb 24- PHOENIX - Mickey Thompson Top Fuel Harley Series Wrap Up
Feb 24- PHOENIX - Lucas Oil Drag Racing Series Wrap Up
Feb 24- PHOENIX - Sunday Video