Sun, 27 May 2012, 09:51 AM



Thompson Races A Little, Wins A Lot



By Todd Veney/Pro Sportsman Association


Photo by Robert Grice/Extreme Photography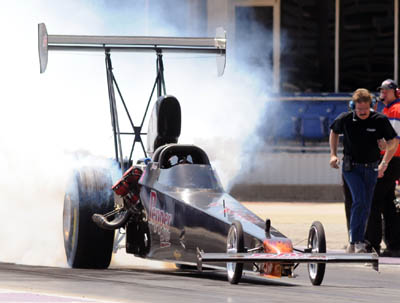 James Thompson
If he ran more races, James Thompson would probably be a Top 10 driver. He has the car to do it and three Top Alcohol Dragster wins in seven final-round appearances since 2007, but the responsibilities of running a Dr. Pepper distributorship keep him from racing more than just a half-dozen times a year. Thompson probably is doing better right now than he ever has. He's won the Division 5 event in Topeka two years in a row, beating Monroe Guest in the 2010 final and championship contender Jim Whitely last year. It's been a long climb for the Vernon, Texas, racer, who made the quantum leap to Top Alcohol Dragster in the early 1990s primarily because his bracket car was getting too fast for its own good.
"I was racing at our local eighth-mile track," he says. "The car kept getting faster and faster, and finally they told me that I either had to slow it down or go race somewhere else. Once you've gone fast you can't go back, and I figured we might as well step and see what we could do."
Thompson made his Top Alcohol Dragster debut in 1993 and quickly discovered exactly how hard running competitively - and conserving equipment - can be. "We were trying to do it all on our own, and people wouldn't answer questions," he said. "All the other teams were real secretive. At Memphis that first year, we tore up about everything we had. There was basically just a chassis when the weekend was over, and Tom Conway was the only one who'd help us."
Conway, one of the great drivers and tuners in alcohol racing history, has been there ever since. So has the rest of the team. Thompson may be the only alcohol racer in the country who's had exactly the same crew for his entire career: Danny Smith, John Johnson, David Johnson, Lesley Penn have been there from day one.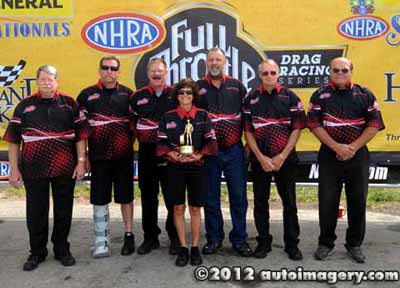 Thompson and crew won the Best Appearing Crew award
at the Topeka National event.
Photo by: Auto Imagery, Inc.
"We've been buddies forever, and we've done it all together," Thompson says. "Tom Conway.what can I say? You couldn't have anybody better, and we do whatever he tells us to do. If he said to run just one lug nut on the rear wheels, we'd run just one lug nut on the rear wheels."
Thompson, who has 13 final-round appearances in Lucas Oil Series competition, earned the first - and the one he still considers the best - victory of his career at the 1997 Division 4 race at Houston. "That one stands out the most, especially because my wife [Carla] was there," he says. "It was a weird deal, and I can still tell you exactly who I was against in the final." It was current nitro Funny Car star Johnny Gray, whose car shelled the rear-end on the burnout. It's a good thing for Thompson that it did because Thompson's car suffered an even rarer problem on his burnout: the coupler became disconnected.
"The guys gave me a little nudge forward, and I just let the car roll until both lights came on," Thompson says. "Right then and there, all the work and all the hard times we went through to step up to an Alcohol Dragster were worth it. It's doesn't get much better than your first win."
Five years ago, Thompson finally and reluctantly made the switch to A/Fuel after more than a decade of blown-alcohol racing. "There was a time when you just didn't have a chance with an alcohol car," he says. "I don't know if I'd do it now - blown alcohol and A/Fuel are probably as even as they've ever been - but back then it was time to either pack it up or step it up."
He stepped it up - big time. Thompson's Pepper Express A/Fueler has run in the 5.20s at just short of 280 mph. With four career divisional wins, including the Dallas Division 4 race in 2007, his first year on nitro, about the only thing left on Thompson's radar is a national event victory, and if he ran more than a couple of nationals a year, he'd probably have one by now.
"If we're busy, and we usually are, we have to stay home and work," says Thompson, 53, whose distributorship services southwest Oklahoma and central Texas. "My wife and I work there, both of our boys work there, and it's a family deal. She can't get to many races because she needs to be back at the plant if I'm away. That's what pays the bills and allows us to race, but it limits our schedule pretty good."
Both of Thompson's sons, Bradley and Dustin, race Top Dragsters that are so fast that they're almost ineligible to compete in the class. "The boys are getting to the point where 6.0s aren't that satisfying anymore and they want to run in the fives," Thompson says. "They say Dad's getting too old and want to drive this car, and one day I'll probably let them. I don't see it in the near future, though - I'm not done yet."




LODRS: 10 Most Recent Entries [ top ]

Mar 12- LODRS 2-2 _ Event Wrap Up
Mar 11- LODRS 2-2 - Top Sportsman Final, Round 5 Eliminations
Mar 11- LODRS 2-2 - Competition Eliminator Final, Round 4 Eliminations
Mar 11- LODRS 2-2 - Super Stock Final, Round 7 Eliminations
Mar 11- LODRS 2-2 - Stock Eliminator Final, Round 7 Eliminations
Mar 11- LODRS 2-2 - Top Dragster Final, Round 5 Eliminations
Mar 11- LODRS 2-2 - Super Comp Final, Round 7 Eliminations
Mar 11- LODRS 2-2 - Super Gas Final, Round 7 Eliminations
Mar 11- LODRS 2-2 - Super Street Final, Round 6 Eliminations
Mar 11- LODRS 2-2 - Junior Dragster 6-9 Final, Round 4 Eliminations