Wed, 23 May 2012, 11:09 AM



Fricke Makes the Move to Alcohol Dragster



By Todd Veney, Pro Sportsman Association


Photo copyright 2012 Auto Imagery, Inc. David Smith photos





To most drag racing fans, there are two kinds of cars: fuel cars.and all others.
Jackie Fricke
Top Alcohol Dragster driver Jackie Fricke was a fan way before she ever became a driver, and to her, Top Alcohol Dragsters are the kings of the sport. "I remember Steve Cantrell, Bruce Horner, Ken Winward, John Rose Jr., Jeff Rapp, Babette Zavor, everyone," she says. "I could probably name everybody who ever drove an Alcohol Dragster in Division if I sat here and thought about it long enough. I'm a fan of the class first and foremost. To be driving one . it's just a dream come true. I was always that kid at the fence who never, ever missed an alcohol session."
Now she's one of the drivers kids peering over the fence are waiting to see. Her family and friends just don't quite understand why.
"My friends all have a different mentality," Fricke says." "They're like, 'Why would you want to work on a greasy car till 2 in the morning? What's wrong with Super Comp? What's wrong with trying to win a 10-grander?' My father is a bracket racer through and through. He knows nothing else. He'd say,
'What are you doing? Why would you even want to do this?' "
Even Fricke's husband, Shawn, who won the first NHRA national event he ever entered with a perfect 10.90 in the 2007 Englishtown Super Street final, didn't see the logic at first. And her mom never wanted her to race anything, much less a 270-mph car.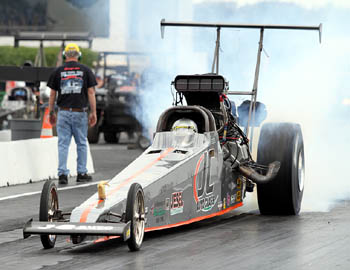 Jackie Fricke
"When I was a kid, my mom said that we girls would only race over her dead body," Fricke says. "I pretty much had to work on her my whole life. One of my sisters has a license, but kids came along. Another one made one pass and told me I was crazy - and she's probably the most daring of all of us." Fricke is one of veteran racer Rich Rogge's four daughters, born after Barb and Sandy, and before Amy. Growing up at the track, the other girls at least saw the sport's appeal, but neither they nor Jackie's many racing friends could fathom why she'd ever want to do anything but bracket race or Super-class race - especially when she was so good at it. Fricke is an IHRA national event champion and has won plenty of big-money bracket events, including $30,000 worth the last year she did it.
"This is so different," says Fricke, who drove for Top Alcohol veteran Tom Jones in 2008 and 2011 and moved to Joe Cantrell's JC Auto Glass team this year for an opportunity to run more events. "A blown-alcohol car is just a lot harder to drive. You don't have to drive the finish line, but you're not just letting your finger off a button to leave.
"I haven't been able to apply the same focus yet because I'm still getting used to everything about driving an alcohol car. The Tree is the same, but the brakes, the chutes, the throttle - everything, really - is just so different. The biggest adjustment, other than getting used to the speed, is tire shake. These cars shake every time, and you really have to know when to shift out of it, when to drive through it, when to pedal, when you've let it go too long. I don't think I've ever missed the 2-3 shift - you're already hauling by that point and you ought to have that figured out - but in low gear, you have to decide, Should I short-shift? How bad is this? Is this just normal, moving-around-the-lane shake, or do I have to short-shift? That's been the biggest challenge."
At one point, Fricke wondered if she'd made the right choice. "If it wasn't for Tom Jones, I never would have had a chance in this class," she says. "And if it wasn't for John Finke, I already would have quit on myself 100 times by now. Between testing and racing at the Gatornationals last year, I never made it down the track once. I thought maybe I just wasn't cut out for this stuff because everything kept going wrong. I just always think things are my fault. Then John decided to test his A/Fuel car the next day and asked me if I would drive. I asked him why he'd ever let me, and he said he wanted to get a different perspective on things, but really he was just being a good friend."
That day, Fricke became one of the quickest and fastest drivers in class history with a 5.29 at 275 mph, and things have taken off from there. "Joe is an awesome person to drive for," Fricke says. "I feel like he's behind me 100 percent. Tom Jones was the same way, and so was John. You couldn't ask for three better people to drive for. Sometimes, I still can't believe how much they trusted me."
Fricke qualified at one of the toughest regional events in history last month in Richmond, where 17 cars showed up and notables Chase Copeland, Dan Page, and Karen Stalba missed the cut. "I was so thrilled to qualify for that field," she says. "I don't have that many round-wins, but all three have been over a pretty big name." The list: multiple national event winner John Finke, reigning world champ Duane Shields (in his championship season), and Tom Bayer the year he finished second in the world.
"At this point, I don't worry about round-wins," Fricke says. "I never get upset if we don't run great. My barometer for success has nothing to do with the tune-up or whether we win or lose. It's about making sure I see both shift lights and get the car to the finish line. I've always wanted to run this class. Not Top Fuel. Top Alcohol Dragster. And now I am. If they'd let me, I'd drive Joe's car 365 days a year."




LODRS: 10 Most Recent Entries [ top ]

Apr 23- LODRS 1-1 - Event Wrap Up
Apr 22- LODRS 1-1 - MXI/Magnaflux Top Dragster presented by Select Performance Final, Round 5 Eliminations
Apr 22- LODRS 1-1 - MXI/Magnaflux Top Sportsman presented by Select Performance Final, Round 5 Eliminations
Apr 22- LODRS 1-1 - Stock Eliminator presented by ATI Final, Round 7 Eliminations
Apr 22- LODRS 1-1 - Super Stock presented by ATI Final, Round 7 Eliminations
Apr 22- LODRS 1-1 - Super Street Final, Round 5 Eliminations
Apr 22- LODRS 1-1 - Competition Eliminator Final, Round 5 Eliminations
Apr 22- LODRS 1-1 - Super Comp Final, Round 6 Eliminations Results of final, round 6 eliminations in Super Comp at the NHRA Lucas Oil
Apr 22- LODRS 1-1 - Super Gas Final, Round 6 Eliminations
Apr 22- LODRS 1-1 - Super Comp Final, Round 6 Eliminations