Wed, 23 May 2012, 10:39 AM



Perry, Foster Win Norwalk in Front of Packed House



By Todd Veney, Pro Sportsman Association


Photo copyright 2012 David Smith Photos





NORWALK, Ohio --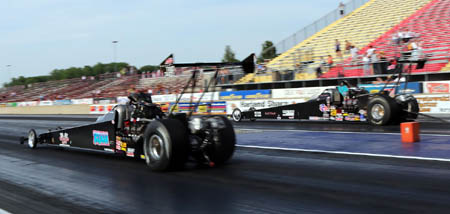 Perry defeated Thacker
Former U.S. Nationals winner Ken Perry claimed Top Alcohol Dragster and two-time Division 3 champ Chris Foster took Top Alcohol Funny Car at the B'laster Cavalcade of Stars presented by Budweiser at Summit Motorsports Park in Norwalk, Ohio, Race 2 of the North Central regional series.
Perry came from behind in the final to nip veteran Marty Thacker, who had a .017 reaction time, 5.38 to 5.48. The Canadian driver was the class of the field throughout eliminations, running low e.t. of all three rounds, a 5.42 and back-to-back 5.38s.
"The car's been working really well all year and it's not hurting itself at all," said Perry, who was runner-up at the North Central regional opener three weeks ago in Indianapolis. "I changed just about everything in the engine, and it's happy right now. This should be our second win; we should have won Indy, too." Jared Dreher beat Perry in the Indy final but lost the rematch in the first round of this event, 5.42 to 5.56.
Thacker, who left on everybody he raced by at least half a tenth, had the early lead in the final but fell short by 25-thousandths of a second - about half a car length. "We knew we had more car and should win, and I didn't want to get stupid and red-light because I've already had one this year," Perry said. "You shouldn't have to worry about another blown-alcohol car driving around you, but I drove it out the back door just to be sure."
In qualifying, which was run in front of a turn-away crowd, five-time Top Alcohol Dragster world champ Bill Reichert was the quickest in each of the first two sessions and left with low e.t., 5.28. He smoked the tires in a first-round loss to Jerry Powell.
Foster was as consistent in Top Alcohol Funny Car as Perry was in Top Alcohol Dragster, establishing low e.t. of all three rounds of eliminations and the last two rounds of qualifying. Fred Hagen Jr., who dominated the Norwalk national event last year, ruled the early going with a 5.53, which was low e.t. by almost a full tenth.

Foster (far lane) defeated Anderika
Hagen broke on the burnout in the semifinals against John Anderika and Foster won a close one over Brian Harvanek in the other semifinal matchup, 5.72 to 5.76, to clinch his spot on the Jegs Allstars team. "Making the Allstars team is like winning another division championship," he said. "We always ran a few races in Division 4 and Division 5 and never enough in Division 3 to do it until now."
Foster's crew chief, Will Hanna, was carted off to the hospital before the first qualifying session when a Dzus button run over by an A/Fuel Dragster on a burnout became embedded in his leg. He was taken away in an ambulance but returned for what turned out to be Foster's seventh career Lucas Oil Series win, including three in both 2009 and 2011, the years they won Division 3 titles.
In the final, in the best race of the day, Foster slipped past Anderika to win by less than a foot, 5.74 to 5.75. Anderika moved first by a hundredth of a second, and the cars were never separated by more than six-thousandths at any point on the track. It was Anderika's fifth runner-up - one a year every year since 2008: Cecil County in 2008, Richmond in 2009, Atco in 2010, and Cecil County again in 2011.
"I never saw him, but it must have been tight down there," said Foster, who scored at Norwalk for the second year in a row. "I was over against the wall just about the whole way down the track. It kind of walked out of the groove, and I was worried that if I yanked it back over, he'd get past me. It was just a great weekend overall. Saturday, they had to close the gates and start turning people away, and it was wall-to-wall people in the pits and in the stands. We need somebody like Baders running all of these events."

The following are the final results from the NHRA Lucas Oil Drag Racing Series Blaster Cavalcade of
Stars at Summit Motorsports Park:

TOP ALCOHOL DRAGSTER:
Round 1
5) Marty Thacker, Robinson, Ill., 5.478, 257.97 def. 4) Paul Fishburn, Rensselaer, Ind., 5.448,
261.72
3) Mike Kosky, Cuddy, Pa., 5.776, 239.87 def. 6) Robin Samsel, Marion, Ind., 18.683, 37.96
2) Ken Perry, Markham, Ont., 5.421, 263.67 def. 7) Jared Dreher, Clinton, Ind., 5.564, 244.12
8) Jerry Powell, Kokomo, Ind., 5.699, 259.46 def. 1) Bill Reichert, Owosso, Mich., 12.303, 68.95;

Semifinals
Thacker, 5.664, 248.48 def. Powell, 5.672, 260.26
Perry, 5.387, 266.95 def. Kosky, 6.216, 152.85

Final
Perry, 5.381, 266.37 def. Thacker, 5.486, 259.31

TOP ALCOHOL FUNNY CAR:
Round 1
1) Fred Hagen, Godfrey, Ill., '10 Mustang, 10.326, 101.64 def. 9) Fred Tigges, Holbrook, Mass., '01
Avenger, broke
2) Chris Foster, Davenport, Iowa, '11 Mustang, 5.665, 254.62 def. 7) Paul Noakes, London, Ont., '02
Mustang, 5.833, 248.39
6) Brian Harvanek, Cheswick, Pa., '02 Camaro, 5.752, 248.39 def. 3) Cassie Simonton, Brooklyn Park,
Minn., '09 Monte Carlo, 11.202, 92.70
5) John Anderika, Wyoming, Pa., '06 Monte Carlo, 5.713, 252.43 def. 4) Ray Drew, Hales Corner,
Wis., '04 Firebird, 5.735, 255.24

Semifinals
Anderika, 5.788, 251.95 def. Hagen, broke
Foster, 5.729, 235.84 def. Harvanek, 5.760, 250.27

Final
Foster, 5.744, 250.51 def. Anderika, 5.756, 251.53





LODRS: 10 Most Recent Entries [ top ]

Apr 18- LODRS 7-2 - Event Wrap Up
Apr 16- LODRS 2-4 - Event Wrap Up
Apr 14- LODRS 7-2 - Top Alcohol Dragster Final, Round 3 Eliminations
Apr 14- LODRS 7-2 - Top Alcohol Funny Car Final, Round 3 Eliminations
Apr 14- LODRS 7-2 - Top Dragster Final, Round 6 Eliminations
Apr 14- LODRS 7-2 - Super Gas Final, Round 7 Eliminations
Apr 14- LODRS 7-2 - Top Sportsman Final, Round 6 Eliminations
Apr 14- LODRS 7-2 - Super Stock Final, Round 7 Eliminations
Apr 14- LODRS 7-2 - Super Comp Final, Round 7 Eliminations
Apr 14- LODRS 7-2 - Stock Eliminator Final, Round 7 Eliminations