Mon, 21 May 2012, 09:05 AM



Boland, Wicke, Lichty, and Orfanidis Pace Field in Season Opener for Drag Race Series



Courtesy of Tim Miller



CAYUGA, ONTARIO --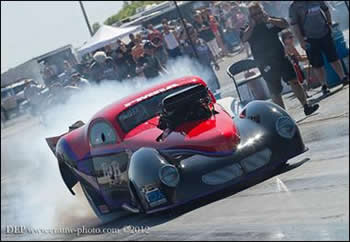 Bruce Boland
Qualifying sessions in the Pro Modified Racing Association, the Quick 32 Sportsman Series presented by NAPA Auto Parts, and the Pro Bike & Sled Series presented by Wiseco Performance Products were completed today at the Victoria Day Weekend Challenge at the Cayuga Dragway of Toronto Motorsports Park.
This is the first race of the 2012 season, and the first of six events for the three drag racing series.
Bruce Boland of Hamilton, Ontario, and three-time PMRA champion, set the pace in the PMRA with a 5.984-second, 237.67-mph posting in his 1941 Willys Pro Modified. Qualifying number two was Jeff Roth of New Dundee, Ontario, also in a 1941 Willys with a 5.999, 238.34 run, while Jack Grainy of North Tonawanda, New York, qualified third with a 6.149, 229.63 in his 1967 Chevy Camaro.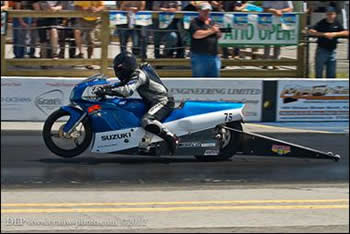 John Orfanidis
Two-time Quick 32 Sportsman Series champion Kevin Wicke qualified number one on the Top Sportsman side of the series. Wicke, of Stratford, Ontario, drives a 2006 Dodge Stratus and posted a 6.787, 203.12. Qualifying second was Darryl McMillen of Goderich, Ontario with his 1963 Corvette at 6.938, 199.49, and the 1968 Camaro of Mike Digby of Stirling, Ontario placed third with a 6.960, 199.97.
Taking number one spot in Top Dragster was James Lichty of Linwood, Ontario with a 6.325, 202.67. Rick Kopp of Burlington, Ontario qualified second with a 6.550, 215.55, and Scott Wildgust of Wartburg, Ontario qualified third with a 6.572, 206.10.
Qualifying number one for the PBSS season opener was John Orfanidis of Toronto, Ontario, who posted a 7.872, 172.59 on his 1992 GSXR Pro Bike entry. Kevin McKay of Ingersoll, Ontario qualified second with a 8.042, 160.56 on his Pro Bike GS, and Dan Cryderman of Thamesville, Ontario qualified third with a 8.141, 154.51 on his Suzuki.




Drag News: 10 Most Recent Entries [ top ]

Mar 10- Dodge//SRT and Mopar Brands to Offer Complimentary Drag Race Experience for NMCA Competitors in 2018
Mar 10- Cottrell, Wittenberg, Hix, and Bates Come Out Swinging at the 2018 March Meet
Mar 09- Universal Technical Institute Named Official Sponsor of Sonoma Raceway's Drags and Drift Program
Mar 09- Revitalized Street Fights Series Roars into Action with a New Look and Feel
Mar 07- Todd Martin Wins in Pro Mod Return at MWPMS Season Opener
Mar 07- Keith Haney Racing Encouraged by Strong Start at MWPMS Season Opener
Mar 06- Gateway Motorsports Park to open Saturday, March 31
Mar 06- Mad Mule Pro Mod Shootout at GALOT Motorsports Park Results
Mar 05- BAKERSFIELD - Nostalgia Rear Motor Top Fuel Round 1 Eliminations
Mar 05- BAKERSFIELD - Nostalgia Funny Car Final, Round 4 Eliminations