Mon, 14 May 2012, 11:45 AM



Mickey Thompson "Married With Dragsters"- New Car Debut Party at Summit Motorsports Park



Courtesy of Performance by Fisher Racing



LIMA, Ohio --
NHRA Division Event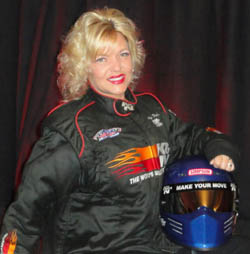 Kathy Fisher
Performance by Fisher Racing will debut, sportsman racer and national TV personality, Kathy Fisher's new 2012 American Race Cars dragster in grand style during the NHRA North Central Division event at Summit Motorsports Park in Norwalk, Ohio. In addition to the jam-packed on track action for the brand new K&N Engineering entry during the three day event, May 18-20, the Fisher's will host a debut party on Saturday May 19 in their pit area beginning at 11am and everyone is welcome to join the fun.
The upcoming NHRA Div. 3 event at the pristine Ohio facility is known for its unparalleled record setting fan attendance, and because of its huge entertainment value both on and off the track over the course of the three day event, is one of the most highly anticipated races each season on the Lucas Oil Drag Racing Series schedule.
With that in mind, Fisher couldn't be more excited to be able to coincide the debut of her very first new car at this particular event. "The Norwalk track is like home for us, it's always been a special place and the entire Bader Family has a lot to do with that," said K&N's Kathy Fisher. "With so many of the manufacturers and companies that made this American dragster possible all being fairly nearby and maybe even more importantly, the family of friends that we race with year-round, most of them will be in attendance at this event. That's a big part of why we chose the Norwalk event because we want as many as possible to be a part of this celebration. We have a lot planned for the fans and racers alike and we want to make this 'event within an event' extra special and fun for everyone."
The build of the 2012 K&N Engineering American Dragster is being fully documented in the Lima, Ohio based team's online reality series, "Married With Dragsters" that is featured on CompetitionPlus.com. The unique video series, now in the middle of its second season, shows viewers much that is involved with building a new dragster from ground up the series in addition to also featuring the radical changes for the team's Top Dragster engine program this season for husband and teammate, Kevin Fisher and its new Pro Charger power plant from Ohio Crankshaft. Both team cars will be on display as well as showings throughout the day of both season one and season two of the video series.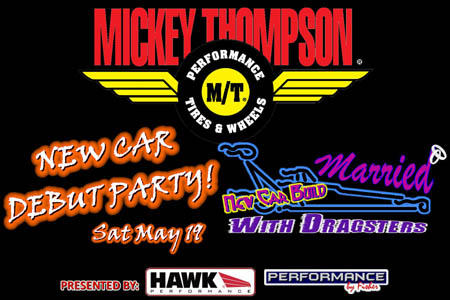 The Mickey Thompson "Married With Dragsters" New Car Debut Party, presented by Hawk Performance and Performance by Fisher, Inc., will offer free hot dogs and hamburgers to all that stop by as well as a sweet bonus of a free pound of ice cream at "Wild Bill's Ice Cream Saloon" for the first seventy-five to visit Performance by Fisher Racing's pit at the start of the party. Numerous prizes will be awarded when a drawing is held at 7pm from their pit including lots of Snap-On goodies, courtesy of Tom "The Tool Man" Hirt, Performance by Fisher Inc, Hawk Performance, K&N Engineering and two big winners will be selected each receiving $500 gift cards or a set of any rear drag slicks from Mickey Thompson.
The party/pit area will be located on the Budweiser side of the track near the finish line grandstands.
For more information, visit the team's website - www.performancebyfisher.com/raceteam




LODRS: 10 Most Recent Entries [ top ]

Apr 23- LODRS 1-1 - Event Wrap Up
Apr 22- LODRS 1-1 - MXI/Magnaflux Top Dragster presented by Select Performance Final, Round 5 Eliminations
Apr 22- LODRS 1-1 - MXI/Magnaflux Top Sportsman presented by Select Performance Final, Round 5 Eliminations
Apr 22- LODRS 1-1 - Stock Eliminator presented by ATI Final, Round 7 Eliminations
Apr 22- LODRS 1-1 - Super Stock presented by ATI Final, Round 7 Eliminations
Apr 22- LODRS 1-1 - Super Street Final, Round 5 Eliminations
Apr 22- LODRS 1-1 - Competition Eliminator Final, Round 5 Eliminations
Apr 22- LODRS 1-1 - Super Comp Final, Round 6 Eliminations Results of final, round 6 eliminations in Super Comp at the NHRA Lucas Oil
Apr 22- LODRS 1-1 - Super Gas Final, Round 6 Eliminations
Apr 22- LODRS 1-1 - Super Comp Final, Round 6 Eliminations