Fri, 11 May 2012, 14:17 PM



San Antonio Raceway Set to Host Summit Sportsman Spectacular



Courtesy of IHRA Communications



Sportsman Only Race to Feature Big Money, Spot in TOC for Winners



MARION, Texas --
In 2011 the International Hot Rod Association created a revolutionary new program for sportsman racers known as the Summit Racing Equipment Sportsman Spectacular presented by AMSOIL.
Created as a unique way to celebrate the IHRA's 40th anniversary season, the sports only true sportsman-only national event proved an overwhelming success as hundreds of racers from all across North America took advantage of this unique program awarding big payouts, big prizes and big competition at two experimental races last year at Maryland International Raceway and Virginia Motorsports Park.
Now, with an overwhelming demand for its return and a year under its belt, the Summit Racing Equipment Sportsman Spectacular presented by AMSOIL returns with three big races in 2012 beginning with a stop at San Antonio Raceway in Texas the weekend of May 25-27.
San Antonio Raceway has already seen one big race in 2012 as the San Antonio Nitro Jam in March saw a 45 percent increase in car count and an extremely competitive race and with such a strong showing once already this year, and even more on the line coming up later this month, IHRA officials are expecting the first Summit Sportsman Spectacular of 2012 to be one of the biggest yet.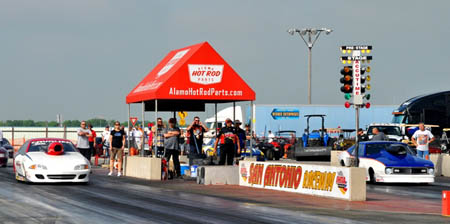 The first Sportsman Spectacular of 2012
will take place at SAR the weekend of May 25-27.
"The Sportsman Spectacular is an event designed specifically for the racers. What began as an experimental way to celebrate our 40th anniversary season quickly took on a life of its own and has turned into one of our biggest events on the schedule," said Skooter Peaco, IHRA VP of Race Operations. "We have opened our doors to the best drivers in the world regardless of what HRA you call home as a way to give back to those that support the great sport of drag racing.
"The overwhelming support we saw last year showed us that we needed to expand this season and we have done just that by adding a great venue like San Antonio Raceway to the schedule. I expect great racing and a great event later this month at SAR. With a spot in the TOC and $5,000 on the line for event winners, this should be one memorable race."
In all a grand total of $5,000 is up for grabs in each IHRA class for winners as the event features open fields consisting of both IHRA and NHRA competitors and a spot in the year-end Summit Racing Equipment Tournament of Champions presented by AMSOIL up for grabs making this the must-attend sportsman drag race of the season.
The Summit Racing Equipment Sportsman Spectacular all gets underway on Friday, May 25 with a test and tune for all racers followed by a full day of qualifying and the first round eliminations on Saturday, May 26. Saturday's race will also feature a re-entry round for first round losers to get back in the competition if the class car count is less than 64 cars, however any driver that loses first round and goes on to win the event will not earn a berth in the Tournament of Champions. Racers will conclude the event on Sunday with a huge purse, Ironman, national event contingency and a spot in the Summit Racing Tournament of Champions presented by AMSOIL for IHRA members all up for grabs.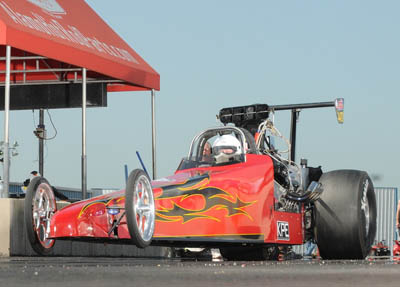 All IHRA and NHRA members
can take part in this unique event.
Racing will be conducted in IHRA's seven regular touring Pro-Am classes of Top Sportsman, Top Dragster, Super Stock, Stock, Quick Rod, Super Rod and Hot Rod with each winner collecting a $5,000 payday. Also in competition at SAR will be Top ET, Mod ET and Junior Dragster.
Entry into the event is only $200 with a guaranteed $5,000 to win for Pro-Am classes plus national event contingency going to the winner in each of the regular IHRA touring classes.
And to add to the grandness of the event, for the first time ever, the IHRA has opened its doors to allow all IHRA and NHRA members to compete in one event for the top prize at IHRA's biggest-ever sportsman drag race May 25-27.
This is the first of three Summit Sportsman Spectacular events in 2012. Maryland International Raceway will host the next Sportsman Spectacular July 13-15 and Memphis International Raceway will host the third the weekend of October 12-14 in conjunction with the IHRA World Finals.
Don't miss the biggest sportsman drag race this season at San Antonio Raceway as the Summit Sportsman Spectacular presented by AMSOIL returns May 25-27. For more information visit www.ihra.com or call San Antonio Raceway at (210) 698-2310.




IHRA: 10 Most Recent Entries [ top ]

Apr 24- Racers Receive Prizes at IHRA Summit Sportsman Spectacular Opener
Apr 24- Comeaux, Hughes Make History at IHRA Summit Sportsman Spectacular
Mar 21- 2018 IHRA Summit Sportsman Spectacular Series on April 20-22
Feb 26- Weather-Related Construction Delays Postpone IHRA Xtreme Raceway Park Opener
Feb 16- IHRA Summit Sportsman Spectacular Schedule Announced
Feb 15- New York Track Finds Value for Racers with IHRA Agreement
Feb 15- IHRA Summit Sportsman Spectacular Debut Only One Month Away Now is the Time to Pre-Enter
Feb 15- Summit Texas Location is a Racers' Paradise
Feb 15- Canadian Track Makes Large Commitment to IHRA Drag Racing
Jan 27- Mid-Michigan Destination Joins IHRA Family