Fri, 11 May 2012, 10:29 AM



It's A What?



By Bob Frey


Photo copyright 2012 Auto Imagery, Inc.





Jeff Brooks
You have to be impressed with what the car manufacturers are doing these days. Ford, Chrysler and General Motors are building cars that are meant specifically for drag racing. I'm a guy who grew up in the middle of the "muscle car" era, the late 1960's when almost every car maker was making a car that you could buy, drive home and then take it right to the track. The Pontiac GTO, Chevrolet Chevelle and Camaro along with a full line of Ford cars, led by the Mustang, were all favorites with the drag racing group. There were, of course, other cars that competed at the drag strip that probably weren't made to be drag cars but that fit well into a class and found favor with the racers. Oldsmobile comes right to mind and there were a lot of those that found their way to the winner's circle. And one of the reasons that the sport grew was because fans could identify with the cars on the track and they were able to form an allegiance with the people who drove them. Of course there are always exceptions, and many drivers raced a car for the simple reason that they liked it. They liked the way it looked, and in most cases they liked the way it ran. But those cars weren't always popular with the fans because of two reasons, either the fans didn't like the particular model, or they just couldn't identify it. Case in point, Jeff Brook's car in the Top Sportsman class. It looks great and runs well, but every time it comes to the line there have to be a lot of people who look at it and say, "What is it?"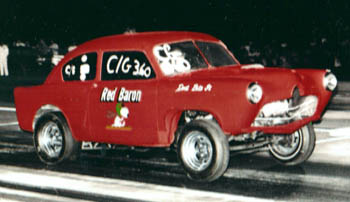 James Brooks' Red Baron
It is a 1951 Henry J and it is, despite what most people think of when they think of a Henry J, a very fast race car. "This car runs in the mid six-second range at over 210 miles per hour," Jeff said. Besides being quick and fast it is also a beautiful race car. "We take a lot of pride in the way our car looks," he added. "And of course, being unique, it always gets a lot of attention at the track." Henry J's have been getting attention for the Brooks family since the patriarch of the family, James Brooks, began his racing career in the late 1950's. "Dad had a Henry J, the "Red Baron," and he raced it a lot in and around our home area for years." The elder Brooks did very well for himself, too, amassing a very impressive r?sum? and being featured in all of the local newspapers. "He ran it in the A/G and B/G class, and at the time that was about the top of the line for a local racer." After campaigning the car for several years, and after a little stint in the Super Stock class where he used to mix it up with some guy by the name of Ronnie Sox, James retired the "Red Baron" and thought that his racing days were over. "When he quit it was cold turkey," Jeff said. "And until we decided to go racing many years later he never went back to the track."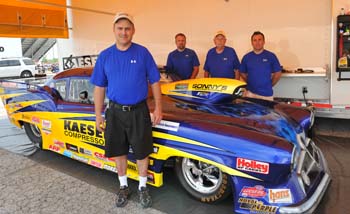 JEB Four
When Jeff says "we" he is referring to himself, his twin brother Jamie and younger brother, John. "We formed JEB Four racing to honor our dad. My father, his father and all of the boys all have the same initials, JEB, so that's what we decided to call the team." Jeff gets to drive, Jamie is his crew chief and John helps out at the track when he can. The latest car is a continuation of a theme that they started when JEB Four was founded. "We loved the Henry J and thought that it would get a lot of attention, and it did." And so does their sponsor, Kaeser Compressors. "We've had them on the car for a long time and we just signed for another five years," Jeff said. "A lot of people think that I work for the company, but I don't. We made a presentation to them for a one race deal years ago and it worked out and they have been with us ever since. And I have to tell you that they love the Henry J."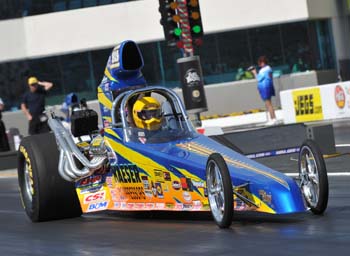 Brooks in his Super comp car
last year at Charlotte.
Jeff raced a couple of cars in the traditional Super Gas and Super Comp categories before getting his current ride, and he did very well with them, and almost a dozen final rounds between the divisional and national events made him a very familiar figure in the late rounds. But after years of the throttle-stop racing he decided to step up to the new class, Top Sportsman. "I just love everything about this class. I like to qualify and I like the whole bumping procedure that goes on, and I love going fast and that's what this class is all about." And his classic car is right at home with some of the fastest door slammer cars in the sport. "This car has a carbon fiber body with a 706 cubic inch Sonny Leonard engine. We run two stages of nitrous and it's very competitive." The car, which was molded from an original Henry J, features a body from Terry Hall and a chassis by Dan Page. "We wanted to do it right and we're very proud of the end result."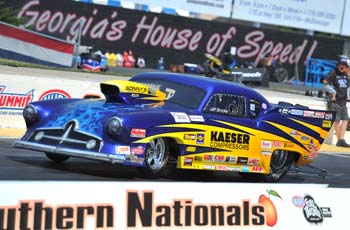 Brooks in the new car.
While Jeff races the new car he still has fond thoughts of his first Henry J. "That was a good car and we ran it for years, but an accident in Maryland one year slowed us down." That accident, which basically demolished the top half of the car, necessitated a quick fix. "We actually took the top of my father's old car, and good friend of ours, Bucky Smith, welded it on to our car and helped get us back racing." And speaking of dad's car, it has recently found a new resting place. "We hadn't seen the car in a while," he said. "And then one day we were in line at the store and were talking about it and a man told us he knew right where it was and it was only about three miles away." Today the car belongs to its second owner and rests comfortably in a museum in Michigan. "It's really neat that they rebuilt it to look just like it was when Bernard Weaver first built it for us to compete in Super Gas, and that they thought enough of it to preserve it and put it on display."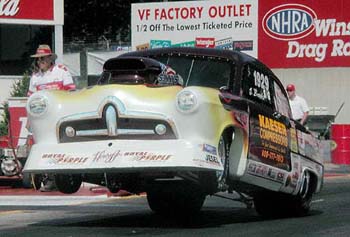 Brooks in the old car
running Super Gas.

While the original Henry J sits in a static display Jeff is making some noise with his new creation. He has big plans for the year and that includes over a dozen races at both NHRA national and divisional races as well as a trip to an ADRL event. "We just like running the car," he said. "Anytime we can work it into our schedule we want to go racing." So far that national event win has eluded the team, but with this new car and a determination that has been passed down for generations, it can't be far away. But one thing is certain, even when they roll it into the winner's circle people will still look at it and ask, "What is it?" You could summarize by saying it's part of the new wave in sportsman racing in a class that is truly exciting, even if it is a Henry J.




NHRA: 10 Most Recent Entries [ top ]

Apr 24- CHARLOTTE 1 - Steve Torrence Enjoying Four-Wide Success Heading to NGK Spark Plugs NHRA Four-Wide Nationals
Apr 24- CHARLOTTE 1 - Fact Sheet
Apr 24- Kalitta Motorsports Welcomes NASCAR Stars to the SealMaster Track Walk in Charlotte
Apr 24- zMAX Dragway Celebrates 10th Anniversary
Apr 24- CHARLOTTE 1 - NGK Spark Plugs NHRA Four-Wide Nationals Brings 40,000 Horsepower Thrill Show to zMAX Dragway
Apr 23- HOUSTON - Lucas Oil Drag Racing Series Wrap Up The NHRA Lucas Oil Drag Racing Series Wrap Up
Apr 23- CHARLOTTE 1 - J.R. Todd Aiming for Two Four-Wide Racing Wins in 2018
Apr 23- Mid America Dragway Joins NHRA Member Track Network
Apr 23- HOUSTON - Special Awards
Apr 23- HOUSTON - Sunday Video