Tue, 08 May 2012, 18:34 PM



What A Week!



By Bob Frey


Photo copyright 2012 Auto Imagery, Inc.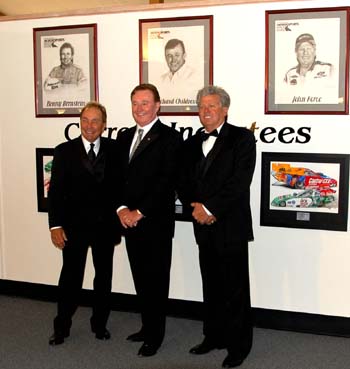 Kenny Bernstein, Richard Childress and John Force
My week started with a trip to Talladega, Alabama and the International Motorsports Hall of Fame and then ended with some great final rounds at the Summit Racing Equipment Southern Nationals in Commerce, Georgia. Along the way I stopped at the Barber Motorsports Museum which is a "must see" for any racing fan or "car guy" that you know. It is a magnificent place and they hosted the reception for the Hall of Fame inductees and their guests last week. That was followed by the induction ceremony itself, the one where Kenny Bernstein and John Force were the NHRA representatives in the Hall of Fame. Did you know that there are now eight drag racers in the Hall and that says a lot about our sport? NHRA and all of its fans should be very proud of that fact and I hope you get a chance to visit the Hall, take a walk around and see all of the displays including the NHRA wall and the pictures and trophies that represent the inductees. I was pleased and proud to be able to be the one to introduce Kenny and I want to thank him for that honor.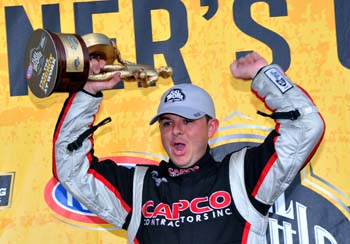 Torrence celebrates his first Top Fuel win.
Once all of the excitement had subsided from the Hall of Fame ceremonies I headed to Commerce for the 32nd running of the Southern Nationals where I watched Steve Torrence become the latest winner in Top Fuel Eliminator. Did you know that Steve became the 97th driver to win in the sport's top class? He is also the 147th driver to make it to at least one final round in the Top Fuel class. Steve will certainly win again, but for right now he joins a list of forty-one drivers who have won just one race, and included on that list are Rick Ramsey, Ronnie Martin and Bob Gibson to name just a few. Steve, with crew chief Richard Hogan, ran very well on Sunday and he drove well and that's what makes it a real team victory. Did you know that Steve was first off the line in three of his four rounds, with only Tony Schumacher having a better reaction time than he did and that came in the final round? For his career Steve has been first off the line 61% of the time and that's not bad for a relatively new driver. The win moved him into fifth place in the points and it also added his name to the Traxxas Nitro Shootout at Indy later this year. Steve's win also added his name to the list of drivers who have won in Atlanta and that's a good size list. Did you know that in thirty-two trips to Atlanta Dragway there have been twenty-two different winners in Top Fuel, and they include Lori Johns, Lucille Lee and Shirley Muldowney to name just a few?....Someone who hasn't won at the track is Tony Schumacher, the runner-up to Steve. Tony qualified at the top of the pack and he found out what a lot of his predecessors have found out and that is it's not easy to win from the top spot in Georgia. Did you know that in the last twenty-three years the number one qualifier has only won twice at the Southern Nationals? Cory McClenathan won in 1995 and Larry Dixon won in 2010, but other than that no number one qualifier has won in Top Fuel in almost a quarter of a century..None of the top qualifiers won in the top three classes and that's the eighteenth time that has happened at the Georgia race. And to carry that theme a little further, did you know that since 2000 there have only been two top qualifiers to win in the top three classes combined?....Even though he didn't win Tony did manage to leave town in first place in the points and it's easy to see that he will be a factor in the race for the championship this year. Did you know that he is the only point's leader who hasn't won a race yet this year?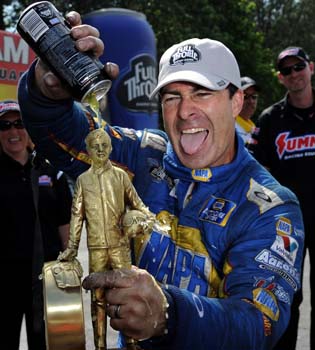 Capps celebrates his first win this season.
Ron Capps went to his third consecutive final round and he finally closed the deal. Did you know that this was the fifth time in his career that Ron has been to three consecutive final rounds? His NAPA Dodge ran like a bracket car on Sunday and he made runs of 4.148, 4.165, 4.164 and 4.166 on the way to the winner's circle..Ron made it to the final round after qualifying number two, and when he met Robert Hight in the final round that meant that the number one and two cars would square off for the money. Did you know that's the ninth time that has happened at this race and that five of those times, including this year, it was the number two driver who got the win? Robert accounted for a pair of those wins from the number two spot including wins in 2007 and 2010...The woes for the top qualifier continued in the Funny Car class when Robert couldn't close the deal. Did you know that in the last seventeen years the top qualifier has only won once in Atlanta? That's when Cruz Pedregon beat John Force in the final round in 1998..Ron Capps won four rounds on Sunday and that gives him a total of 438 for his career. Did you know that ties him with Del Worsham for 14th place on the all-time professional list? And his win, the thirty-fourth of his career, ties him with Cory McClenathan for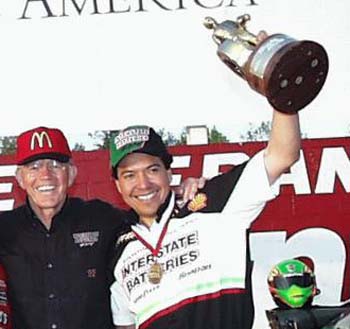 Cruz Pedregon celebrates his 1998
win with team owner Joe Gibbs.
tenth place on the all-time list of winners in the fuel classes.Maybe more important than any stats is the fact that someone other than a
Team Force
driver finally won a Funny Car race this year!..Ron has now beaten Robert Hight in back-to-back races and that came after a long dry spell for him.
Did you know
that before the
Houston
race Robert had beaten Ron in nine consecutive head-to-head races? Robert still leads 21-11 in races against Ron but at least Ron is slowly starting to narrow that gap...John Force lost in round one and that continued an interesting trend for him.
Did you know
that in the first seven races this year John has either gone to the final round or lost in round one? John is in eighth place in the points and that's the lowest he has been all year..The Funny Car class continues to be exciting and it looks like any car that qualifies can win the race and it really wouldn't be called an upset.
Bob Bode
made the field and the Houston winner,
Mike Neff
didn't,
Jim Head
went to the semi-finals and so did
Jeff Arend
, and all of that tells me that it is a wide open affair in the class this year. By the way, the next Funny Car race will be the 700
th
in the history of the class and I'll have more on that next week.
Things couldn't have worked out better for Summit Racing than the way the Pro Stock class finished up. They had three Summit-backed cars in the semi-finals and then the two flagship drivers, Greg Anderson and Jason Line squared off in the final round. That's where Greg beat Jason on a holeshot to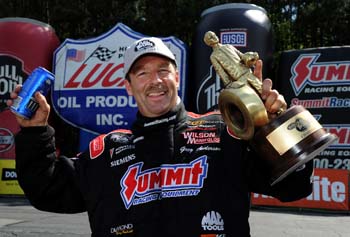 Anderson celebrates
his third win this season.
get the win, the 73
rd
of his career and his fourth at the
Atlanta
event.
Did you know
that the win was the thirty-sixth time Greg has won on a holeshot in his career and it's the sixth time that he has done it in the final round? And
did you know
that three of Greg's last six wins (excluding the 4-Wide race) have come on a holeshot? Looks like the four-time champ is starting to turn things up in the money round, doesn't it?...It's amazing that the two Summit Racing teammates have now met in twenty final rounds, and that's a lot for any two drivers in any class..As is the case in the other Full Throttle classes, being number one isn't a guarantee of winning in Atlanta.
Did you know
that in the last thirteen years only one driver, Greg, has won from the top spot in the class? The top qualifier hasn't won a race in Pro Stock yet this year, and
did you know
that's only the fourth time in the history of Pro Stock that we have gone seven races into the year without a number one qualifier winning a race?...Greg's win gives him 651 points and that's second best in the Full Throttle classes behind only Robert Hight's 702..
Ronnie Humphrey
probably deserved a better fate than a semi-final finish. Driving the
Genuine Hot Rod Hardware
car Ronnie won his first two rounds on holeshots before suffering tire shake and losing to Jason in the semi-finals.
Did you know
that this was the first time that Ronnie had two holeshots at the same race? He continues to have a good car and seems poised to win his first race very soon. As it is he is in seventh place in the points and he has a spot in the
K&N Horsepower Challenge
.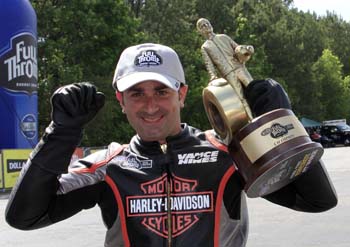 Krawiec celebrates
his second win this season.
Even though we know that everyone won't be happy in the Pro Stock Motorcycle class as long as there are three different brands with three different engine combinations and rules, I have to say that the bikes have provided some great action this year. In what has been billed as the "Harleys vs. the Hectors," we have already been entertained by Eddie Krawiec and Andrew Hines (the Harleys) and Hector Arana Sr. and Jr. on their Buells. In Atlanta Eddie had everyone's attention with a stunning run during qualifying and then Hector came back later and made a run that may have been even better. Ironically neither of those runs resulted in the top qualifying spot but they were both very impressive considering the weather and track conditions..As good as those four ran during qualifying they never faced each other in eliminations, and only one of them, Eddie, made it to the final round...Eddie's opponent in the final was Michael Ray, a second generation racer who made a name for himself in the all Harley drag races and who was riding a bike that had been prepared by Matt Smith. Did you know that Michael's father, Paul Ray, was part of the first motorcycle field at the Southern Nationals? He qualified fourteenth in the field in 1988 and beat Barry Kogut before losing to John Mafaro in round two..Steve Johnson was also in that field in 1988 when he qualified thirteenth and lost to Terry Vance. Did you know that this was Steve's 317th race and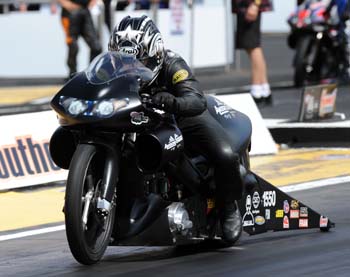 Joey Gladstone
he is approaching a record 300 race day starts in his career?....Steve, and the rest of the Pro Stock Motorcycles, decided before the Houston race that they would like to introduce each other during the pre-race ceremonies and they did that again this week. They seem to have a lot of fun with it and it adds something a little different to the pre-race activities and the fans like it, too. Hey, anything you can do to make the day more enjoyable for the fans is a good thing..
Joey Gladstone
made his second appearance and his second start this week, and although he didn't win a round he did throw a scare into Hector Arana in round one when he posted a .004 reaction time. With newcomers like Joey,
John Hall
and
Scott Pollacheck
joining the long list of veterans in the class, the bike category seems to be alive and well, and as I said, very entertaining..Eddie's win was his thirteenth and the final round was his twenty-seventh and both of them tie him with Matt Smith for eighth place in the bike class...Even with the extra twenty pounds that the Harleys now carry they have won all three of the races this year and they have won five races in a row and nine of the last nineteen going back to last year.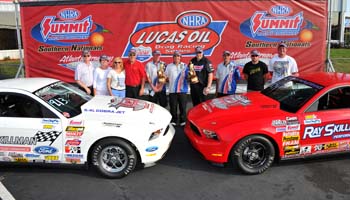 Drew Skillman celebrates his double-up wins.
Every driver looks forward to winning their first race and it's a day that they will never forget. But few will remember it as vividly as Drew Skillman who won his first race at the Summit Racing Southern Nationals, and then about ten minutes later won his second race. Drew became the latest driver to "Double-up" at a national event when he took his two Ford Mustangs to wins in Stock and Super Stock Eliminators. Congratulations to Drew on a great day at the races..Did you know that going into Sunday's eliminations there were seven drivers who had a chance to "double-up" and several of them lasted until the very late rounds in both classes?...The Top Dragster and Top Sportsman classes are fun to watch with Nick Folk beating Dylan Stott in the dragster class and Jeffrey Barker taking out Billy Vaughn in Top Sportsman. Nick and Dylan were two of those who were alive in two classes going into Sunday..Ed Richardson gets extra credit for winning Super Comp and by doing so with an 8.900 in the final round. Oh yeah, he also had a .001 reaction time on that run which meant that Brad Plourd didn't have much of a chance to get the win. Nice job, Ed..And at the Division 5 race in Great Bend, Kansas, J.R. Lobner beat his father, John, in the Top Dragster final, and I'm sure that's something that they will never forget..And Jeff Lane won the Comp title at the Boise points race and that was the 38th divisional win of his career. Did you know that moves him into a tie with Rick Santos for eighth place on the all-time list of divisional winners?




NHRA: 10 Most Recent Entries [ top ]

Apr 24- CHARLOTTE 1 - Steve Torrence Enjoying Four-Wide Success Heading to NGK Spark Plugs NHRA Four-Wide Nationals
Apr 24- CHARLOTTE 1 - Fact Sheet
Apr 24- Kalitta Motorsports Welcomes NASCAR Stars to the SealMaster Track Walk in Charlotte
Apr 24- zMAX Dragway Celebrates 10th Anniversary
Apr 24- CHARLOTTE 1 - NGK Spark Plugs NHRA Four-Wide Nationals Brings 40,000 Horsepower Thrill Show to zMAX Dragway
Apr 23- HOUSTON - Lucas Oil Drag Racing Series Wrap Up The NHRA Lucas Oil Drag Racing Series Wrap Up
Apr 23- CHARLOTTE 1 - J.R. Todd Aiming for Two Four-Wide Racing Wins in 2018
Apr 23- Mid America Dragway Joins NHRA Member Track Network
Apr 23- HOUSTON - Special Awards
Apr 23- HOUSTON - Sunday Video